Who Are The San Bernardino Shooting Victims? Why Officials Aren't Identifying Bodies Found At Inland Regional Center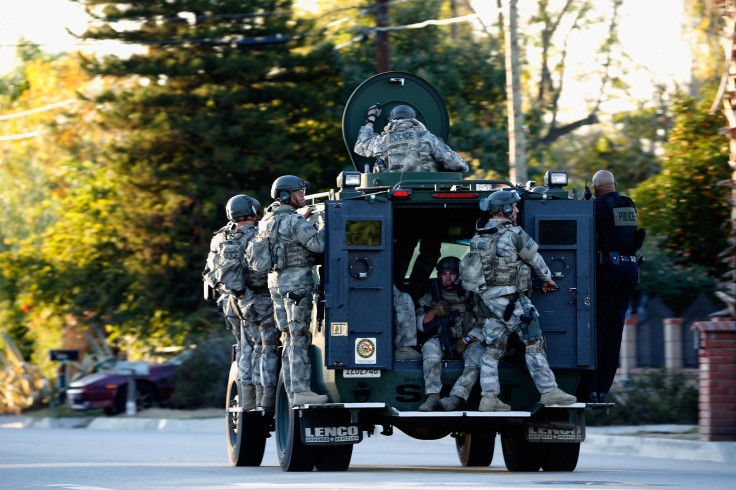 Families and friends of those thought to be injured in Wednesday's mass shooting in San Bernardino, California, gathered at the city's Hernandez Community Center in the evening to greet the surviving victims and wait for news or a possible glimpse of loved ones. Authorities said the bodies of those killed in the shooting remained at the crime scene at San Bernardino's Inland Regional Center, and had not yet been identified.
Coroners arrived at the scene of the shooting, but were told not to remove the bodies due to a need to preserve the integrity of the crime scene and allow evidence to be collected, the Los Angeles Times reported. Lead supervising deputy coroner Robert Shaw said no names, ages or other information would be released about those killed until next of kin were notified. He said he expected many of the notifications to take place by Thursday.
Four adults had been admitted to Loma Linda University Medical Center and three more were expected, a spokeswoman for the hospital told the San Bernardino Sun. Other injured people were reportedly taken to other hospitals in the region.
Greg Johnson was one of the people waiting at the Hernandez center for news about a family member. He told the L.A. Times he hoped his 42-year-old nephew Daniel Kaufman would be on one of the school buses that were carrying survivors.
"We haven't been able to get ahold of him," Johnson said. "They're saying it could be a couple of hours."
Mindy Velasco was also hoping to hear news about a family member. Her sister Yvette, who is in her late 20s, works for the San Bernardino County Health Department and was expected to be in the area of the shootings Wednesday, but no one has heard from her.
"I'm fearing the worst," Velasco told the L.A. Times. "Yvette is usually in constant touch with us. She would definitely be in contact after something like this."
© Copyright IBTimes 2022. All rights reserved.
FOLLOW MORE IBT NEWS ON THE BELOW CHANNELS