Who Cares About Apparel Factory Workers Burned To Death? Apparently, Not You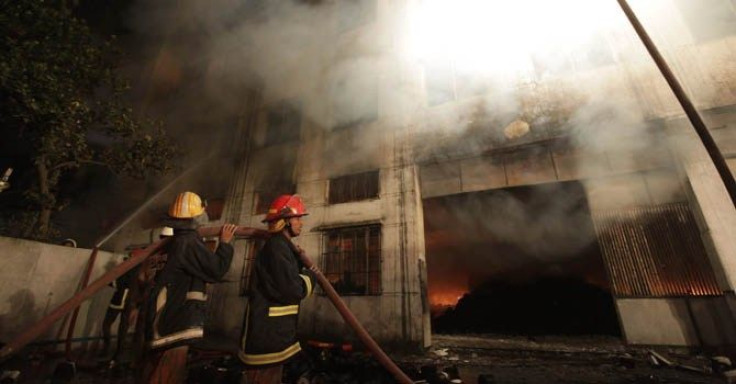 One of the first experiments testing whether consumers care about the working conditions of the people who make the clothing they buy took place in a department store in Detroit's blue-collar suburb of Lincoln Park 10 years ago.
A University of Michigan team of researchers wanted to find out if consumers would pay extra for a pair of socks made in a factory that was free of child labor, offered workers a relatively decent wage, and met adequate safety standards. When faced with the choice, only about 30 percent of the shoppers surveyed opted for the more expensive socks made in worker-friendly environments. That's a far cry from the results of more general surveys conducted around the same time that indicated about 85 percent of the respondents who were not actively shopping at the time said they would gladly pony up more money for sweatshop-free products.
"This is about what consumers do, not what they say," said Rohit Deshpandé, professor of marketing at Harvard Business School. He has co-authored a similar study with similar outcomes called "Sweatshop Labor is Wrong Unless the Jeans are Cute," which will be published next year. "Our research finds that consumers say they are against sweatshop labor, but yet they are interested in buying things that they know are made with sweatshop labor."
This cavalier attitude has frequently been viewed as just another less-than-savory quirk of human nature, but it took on a terribly disturbing cast recently when 112 people were killed in a textile factory fire in Bangladesh. The Nov. 24 incident was apparently sparked by an electrical short circuit that eventually sent flames racing through the nine-story building where products sold by the American discounter Wal-Mart, Dutch fashion chain C&A, and Hong Kong clothing distributor Li & Fung were made. The event was made all the more horrific because workers were trapped in the inferno as stairwells were blocked by rubbish and other materials -- and there were no emergency exits.
The Bangladesh fire touched a nerve around the world, but such incidents are more routine than is commonly known. Although major retailers such as Wal-Mart Stores Inc. (NYSE:WMT) and apparel makers such as Nike Inc. (NYSE:NKE) have increasingly taken pains to make sure that the factories of their direct suppliers meet at least minimal safety standards, these suppliers often subcontract to second- and third-tier manufacturers whose practices are not closely overseen or regulated by the multinationals. In fact, the large companies that these lower-rung outfits ultimately supply frequently don't even know them.
As a result, accidents and fires at these relatively unpoliced plants are endemic. For example, a garment-factory fire this month in the southern Chinese city of Shantou claimed 14 lives, although government officials claimed that a worker disgruntled over wages started the fire. In October, the Chinese State Administration of Work Safety reported that 45,409 workers died in more than 210,000 workplace accidents in all types of factories during the first nine months of this year. In September, as many as 262 garment workers perished in a textile-factory blaze whose cause was listed as an electrical short circuit in Karachi, Pakistan. And, in June, another nine garment workers were injured in a fire in Lahore, Pakistan.
Even when calamity spares textile workers, the conditions they toil under can be equally desperate: In many cases, apparel makers in developing countries offer wages of $100 per month at the high end, although that tiny amount is often reduced by factory owners who underpay without explanation or by claiming that the employee did not put in the hours that he or she actually worked. For this kind of pay, people of all ages -- mostly women -- may be asked to work in sweatshops that are distinguished by flammable material from floor to ceiling, locked doors, no fire extinguishers, and physically abusive bosses.
With this in mind, only the heartless would not be moved by how people in emerging countries who make products for Western retailers may be treated. Yet, U.S. and European consumers make purchasing decisions every day that in effect endorse with their money the circumstances these workers face. The reasons consumers don't care are complicated, but to some degree it comes down to this: Out of sight, out of mind.
As textile manufacturing has shifted rapidly from the West to the East during the past few decades, the world's poorest manufacturing workers were brought together with the world's richest consumers -- but at an unprecedented distance. Indeed, the number of miles that generally separate the maker and buyer of apparel in today's economy is as wide as the world itself. A shirt bought in Ohio that might have once been made in Illinois now begins its journey to the market on the other side of the planet. With that kind of scope, where the worker producing items is no longer even a fellow citizen with shared national values, it can be easy for shoppers to morally disengage.
Many consumers rationalize their purchases by saying they are doing the less fortunate in Southeast Asia a favor.
"They say, 'Sweatshop labor is wrong, but on the other hand these are poor people in poor developing countries that wouldn't have any work if they weren't able to work in these factories,'" Deshpandé said.
That attitude is a far cry from what happened in the aftermath of the 1911 Triangle Shirtwaist Factory fire in New York that killed 146 immigrant garment workers. Following that sweatshop accident, seen across the U.S. as a failing of American society to protect the vulnerable and poor working class in the country, angry public opinion pressured politicians to implement a wide array of fire-safety and workplace-improvement rules.
But Bangladesh -- or Vietnam or Thailand or China -- is not in the West's backyard, and those developing countries do not have sufficiently strong economies or vocal middle and upper classes (as the U.S. already had at the turn of the 20th century) to compel efforts to improve plant safety conditions.
Price and fashion also play a big role in consumer apathy toward sweatshops. Primarily because of globalization, apparel prices have fallen as much as 10 percent in the each of the past couple of decades, a trend that has stretched the buying dollar for even the less wealthy in the developed world. While the quality may not measure up to Brooks Brothers or Bloomingdale's, goods sold at discount retailers are adequate and frequently stylish.
Consequently, if the price is right and "if the product really fits you well, if you're going to look really great in it … the consumer is basically saying: 'I know this is wrong, but I can't turn away a deal like this,'" Deshpandé said.
Given that consumers are not going to discourage sweatshop conditions by buying less, global worker activists are looking for more practical, private-sector solutions. For example, the International Labor Rights Forum, or ILRF, is championing the Bangladesh Fire and Building Safety Agreement, under which major buyers would fund a program of factory safety inspections and remediation in Bangladesh, the world's second-largest textile-exporting nation after China. The two-year program will kick off after four retailers pay between $250,000 and $500,000, depending on the total value of products they are getting from Bangladesh.
"If we get a bunch of brands working on this altogether, this could mean real improvements to hundreds of factories in Bangladesh," said Liana Foxvog, ILRF director of organizing and communications.
So far, the program has not made much headway. Wal-Mart and Gap Inc. (NYSE:GPS) have rejected the idea, claiming it costs too much, while the PVH Corp. (NYSE:PVH), parent of the Bass, Calvin Klein, Izod, and Tommy Hilfiger labels, has agreed to sign up.
Further along is the Better Work program helmed by the International Labor Organization, a United Nations agency responsible for drawing up and overseeing global worker standards. Launched in 2007, Better Work is funded by donor countries, primarily the U.S., Canada, Australia, and some European countries, as well as international textile buyers, such as Gap, Adidas AG (ETR:ADS), and the privately held Levi Strauss & Co. The program's goal is to continually audit factories in emerging countries to ensure they adhere to workplace safety measures, labor rules, and wage standards.
Better Work programs have already been established in seven countries: Cambodia, Haiti, Indonesia, Jordan, Lesotho, Nicaragua, and Vietnam. Bangladesh and Morocco will be included in its next phase. Cambodia was the first to create one of these programs, and it has had a series of successes. For example, more than 90 percent of garment factories in Cambodia now pay their workers the full salaries due them, including overtime, and allow for maternity and annual leave.
While Better Work and its ilk are given a lot of credit for keeping the focus on sweatshop issues in emerging countries, it is a slow and tedious process to achieve real change. As a result, some labor-rights activists think that a global legal mechanism is essential to compel countries to improve workplace conditions or pay a price for not doing it. One way to achieve this would be via the World Trade Organization, which could enforce specific actions on a country that exports goods from factories that fail to meet internationally recognized standards of safety, said Robert J.S. Ross, director of the international studies stream and professor of sociology at Clark University in Worcester, Mass.
Under such a scheme, Ross said: "The United States could go to the WTO and say 'Bangladeshi goods are moving in international commerce and they don't meet international safety standards. We need remediation.' At that point, the BGMEA [Bangladesh Garment Manufacturers and Exporters Association] under threat of punitive tariffs would have to do something about [those] policies. Remediation would force them to create a fund to improve buildings and hire inspectors."
As more and more labor activists attempt to prod governments and companies into programs to eradicate global sweatshops, the consumer is conveniently sidestepped in conversations surrounding this issue. Nobody believes anymore that Wal-Mart, Target, or Sears shoppers will ever vote against their financial self-interest and try to improve the plight of people thousands of miles away. It's a great convenience for consumers in Kansas City, Orly, and London to put their heads in the sand and come out on top, paying less for items they may or may not need.
Problem is, workers in Bangladesh, China, and Vietnam don't quite have the same luxury.
© Copyright IBTimes 2023. All rights reserved.