Who Is Carrie Lam? Hong Kong's First Female Leader Does Not Have Popular Backing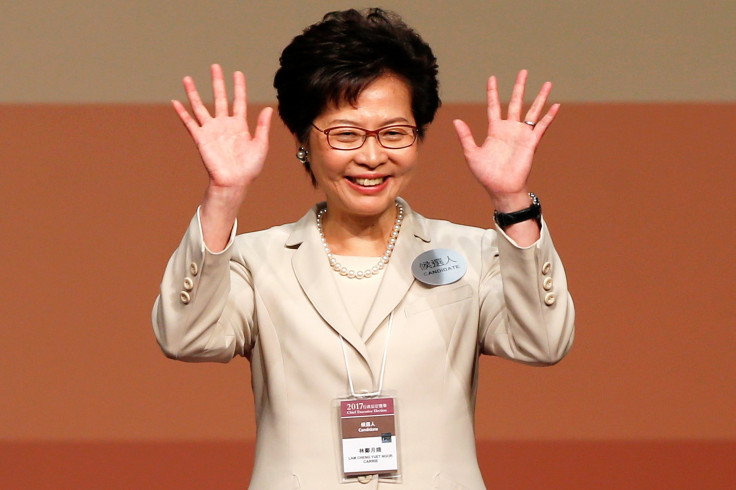 Hong Kong's new leader was elected by a group of almost 1,200 electors – mostly supporters of the Chinese government – sparking protests by pro-democracy activists in the region. Carrie Lam, Hong Kong's first female chief executive won by a massive majority Sunday.
The British returned Hong Kong to Chinese sovereignty in 1997, following which it was to be governed under the principle of "one country, two systems," giving Hong Kong a semi-autonomous status. In the recent years, however, pro-democracy flanks within Hong Kong say that China has gone back on the agreed plan and pushed for greater control over the region.
Read: No Jail Time For Hong Kong's "Umbrella Protests" Student Leaders
The victorious candidate, Lam, is also seen as a pro-China figure by many, and was not elected by popular vote. She won with 777 votes from the 1,194-person committee. The other candidates were John Tsang, a former finance secretary who was looked at more favorably by the masses, according to opinion polls, and Woo Kok-hing, a retired high court judge.
But who is Carrie Lam?
Lam was second highest official in Hong Kong under current Chief Executive CY Leung, and only announced her candidature after the latter chose not to stand for reelection.
The 59-year-old initially planned to go back to her family after retiring from her position as deputy chief this year. In an interview with Hong Kong's The Standard last year, she said, "The first thing will be to visit my two sons as they are not in Hong Kong. If they are available, I'll just stay for a while. Maybe a month. I can cook them meals and take care of them."
The long time civil servant, who graduated from the University of Hong Kong in 1980 to join the administration, is expected to continue with the policies of the outgoing chief executive. This is being looked at as a major blow for democracy in Hong Kong.
"This is a selection, not an election," said Joshua Wong, a former student leader who led Hong Kong's 2014 pro-democracy protests, according to Washington Post. "Carrie Lam will be a nightmare for us."
The lack of representation in Hong Kong's election process has sparked of massive protests in the region with activists saying that the city's leader is "chosen by (Chinese) President Xi Jinping not Hong Kongers."
© Copyright IBTimes 2022. All rights reserved.
FOLLOW MORE IBT NEWS ON THE BELOW CHANNELS