Who Is Diana Sacayán? Transgender Activist In Argentina Found Dead After Possible Hate Crime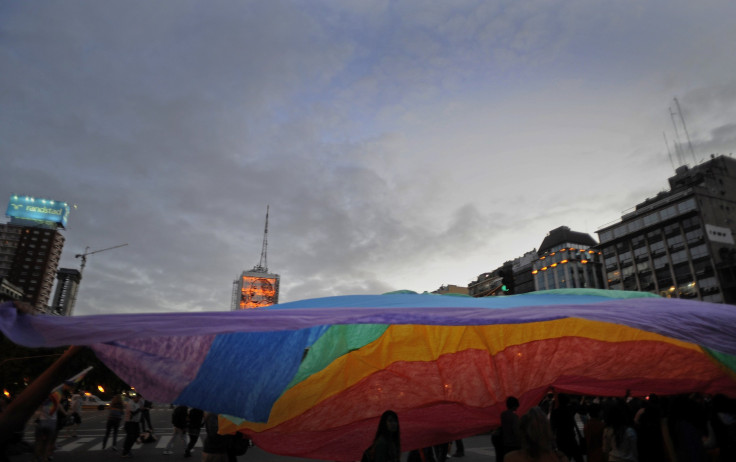 Argentine President Cristina Fernandez de Kirchner joined human rights groups around the world Wednesday in calling for justice for Diana Sacayán, a prominent transgender activist who was killed in Buenos Aires earlier this week. Reuters reported that Kirchner, who famously gave Sacayán a government ID card with a female gender label in 2012, said she wanted national security services and the metropolitan police to work "to solve this horrible crime."
Sacayán, 40, was found dead Tuesday in her apartment with "signs of violence" on her body including stab wounds, Telefe Noticias reported. Police are investigating the death as a homicide.
Sacayán served on the board of the International Lesbian, Gay, Bisexual, Trans and Intersex Association and led the Antidiscrimination Liberation Movement in Argentina. She was considered to be at least the third transgender person killed in Argentina in the past month: Transgender women Marcela Chocobar and Coty Olmos died recently in Santa Fe and Santa Cruz, respectively.
"A dark cloud has set over Argentina's trans community. Unless this latest wave of murders is effectively investigated and those responsible taken to justice, a message will be sent that attacking trans women is actually OK," Amnesty International Argentina executive director Mariela Belski said in a statement. "Argentina must not allow this wave of violence to continue."
The Argentine Homosexual Community counted 14 hate-crime murders in 2014. Women in the country are particularly at risk, as one dies about every 31 hours, teleSUR reported.
"While the circumstances of her sudden death are still being investigated by the authorities in Argentina, the suspicion that Diana might have been the victim of hate crime adds to the sadness of our loss and is a dreadful reminder of the price far too many LGBTI activists, especially trans activists, have to pay for their contribution to this struggle," the International Lesbian, Gay, Bisexual, Trans and Intersex Association wrote on its website. "We will miss you, Diana."
© Copyright IBTimes 2022. All rights reserved.
FOLLOW MORE IBT NEWS ON THE BELOW CHANNELS