Who Is Joko Widodo? Former Jakarta Governor Becomes Indonesia President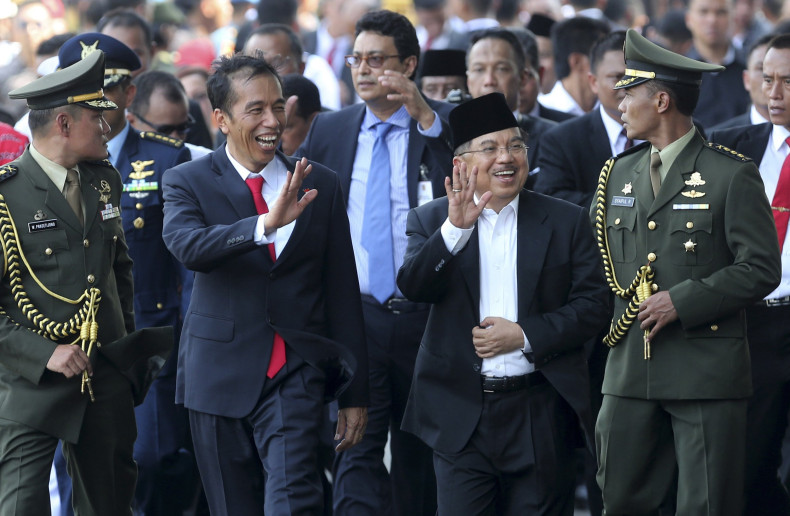 Joko Widodo was sworn in as the president of Indonesia Monday, becoming the nation's first leader to rise to power from outside the ranks of the political elite or military. Widodo, 53, was elected by a narrow margin in July and served as the former governor of Jakarta. He has pledged to lift up the country's poor.
Widodo took the oath of office Monday and then made his way through the streets of Jakarta on a horse-drawn carriage to the state palace, according to BBC News. U.S. Secretary of State John Kerry and Australia's Prime Minister Tony Abbott attended the inauguration. During the ceremony, dancers wore traditional costumes and thousands of people lined up to catch a glimpse of the charismatic leader also known as Jokowi.
Widodo is a former furniture exporter and the son of a carpenter. He now leads the world's third-largest democracy with a population of about 250 million. "Unity and working hand in hand are prerequisites for us to be a great nation," Widodo said after reading the oath of office. "We will never become a great nation if we are stuck with division."
More than 100 million people in Indonesia live on $2 a day or less, with the wealth gap between the rich and poor is at an all-time high, according to economists. Alluding to his modest roots, Widodo called on "fishermen, workers, farmers, bakso [meatball] sellers and street vendors, professionals, scholars, the military, police, businessmen" to work together during his inauguration speech, according to the Sydney Morning Herald. "This is a truly historic moment for all of us to be able to work together, and to work and work and work," he said.
Former President Susilo Bambang Yudhoyono, who stepped down on Monday after serving two five-year terms, gave Widodo a tour of the palace over the weekend. Widodo's rival in the presidential election, Prabowo Subianto, initially challenged the election results but then gave the new leader his endorsement last week. Two-thirds of parliament are from Subianto's coalition, which could make governing difficult.
Widodo began his political career when he was elected mayor of Solo in 2005. He was re-elected in 2010 with 90 percent of the vote. He became governor of Jakarta, the capital and largest city of Indonesia, in 2012. "He has climbed up to the top of the pyramid, but he's still weak within the powerful political class," Achmad Sukarsono, a political analyst at the Habibie Center, a think tank, told Reuters.
© Copyright IBTimes 2022. All rights reserved.