Who Is Katie Ledecky? 10 Facts About Record-Setting Olympic Gold Medalist Swimmer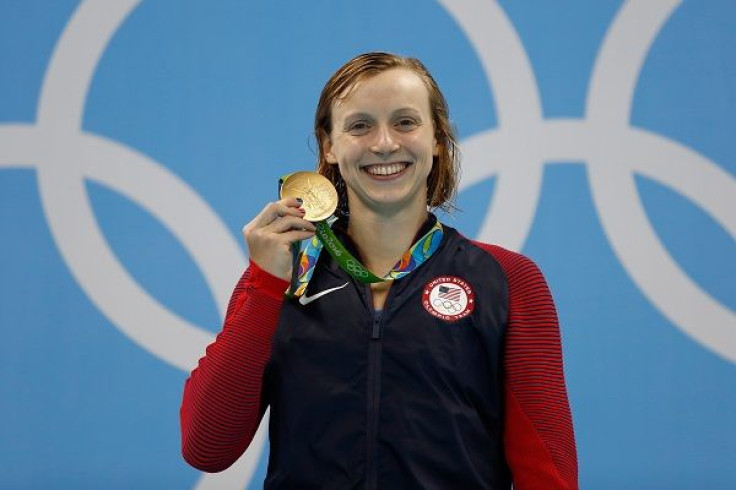 The Rio Olympic Games are in full swing and Team USA has managed to take home some gold. One win in particular that stands out belongs to 19-year-old Katie Ledecky. The Maryland native took home the win Sunday in the Women's 400-meter freestyle swim meet.
The following are 10 facts you should know about this Olympic gold medalist.
1. Katie Ledecky beat her old world record and set a new one.
The swimmer finished the women's 400-meter freestyle with a time of 3:56.46, setting a new world record. The previous record which she set herself back in 2014, was 3:58.37. Ledecky finished almost 5 seconds ahead of her competitors and managed to beat out her own record by more than a second, according to the Huffington Post.
2. Ledecky stands to make even more history.
If she manages to win all three categories at the Rio Games — the 200-, 400- and 800-meter freestyle — she will become one of two women to be victorious in all three meets in a single competition. Debbie Meyer is currently the only woman who has done this, back in 1968.
3. This isn't Katie Ledecky's first gold medal.
Back in 2012, the swimmer was 15 years old and dominated the women's 800-meter freestyle at the London Olympics for the win.
4. Ledecky started swimming at a young age.
The Olympian credits her older brother, Michael, for inspiring her to learn how to swim. She began swimming at the age of six and by high school had twice set the American and U.S. Open record in the 500-yard freestyle. By the end of her high school career, Ledecky held the school record in every swimming event except for the 100-yard breaststroke.
5. The Olympian is a charitable citizen.
Ledecky is involved with several charities, including Catholic Charities, Shepherd's Table, Bikes for the World and Wounded Warriors.
6. Athletics runs in the family.
Along with her brother, who was a swimmer, Ledecky's mother swam for the University of New Mexico and her uncle, Jon Ledecky, is the owner of the New York Islanders.
7. Ledecky has set 12 world records.
Over a three year span the teenager has managed to set a dozen world records, beginning back at the 2013 World Championships in Spain up through the current 2016 Summer Olympics in Rio.
8. Her real name is Kathleen.
In many cases, Katie is short for Katherine, but in the case of the Olympic gold medalist, she was born Kathleen Genevieve Ledecky.
9. She deferred her admission to an Ivy League university.
In order to focus on the 2016 Rio Olympic Games, Ledecky pushed back her admission to Stanford University in Palo Alto, California, and will instead enroll this fall.
10. Ledecky is competing against herself.
The swimmer admitted that her goal while training is to better her time. She told the Washington Post: "So we started working on speed and trying to get better at the 400 and 200 over that year, and I think as I started to drop time I kind of realized, 'Yeah I can be a player in all those events on the international stage.'"
Ledecky is scheduled to next compete Thursday, when she is expected to vie for the 800-meter freestyle gold medal.
© Copyright IBTimes 2023. All rights reserved.