Who Is Masazo Nonaka? Japanese Man Confirmed As World's Oldest Male
A 112-year-old man from Japan named Masazo Nonaka was recognized Tuesday as the world's oldest living man, according to the Guinness Book of World Records.
Nonaka, who was born on July 25, 1905 — just months before Albert Einstein published his theory of special relativity — received a certificate from Guinness World Records during a ceremony in Ashoro, on Japan's northern island of Hokkaido. The supercentenarian received the title after Francisco Nunez Olivera of Spain died this year at the age of 113, Guinness World Records said.
Nonaka lives with his family, which manages a hot springs inn.
"He needs a wheelchair to move but he is in good condition," said Yuko Nonaka, his granddaughter. "He loves eating any kinds of sweets — Japanese or western style. ... He reads newspapers every day and often soaks in the hot springs."
Nonaka also has seven brothers and one sister who live nearby in the town of Ashoro on Hokkaido. He married his wife Hatsuno in 1931 and the pair had five children, according to Guinness World Records.
The world record title for the oldest man who ever lived is held by another Japanese man named Jiroemon Kimura, who died in 2013 at the age of 116 years and 54 days.
"We are very pleased to announce that we have a new record holder for the oldest living man. Mr Nonaka's achievement is remarkable – he can teach us all an important lesson about the value of life and how to stretch the limits of human longevity," Craig Glenday, Guinness World Records' Editor-in-Chief said.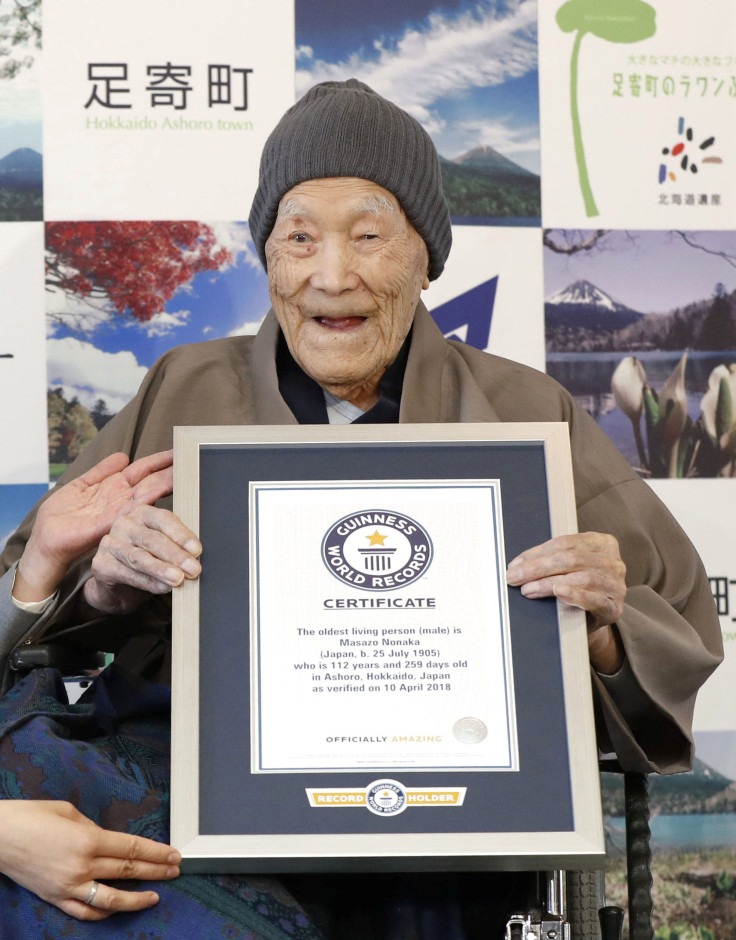 According to the Guinness World Records, Nonaka now spends his time after retirement watching television, sumo wrestling in particular, reading newspapers and also indulging in sweets and cakes.
The world's oldest living man also likes to spend time with his family, and their two pet cats called Kuro and Haru.
Nonaka is said to be extremely fond of his pets and added if he does not like his dinner he would often give it to his pets, but tries to hide it from his family.
Although he believes his longevity is because of soaking in hot springs and eating sweets, his daughter does not think so. She claimed it was because he lives his life in a way that does not bring him stress.
If he does not want something, he will always make sure everyone knows about it, she said.
Guinness World Records was currently investigating possible contenders for the title of the oldest living person as no one has been recognized since Violet Brown of Jamaica died in July 2017, at the age of 117 years.
© Copyright IBTimes 2022. All rights reserved.
FOLLOW MORE IBT NEWS ON THE BELOW CHANNELS