Who Is Rachel Jeantel? Key Witness In George Zimmerman Trial Reveals Trayvon Martin's Final Words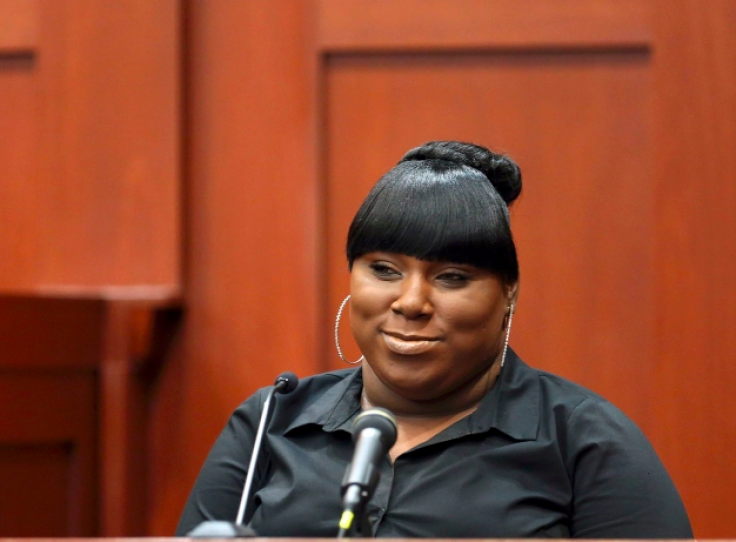 A key witness in the George Zimmerman trial, Rachel Jeantel, spoke on the stand Wednesday, explaining that Trayvon Martin told her that someone was following him during his final moments alive.
"A man was watching him," said the 19-year-old Jeantel, who was on the phone with Martin just before he was killed, according to HLNTV.com. "He said the man kept watching him. He kept complaining that a man was just watching him."
Zimmerman, a former neighborhood watch captain, is being charged with second-degree murder for the killing of Martin on Feb. 26, 2012. Zimmerman told authorities at the time that he was forced to shoot the 17-year-old in self-defense during a confrontation between the two.
But Jeantel, a longtime friend of the victim, told a much different story on Wednesday. She said Martin was trying to get rid of Zimmerman as he dashed toward the house of his father's girlfriend: "And then he said, 'That N-word is still following me now.... I asked him how the man looked like. He just told me the man looked 'creepy.' 'Creepy, white' -- excuse my language -- 'cracker. Creepy [expletive] cracker.'"
During her testimony she told the prosecutor it was Martin's screams that could be heard in the background of a neighbor's 911 call, but when she was cross-examined, defense attorney Don West read aloud a part of her deposition given earlier in which she said wasn't sure if it was Martin's cries that could be heard.
"It could be. Like I said, I don't know, but it could be," Jeantel said in the deposition. "The dude sound kind of like Trayvon. Trayvon do got that soft voice and that baby voice sometimes, so it could be, I don't know."
The teenager has been caught in several lies. She originally said she was 16 instead of 18 so she that would be considered a minor and have more privacy. She didn't go to Martin's memorial service because she didn't want to see the body, but at first she'd said it was because she was in the hospital.
When Jeantel was pressed about why she didn't go to the service, she explained: "You got to understand, you the last person to talk to the person and he died on the phone after you talked to him -- you got to understand what I'm trying to tell you," Jeantel said. "I'm the last person, you don't know how it felt. You think I really want to go see the body after I just talked to him?"
© Copyright IBTimes 2023. All rights reserved.
FOLLOW MORE IBT NEWS ON THE BELOW CHANNELS