Who Recognizes Armenian Genocide? 20 States That Formally Acknowledge 1915 Events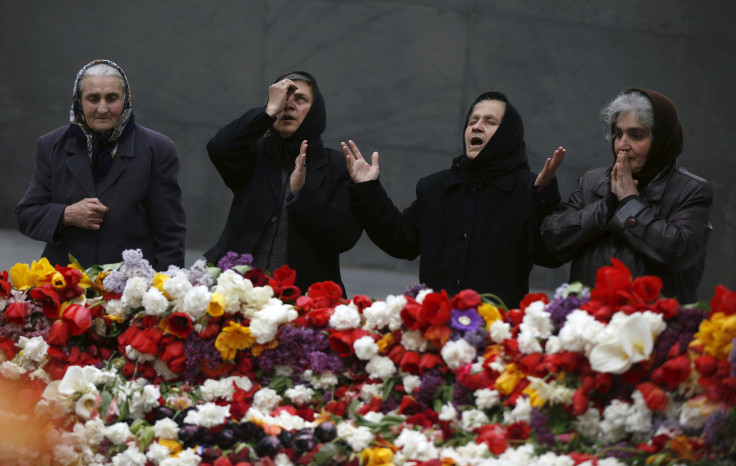 Less than two dozen countries recognize the killing of more than 1 million Armenians as "genocide," despite widespread academic recognition that what took place in 1915 is consistent with the term, which designates a deliberate and systematic killing of a group of people with the intent of completely annihilating that group. The debate arises every year, but it has been particularly prominent this year, 100 years after the killings
More than 1.5 million Armenians were killed in death marches, mass executions and starvation as a direct result of Ottoman government policies during a two-year period beginning April 24, 1915. Rapes and torture were commonplace during those two years, but Turkey, which evolved from the Ottoman Empire, denies the events constitute a "genocide." Turkey has recognized there were atrocities committed, but that it was the result of a chaotic time in the region's history and perpetrated under the guise of maintaining security. At the time of the massacres, the Ottoman Empire was at war as an Axis power in World War I and was on the verge of collapse.
Twenty countries formally recognize the Armenian Genocide, according to the Armenian government. Uruguay was the first to do so in 1965, followed by Cyprus 10 years later, but no other countries formally recognized it until Russia did in 1995, starting a series of similar declarations. Seventeen more countries have recognized it since then; they are in chronological order: Canada (1996), Lebanon (1997), Belgium (1998), France (1998), Greece (1999), the Vatican (2000), Italy (2000), Switzerland (2003), Argentina (2004), Slovakia (2004), the Netherlands (2004), Venezuela (2005), Poland (2005), Lithuania (2005), Chile (2007), Sweden (2010) and Bolivia (2014).
The European Parliament, the International Association of Genocide Scholars and the Council of Europe also recognize it as a genocide. Germany will join that list on Friday, according to a spokesman for Chancellor Angela Merkel. There are over 5.5 million Turkish or second-generation Turkish people living in Germany, by far the highest population in Europe. The Armenian National Institute maintains a database of the articles, legislations and declarations of each country.
While the House of Representatives and the Senate have separately recognized the 1915 Armenian genocide a handful of times during the last 100 years, the U.S. government has not issued a formal declaration of recognition and that won't change this year. President Barack Obama will not use the term "genocide" in his address on Friday for strategic reasons and will instead urge reconciliation, a White House official said on Tuesday, despite his promises in 2008 to do so. George W. Bush did the same during his two terms as president, promising to do so, but holding back to maintain a good relationship with a key NATO ally.
Forty-three U.S. states have independently recognized the Armenian Genocide; only Wyoming, Texas, Iowa, Indiana, West Virgina, Mississippi and Alabama have not made formal declarations. The Armenian government lists other local government recognitions here.
© Copyright IBTimes 2023. All rights reserved.