Who Is Shaq Thompson? NFL Draft Surprise First-Round Pick For Carolina Panthers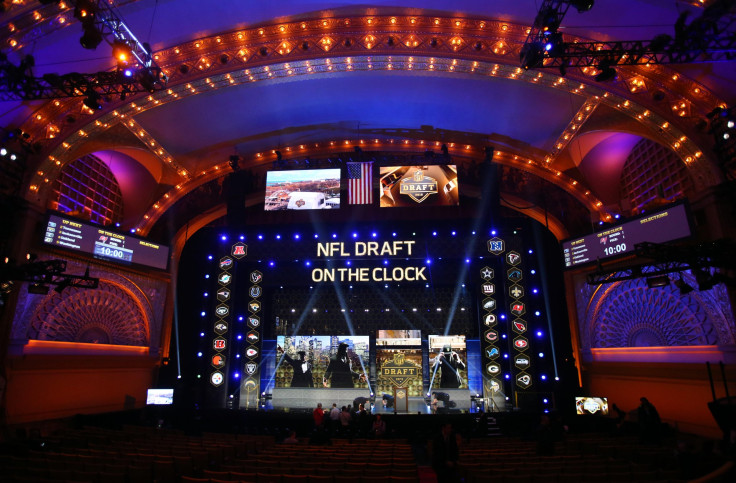 Shaq Thompson was expected to have to wait through Thursday night at the NFL Draft. The linebacker out of the University of Washington -- while expected to be good -- had second or third- round grade, meaning a team likely wouldn't call his name until Friday. Instead, the Carolina Panthers selected 21-year-old Thompson with the 25th overall draft pick, and the versatile defensive player became perhaps the biggest surprise of the NFL Draft's first round.
Thompson took a winding road to the NFL. But he's no stranger to getting taken in a draft. Thompson was selected by Major League Baseball's Boston Red Sox out of high school in the 18th round of the MLB's 2012 draft. Thompson went 0 for 39 at the plate in 13 games of rookie ball for the Red Sox and walked away the game, moving on to pursue football instead at Washington. Thursday night that decision seemed to be the correct one.
The fact that Thompson had a shot at a career in two sports hints at why the Panthers selected him earlier than many experts predicted. He is listed at 6-foot and 228 pounds, and can play as a speedy, versatile linebacker for Carolina. He finished with 81 tackles for Washington last year and had an ability to make big plays.
Thompson will be able to move around the field and perform well as a pass-defender, if needed, having taken snaps at the safety position for the Washington Huskies. Thompson, winner of the 2014 Paul Hornung Award given to the NCAA's most versatile player, even played a good bit of offense for Washington as a running back (rushing for 456 yards and two touchdowns).
"When you watch the way Washington used him, they used him many different ways," Panthers head coach Ron Rivera said about to Thompson, according to the Charlotte Observer. "You watch him walk out on space, you see him out in space and he looks natural."
Thompson shares a name with famous former NBA star Shaquille O'Neal, which was apparently purposeful. Thompson wrote in a draft diary entry for USA Today that his mom named him while watching the former Orlando Magic center play.
"She was watching the Orlando Magic game.," he wrote, "Shaquille O'Neal was playing for them. Bam! She named me Shaquille."
Thompson also wrote that he was born in Sacramento, California, and was raised with difficult financial circumstances, along with three brothers, by just his mother. About three years after his baseball career began, his new opportunity as a football player is set to kick off in Carolina. To Thompson the game is something more than just a career however, according to his diary entry for USA Today. It's a chance for a new life after living in a poor neighborhood.
"Football is basically a way out of life for us," he wrote. "It keeps you out of trouble. It's a stress reliever. It really keeps you focused on what you want to do."
© Copyright IBTimes 2023. All rights reserved.