Whole Foods, Trader Joe's Lawsuits At Center Of 'All Natural' Labeling Debate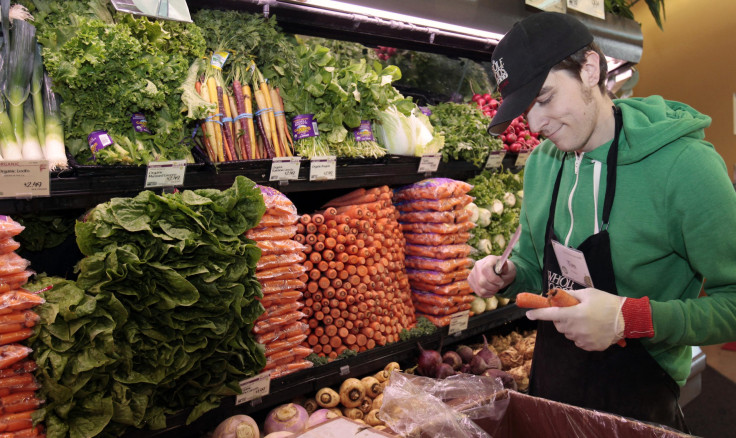 The heated debate over what the words "natural" and "organic" mean is surfacing in a series of lawsuits aimed at grocers and producers, and may spur changes to America's often confusing food-labeling rules.
The suits against Whole Foods Market Inc. (NASDAQ:WFM) and several others, including privately held Trader Joe's Company, are helping drive a conversation about how much responsibility companies should bear for what goes into their foods, and whether the federal government should re-examine the regulations around labeling terminology.
For years, shoppers at traditional supermarkets like Safeway Inc. (NYSE:SWY) and employee-owned Publix Super Markets Inc. tended not to question these designations, assuming that foods with such comforting terms emblazoned on their packaging were healthful and free of synthetic ingredients.
In recent years, as shoppers have grown increasingly savvy, stores like Whole Foods and Trader Joe's, which cater to shifting demands, have gone mainstream, making billions of dollars and dominating the so-called health and niche food retail markets. But that surge in food awareness is now contributing to legal and financial troubles for stores and producers, according to experts like Susan Lee, a project manager at global strategy agency Brand Union in New York.
"All of this is happening at the same time that access to healthier and organic foods is becoming more widespread," she said. "I don't think that's a coincidence. I think that as such products become more ubiquitous there will be more scrutiny and I think eventually the FDA [Food and Drug Administration] will have to look at what exactly constitutes products touted as 'natural.'"
A current lawsuit, Garrison et al v. Whole Foods Market Inc., is a high-visibility flashpoint in the controversy. The case, a nationwide class action filed in California's Northern District federal court in November by Whole Foods shoppers Mary and Grace Garrison, alleges that the Austin, Texas, company sold products labeled as "all natural" that in fact contained sodium acid pyrophosphate (SAPP), a synthetic powder used as a leavening agent.
U.S. District Judge Vince Chhabria gave the suit the go-ahead to proceed on behalf of a national class earlier this month, rejecting claims by the grocer that the case should be dismissed on the basis that relevant laws about labeling differ from state to state.
Federal regulation of the word "natural" is not as strict as it is for "organic." But the suit still has merit, says New York business attorney David Reischer. "Judge Chhabria properly concluded that customers could interpret the words 'all natural' to exclude synthetic compounds such as SAPP, and therefore be misled by Whole Foods' labeling."
"It seems the use of the word 'all' and the word 'natural' when conjoined together as 'all natural' brings the labeling much closer to the strict regulations of the word 'organic.'" Reischer said. "The 'all natural' labeling may be considered false advertising when SAPP is utilized."
Whole Foods competitor Trader Joe's has already experienced the financial headache that labeling lawsuits can bring. A class-action suit filed against the company in March 2013 ended this spring. Trader Joe's settled for $3.4 million over allegations that it labeled and sold a number of foods -- including Trader Giotto's 100% Natural Fat Free Ricotta Cheese and Joe-Joe's Chocolate Sandwich Creme Cookies -- as "all natural" or "100% natural" despite the fact that they contained ingredients like xanthan gum and SAPP (which the company describes as "allegedly synthetic").
The website Trader Joe's has set up to inform class members about the details of the settlement and how to file to participate in it states that "Trader Joe's denies it did anything wrong or unlawful, and asserts the products' labels were truthful, not misleading, and consistent with the law. Trader Joe's has agreed to this proposed settlement solely to avoid the further expense, inconvenience, and distraction of any burdensome and protracted litigation and to be completely free of any further controversy with respect to this lawsuit."
That statement speaks to the damage that can be done to the public image of brands like Trader Joe's and Whole Foods when such suits remain in the news. A few million dollars may not mean much to a major grocery chain, but bad PR can reduce investor confidence and cause a sharp dip in sales.
Trader Joe's is a privately held company, but Whole Foods stock has been sliding for months, resulting in large part from disappointing earnings and projections, but perhaps also from the lawsuits. On Tuesday, Whole Foods closed at its lowest mark since January 2012, at $36.85 per share.
Lee believes that the Trader Joe's case and others like it have "opened Pandora's Box" to a slew of suits concerned with the labels and nomenclature companies use to sell health food products.
"When the Trader Joe's class specifically was approved, I said, 'OK, let's see how this goes,'" Lee said. "And what's happened since is there's this rising tide of people questioning exactly what 'natural' means."
© Copyright IBTimes 2023. All rights reserved.