Why Chick-fil-A Could Be Big Competition For Starbucks, Dunkin'
Chick-fil-A is seeking to take a bite out of the coffee market with three new menu items that will roll out nationwide on Sept. 14.
The chicken chain has added two new coffee drinks to its lineup with the launch of the Mocha Cream Cold Brew beverage and a new blend of specialty-grade Thrive Farmers Hot Coffee. The third menu addition is a dessert option – a Chocolate Fudge Brownie.
The Mocha Cream Cold Brew drink will be available at participating Chick-fil-A restaurants for a limited time. It features what the chain called a "caffeine kick" with a swirl of cold-brewed coffee that has been sweetened with cream and chocolate-flavored syrup – all served over ice.
The Thrive Farmers Hot Coffee is brewed using coffee beans that have been grown in Central and South America and features notes of smooth caramel. It can be drunk on its own or mixed with cream and sugar. Unlike the Mocha Cream Cold Brew, the hot coffee offering will be available at the restaurant year-round.
Also new from Chick-fil-A is the Chocolate Fudge Brownie made with semi-sweet chocolate that has been melted into the batter and is accompanied by fudgy chucks. The brownies are sold in individually wrapped packages or by the tray.
"We are always looking to add fun and flavorful offerings to our menu, and these new dessert and snack options make perfect additions as we enter the fall season," Leslie Neslage, director of menu and packaging at Chick-fil-A, said in a statement. "We received positive responses when we tested the Chocolate Fudge Brownie and Mocha Cream Cold Brew in select markets last year, and we hope our customers will be as excited as we are to have these sweet treats join our menu nationwide."
The new additions from Chick-fil-A could move the restaurant chain more firmly into the coffee market as it looks to take on rivals such as Starbucks and Dunkin'. The menu additions also help Chick-fil-A beef up its breakfast menu taking on McDonald's, Wendy's, and Burger King in the breakfast wars that have heated up in recent years.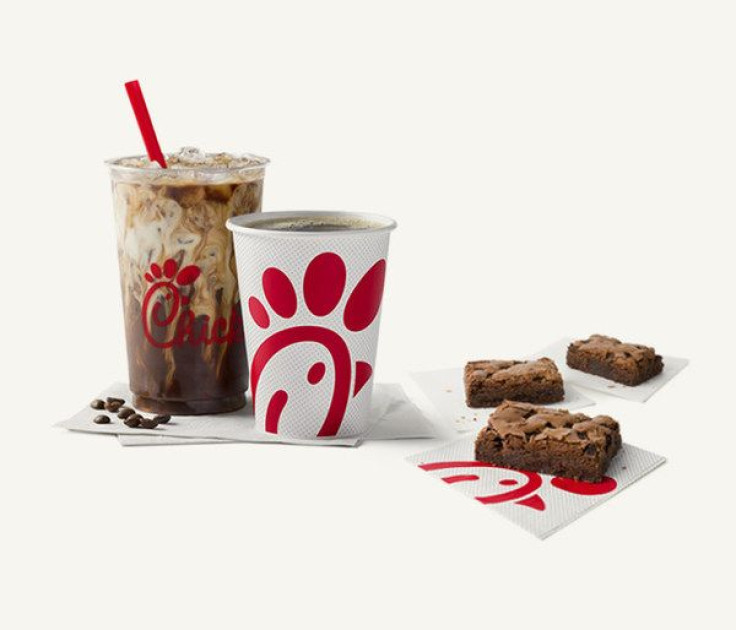 © Copyright IBTimes 2023. All rights reserved.