Why CVS Pulled Tobacco To Rebrand As Health Care-Focused Company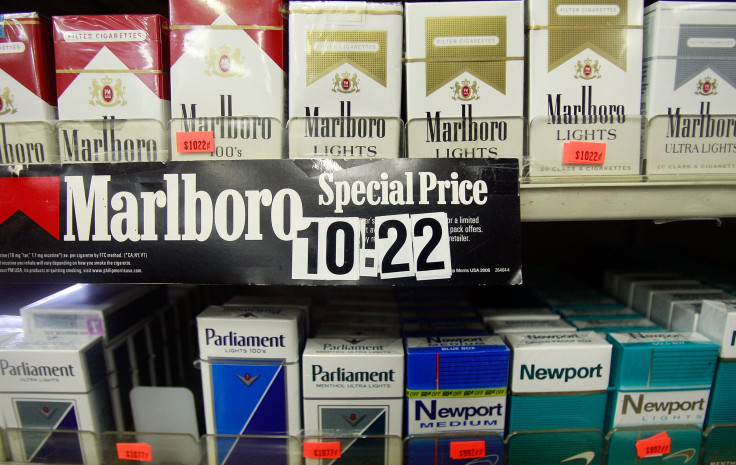 CVS Pharmacy has pulled all tobacco products from its 7,600 U.S. stores a month earlier than originally planned, in a move that, along with a change to its corporate name, is aimed at helping rebrand the drugstore chain as a health care company. The retailer is banking on the idea that opting out of tobacco sales will be a good bet in the long run, one that better fits with the increased focus on health care reflected by its new name, CVS Health. The company also announced Wednesday that it is launching a new smoking-cessation campaign.
CVS Caremark Corporation (NYSE:CVS) surprised observers by announcing that it had removed all tobacco products from its shelves as of Wednesday morning, becoming the first major national pharmacy chain to take the step. The rebranding was also proclaimed by a huge banner with the new name and heart-shaped logo across the New York Stock Exchange.
"We assume CVS will take a hit at the forefront of this because they're obviously not selling a product that they were previously, but they're also launching a tobacco cessation program, and we believe they'll attract customers who are more concerned with their health," said Laurent Huber, executive director of the anti-smoking advocacy group Action on Smoking & Health.
The decision will set the Woonsocket, Rhode Island-based company back about $2 billion in sales in its first year of implementation -- the equivalent of 3 percent of annual revenue -- CEO Larry Merlo said when the plan was announced in February.
"The change of our corporate name to CVS Health … reflects our broader health care commitment and our expertise in driving the innovations needed to shape the future of health," the company said in a statement Wednesday, adding later, "By eliminating the sale of cigarettes and tobacco products in our stores, we can make a difference in the health of all Americans."
According to CVS' own study published in the policy journal Health Affairs on Wednesday, tobacco sales bans at pharmacies in Boston and San Francisco reduced the number of households that purchased cigarettes by about 13.3 percent and the number of tobacco users by 5.5 percent in the two cities.
Vince Willmore, a spokesman for the Campaign for Tobacco-Free Kids, said the move could be a boon for CVS's sales numbers in the long run.
"It can help CVS economically in two ways. One, I think consumers who care about health and ending tobacco use will want to show their support by shopping at CVS," he said. "Second, it shows that CVS is making a serious commitment as a health care provider and will make them a more attractive partner for others involved in the health care sector."
Ending tobacco sales will also help the company in its effort to partner with health care providers, which has been an increasingly important part of pharmacy chains' business models since the implementation of the Affordable Care Act, according to Forbes. CVS currently has 41 health system and provider affiliations, and is looking to increase that number as health care providers are grouped into accountable care organizations under President Barack Obama's landmark health care law.
While the first pharmacy chain to stop selling tobacco, CVS is not the first retail giant to do so. Target Corporation (NYSE:TGT) became the first major chain to quit tobacco, in 1996. A number of smaller retailers followed suit, including the privately-owned Wegmans Food Markets Inc., which pulled tobacco products from its shelves in 2008.
CVS's announcement was met favorably by the White House. First lady Michelle Obama tweeted her appreciation:
Whitw House Press Secretary Josh Earnest said in a Wednesday statement that "CVS Health is setting a powerful example that we hope others in the industry will follow."
Anti-tobacco groups have seized on the moment to demand that other companies follow CVS's example.
"We're calling on all retailers, especially those in health care, to follow the example set by CVS and end tobacco sales," the Campaign for Tobacco-Free Kids' Willmore said. "There really is a fundamental conflict between providing health care services on one hand and selling such a deadly product on the other hand. Retailers can't have it both ways."
CVS shares were trading at $80.59 as of 2:30 p.m. EDT Wednesday, a rise of 1.08 percent for the day. The stock is up 12.5 percent for the year to date.
© Copyright IBTimes 2023. All rights reserved.
FOLLOW MORE IBT NEWS ON THE BELOW CHANNELS