Why Did Donald Trump Demote Paul Manafort? More Pro-Russian Party Allegations Emerge As Ukraine Calls For Investigation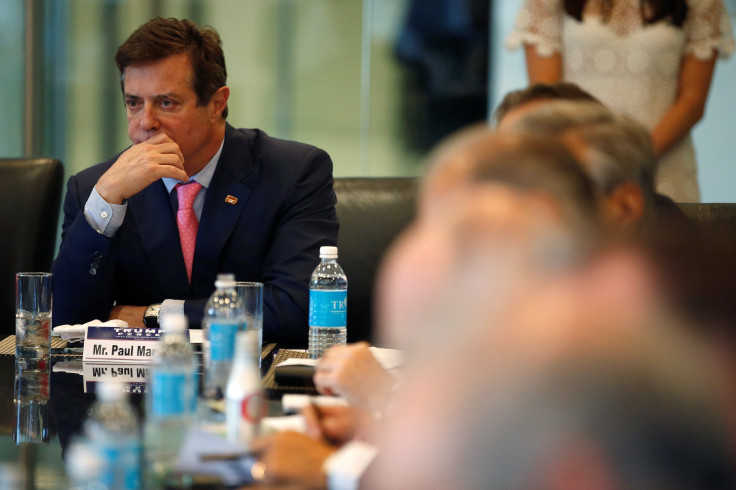 UPDATE: 10:15 a.m. EDT -- Republican nominee Donald Trump's campaign chairman Paul Manafort resigned from his position Friday, the Washington Post reported. The resignation comes after revelations of Manafort's work for a pro-Russian party in Ukraine and allegations that he received off-the-books payments valued at nearly $13 million.
In a statement, Trump said he was "appreciative" of Manafort's work, especially during the primary season.
Original story:
Paul Manafort is not having a good week. A Ukrainian lawmaker called for a graft probe to be launched against Republican nominee Donald Trump's campaign chairman over nearly $13 million worth of payments intended for him from the party of deposed former Ukrainian President Viktor Yanukovych.
"Manafort didn't work for free in Ukraine, he served the Party of Regions for over 10 years and it is clear that his work was paid," said investigative journalist and member of parliament Serhiy Leshchenko, Reuters reported Friday. "If Mr. Manafort denies any allegations, I think he has to be interrogated into this case and prove his position that he was not involved."
Leshchenko said it was likely that if the alleged payments were made, it would have been done in cash making them almost impossible to trace.
The demand for a corruption investigation comes after the Associated Press reported late Thursday that a firm run by Manafort directed a secret lobbying campaign on behalf of the Party of Regions in Ukraine to influence public opinion in the U.S. to support the pro-Russian party. Manafort and his business partner Rick Gates never disclosed their work as foreign agents as required by federal law. Both said earlier this week that their work did not require them to register and Manafort denied accepting any off the books payments. Neither Gates nor Manafort responded to requests for comments on the latest allegations.
As part of their lobbying, Manafort and Gates pushed for positive media coverage of the Party of Regions and Yanukovych in the New York Times, AP and the Wall Street Journal. They also tried to downplay the imprisonment of Yanukovych's political rival Yulia Tymoshenko.
Manafort's work in Ukraine dates back to 2005 and ended in 2014, the Washington Post reported citing Manafort's financial difficulties before starting to work in Ukraine. Yanukovych fled to Russia in February 2014 after a revolution began when he refused to sign an association agreement with the European Union that would have oriented Ukraine westward away from Moscow's orbit.
The subsequent war in Ukraine has left nearly 10,000 dead and displaced over 1.4 million people as government troops battle Russian-backed separatists. During the Republican Party convention, Trump campaign officials pushed and succeeded in removing a pledge promising to provide Ukraine with "lethal defensive weapons" from their platform, the Washington Post reported.
While Manafort was demoted this week, but still retains his campaign title, both he and Gates remain as advisors on the Republican nominee's presidential campaign, raising concerns about their ties to pro-Russian interests and Russian President Vladimir Putin. Trump has praised Putin as a strong leader and said he would reevaluate American policy toward Crimea following Russia's annexation in March 2014.
© Copyright IBTimes 2022. All rights reserved.
FOLLOW MORE IBT NEWS ON THE BELOW CHANNELS