'Why Did You Call Me At 9 am?' A Confused Lionel Messi Asks Sergio Aguero On Live Stream [Video]
Manchester City superstar Sergio Aguero entertained soccer fans by calling up fellow Argentinian Lionel Messi while going live on popular streaming platform Twitch.
Since most of the soccer leagues, around the world, are currently suspended due to the coronavirus crisis, Aguero has kept himself occupied by playing online games and streaming it live for his social media followers.
Aguero recently gave a real treat to his fans by dialing Messi's number at nine o'clock in the morning, to be precise, and the two international teammates chatted for a while. Since the whole conversation was in Spanish, several fans who do not understand the language could have struggled to enjoy it. Here's what they spoke about:
"What happened to you today that you phoned me at 9 in the morning," Messi asked Aguero, as per Sport Bible.
"I had to do the (coronavirus) test," replied Aguero, who has been a part of Manchester City since 2011.
"But why did you call me?" the Barcelona skipper asked again.
"I don't know, it was to say good morning to you. It's just that I saw you on my phone and I said 'Hey, cool,' ... I was bored and well, it was 9 in the morning and I said I'm going to call ... What do I know?" a cheeky Aguero responded, leaving Messi in splits.
The conversation then switched to Aguero's birthday, which is on June 2. The Man City's striker mentioned that because of the lockdown, they won't be able to spend his birthday together this time before he jokingly called Messi an "a----le" and demanded a birthday gift.
While Messi has scored 24 goals in 31 matches so far this season for Barcelona, Man City's No. 10, Aguero, has netted 23 goals in 30 matches.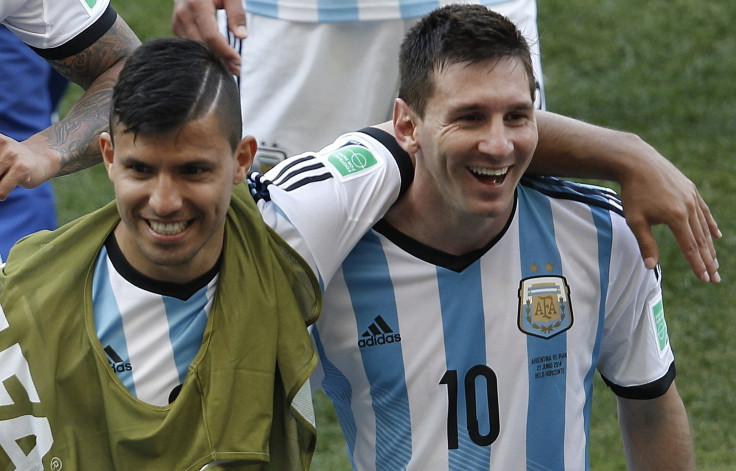 © Copyright IBTimes 2023. All rights reserved.