Why Is India Building The World's Tallest Statue (Double The Height Of Lady Liberty) Of A Man Who Died 63 Years Ago?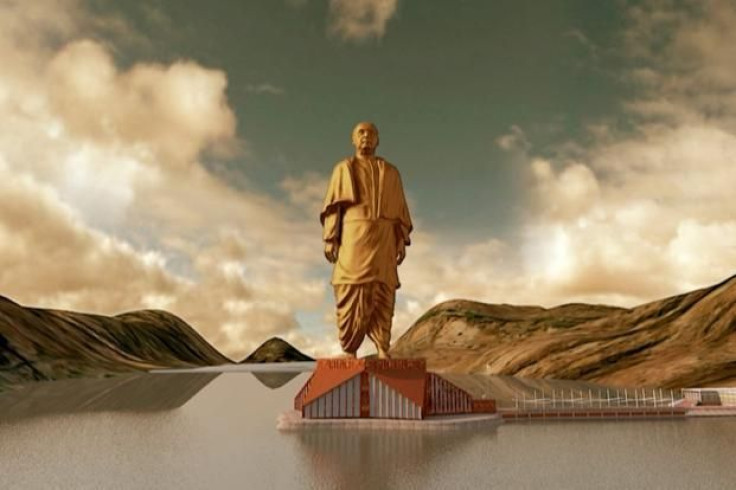 Turner Construction, the US-based company that built the world's tallest building, the Burj Khalifa in Dubai, is now preparing to create the biggest statue on earth in India – a tribute to a long-deceased politician and nationalist hero, Sardar Vallabhbhai Patel, in Kevadiya in Gujarat state.
The so-called "Statue Of Unity" will be composed of melted-down metal and farming equipment and stand at 182 meters (597 feet) twice as high as the famous Statue of Liberty in New York City which rises "only" 93 meters into the sky; and four times higher than the statue of Christ the Redeemer in Rio de Janeiro, Brazil. Its total cost, estimated at 25 billion rupees ($400 million) will be financed by public funds and private donations, according to Gujarat officials.
A website that is devoted to the project states that "India cannot afford to bury the life of a man as great as Sardar Patel, into oblivious pages of history. To keep him alive in the hearts of generations to come is the only tribute that he can be commented with. It is thus in order to make Sardar Patel a source of inspiration every generation, that such a massive and divine statue is being built/project is being undertaken."
However, this massive tribute to Patel, the first home minister of post-independence India who was nicknamed "Iron Man" and died in 1950, has become a political hot potato in contemporary India, ahead of next year's national elections. Narendra Modi, the controversial chief minister of Gujarat and leader of the principal opposition Bharatiya Janata Party (BJP), laid the foundation stone for the statue on Thursday, in honor of Patel's birthday. Although Patel was a longtime member of the Congress Party (Modi's opponent in the upcoming elections), the Gujarat chief minister has annoyed Congress officials by asserting that Patel would have made a superior leader to India's first prime minister Jawaharlal Nehru.
"Every Indian regrets Sardar Patel did not become the first prime minister. Had he been the first prime minister, the country's fate and face would have been completely different," Modi said at a public appearance. Nehru's descendants, including daughter Indira Gandhi, have ruled India for much of the past 65 years. Indira's Italian-born daughter-in-law Sonia is now the chief of Congress and her son Rahul is likely to become the party's next Prime Ministerial candidate. Patel, who is credited with creating India's massive civil service, served as Nehru's deputy but was often at odds with his boss.
The current Congress Prime minister, Manmohan Singh, responded by praising Patel as a "secular" leader, citing the ideological differences between Patel and the BJP, which is widely regarded as a Hindu nationalist group hostile to Muslims and other minorities. "I am proud and happy that I belong to a political party to which Sardar Patel was attached. Sardar Patel was totally secular, and believed in the unity of India," Singh said at a public function.
Manish Tewari, another Congress figure, attacked the BJP and Modi for seeking to "hijack" Patel's legacy by noting that he was strongly opposed to right-wing Hindu groups like Rashtriya Swayamsevak Sangh (RSS), an ideological antecedent of BJP.
But another senior BJP official, Venkaiah Naidu, has accused the Congress party of opposing the planned statue of Sardar Patel. In contrast, a recent statue of Mahatma Gandhi in Patna in Bihar stands a mere 70 feet, less than one-fifth the size of the proposed Patel colossus.
An op-ed in DNA/India bitterly criticized the Patel project as a huge waste of money in a nation where some 400 million people live in poverty. "In a country where there aren't enough toilets and the poor go hungry to bed almost every night, the funds could have allocated in a more efficient way," the piece read. "Interestingly the Sardar Patel museum in Ahmedabad [Gujarat] lies closed and in need of a lot of infrastructure work, perhaps the museum should get some urgent attention first."
Mohan Guruswamy of the Centre for Policy Alternatives, a Delhi-based think tank, lamented: "We're turning the whole of India into a necropolis."
© Copyright IBTimes 2023. All rights reserved.