Why Manny Pacquiao Will Beat Timothy Bradley: Predictions for their June 9 Fight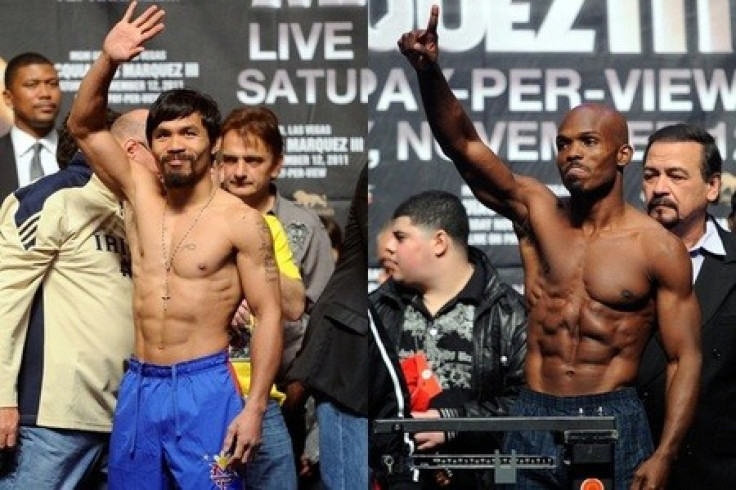 Both Manny Pacquiao and Timothy Bradley will step into the ring for the first time in 2012 on Saturday.
Both men last fought on Nov. 12, 2012, as each fighter emerged victorious. Pac-Man retained his WBO Welterweight title against Juan Manuel Marquez., while Bradley held onto his Light Welterweight title by knocking out Joel Casamayor in the eighth round.
Pacquiao is a heavy favorite heading into Saturday. The online sportsbook Bovada puts him as a minus 450 favorite, with Bradley's odds set at plus 325.
While Pacquiao is expected to win the bout, some experts feel Bradley can keep the fight competitive, and even upset Pac-Man. Bradley has yet to lose a fight in his professional career, and is a pretty big underdog for a man who's undefeated.
Bradley is very talented, and is one of the best young fighters in the game, but he won't beat Pacquiao.
Here are a few reasons why Pacquiao will beat Bradley on June 9 in Las Vegas:
Pacquiao-Marquez III
Pacquiao hasn't lost since 2005 when he fell to Erik Morales, but he wasn't far from losing his last fight.
Pac-Man won by a majority decision, but some experts thought Marquez actually had the better fight. Pacquiao was expected to win the bout, and almost gave away a fight he should have won. Pacquiao even admitted afterwards that he didn't take his opponent seriously enough.
It just happened, I think we underestimated Marquez, but we trained hard for that fight. The training was still the same. We trained hard for that fight. We underestimated Marquez, he said.
Pacquiao learned his lesson the last time around. He won't look past Bradley, even though he's expected to win. Bradley is undefeated, but Pacquiao is a better pound for pound fighter. If he gives 100 percent, he should hold onto his title.
Pacquiao's Personal Life
A lot has been made about the changes that Pacquiao has made outside of the ring. Pac-Man almost lost his last fight because of distractions, and some feel things away from boxing will finally be the undoing of the great fighter.
While some think the changes Pacquiao has made might hurt him, there's a good chance Pac-Man has an even better chance of winning because of his new ways.
Pacquiao had a religious awakening, and has changed his life. He claims that he no longer womanizes or gambles. He sold his casino, his cockfighting operation and doesn't drink anymore.
The Welterweight champion is more focused than ever. He's taking care of his body, and even gave up playing basketball because he felt it wore him down while training for his last fight.
The changes in Pacquiao's personal life have made him an even dangerous boxer.
Bradley's Overconfidence
Timothy Bradley is feeling very good heading into the fight. He has a right to be confident. He's undefeated, posting a record of 28-0.
However, the fact that Bradley has never lost may work against him. Bradley would have no shot to beat Pacquiao if he were afraid of his opponent. It will also be difficult for him to win if he doesn't think he can lose.
Pac-Man was overconfident in his last fight, and it almost cost him a victory. Bradley has been talking a tough game, and doesn't seem to think he can be beaten.
It just happened, I think we underestimated Marquez, but we trained hard for that fight. The training was still the same. We trained hard for that fight. We underestimated Marquez, said Bradley.
Bradley's overconfidence might get the best of him. He's moving up into a weight class that he's never fought in, and is facing possibly the best boxer in the world.
The challenger is feeling very good now, but might now be feeling so hot on Saturday night.
© Copyright IBTimes 2023. All rights reserved.