Manny Pacquiao: Floyd Mayweather Up Next for Pac-Man after Timothy Bradley?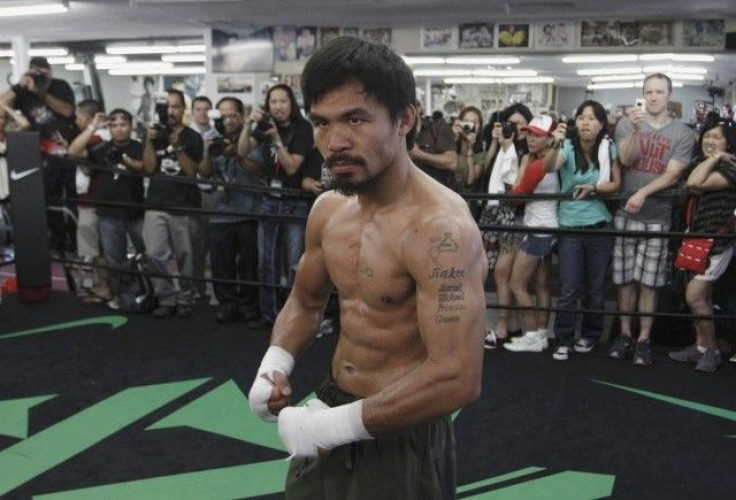 The fight that the sports world is waiting to see is still up in the air.
Floyd Mayweather vs. Manny Pacquiao could be the highest grossing fight in the history of boxing, but the two fighters have been unable to come to an agreement.
Pacquiao is set to fight Timothy Bradley on Saturday, June 9 in Las Vegas, Nevada. Mayweather last fought on May 5 when he defeated Miguel Cotto by a unanimous decision.
Even if Pacquiao and Mayweather do decide to face off after Pac-Man's fight this weekend, it won't happen anytime soon. Mayweather began an 87-day jail sentence on June 1 for attacking the mother of his children in late 2010.
If Mayweather and Pacquiao do eventually face off, Pac-Man would be the underdog for the first time in recent memory. The online sportsbook Bovada already has odds for the fight, even though one has yet to be scheduled.
Mayweather is the favorite at minus 170. Pacquiao is the underdog at plus 140.
Numerous times it has appeared that the fight would take place, but road blocks have always prevented it from being agreed upon.
The first obstacle was the issue of drug testing. The two were reportedly set to fight in 2010, but Pacquiao would not agree to take an Olympic style drug test that Mayweather demanded he undergo.
There have been conflicting accounts from both camps, but Pacquiao eventually agreed to undergo the testing, and a fight still has yet to be scheduled. Mayweather refuses to give his opponent a 50/50 split of the earnings that the bout would produce. Pacquiao seems to be unwilling to accept much less.
While both parties have been unable to come to an agreement, it's Mayweather who's been accused of ducking Pacquiao. Many feel that he's afraid to risk his perfect record in a fight that he might lose.
When he offered me only $40 million, I knew he didn't want the fight, Pacquiao told the Los Angeles Times. And when he says the fight will never happen now, that's because he doesn't want the fight.
Despite his claims that Mayweather doesn't want to fight him, Pac-Man is still hopeful that the two can get in the ring together.
There is so much demand for the fight and so much potential money involved, that there's always a chance it could happen. Mayweather was already the highest paid American athlete last year, and would stand to make even more against Pacquiao.
He made a record-setting $32 million for fighting Miguel Cotto in May.
A potential Mayweather vs. Pacquiao bout would likely generate more than $160 million in the U.S. alone.
© Copyright IBTimes 2023. All rights reserved.