Why NFL Concussion Outrage Dwarfs Public Concern For NASCAR Crashes, NHL Fights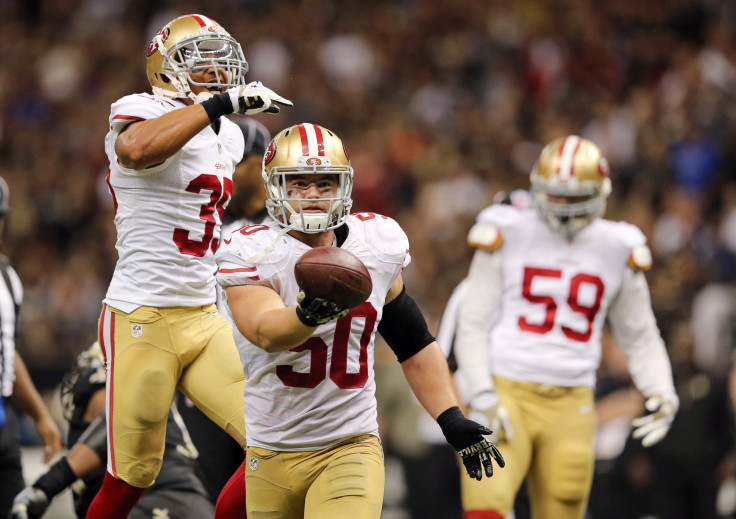 Once a feared enforcer, former New York Rangers winger Derek Boogaard spent his final days as a shell, battling mood swings and loneliness, before his death by overdose in 2011. An autopsy revealed years of hard checks and NHL-condoned bare-knuckle brawls had left Boogaard, 28 when he died, with brown spots on his brain associated with chronic traumatic encephalopathy, or CTE. The circumstances of the hockey player's demise were the subject of a feature story or two, and then largely faded into obscurity – a cautionary tale of how physical deterioration is part of an athlete's job description.
By contrast, the outcry generated by former San Francisco 49ers linebacker Chris Borland's retirement at age 24 this week over concerns about football's long-term health risks made it clear the public is unwilling to allow the NFL to gloss over its concussion problem even though the NHL's fist-fighting or NASCAR's high-speed accidents can also be hazardous. Experts blamed the disparity on football's massive mainstream exposure, coupled with the public's perception that NFL officials have underplayed the notion that gridiron success often goes hand-in-hand with decades of mental decline.
"From a fan's perspective, any time you get behind the wheel of one of these cars, you are essentially making a contract that you are willing to die. You understand that as a perceived risk as part of your job," said Keith Strudler, director of the Marist College Center for Sports Communication in Poughkeepsie, New York, of the dangers associated with NASCAR. Conversly, he said, "In football, a sport that presents itself as America's true pastime, this idea that when you're 55 years old, you're going to be mentally unstable and won't recognize your kids, I don't think that's something that anyone recognizes as part of the perceived risk."
Borland's decision to retire in the prime of his career shocked many in the NFL, where a lack of guaranteed contracts or any real job security causes many players to play through significant injury to avoid losing their spot on the roster. Despite a solid chance at millions of dollars in future earnings, Borland examined the risks associated with repetitive brain trauma that so many current and former football players have experienced and decided his long-term quality of life was more important than a playing career.
The NFL players union commissioned Harvard University professors in 2013 to lead a 10-year study into the understanding and prevention of the NFL's long-term health risks. In a pre-study summary, these researchers said professional football players in North America "have life expectancies in the mid-to-late 50s," roughly 20 years less than the average American male. Multiple studies have found that former NFL players are far more likely to develop, and ultimately to die from, neurological disorders such as CTE and Alzheimer's disease. One found that former NFL players were 19 times more likely to develop Alzheimer's disease or memory loss than the average American aged 30 to 49.
The suicides of former Chicago Bears safety Dave Duerson in 2011 and former San Diego Chargers linebacker Junior Seau in 2012, each of whom were posthumously found to have CTE, served to galvanize the public to question NFL safety. The league is expected to pay more than $1 billion in a settlement with hundreds of former players who alleged the league never properly educated them on the risks of playing with head injuries.
NASCAR went through a similar crisis of conscience following the tragic death of racing legend Dale Earnhardt at the 2001 Daytona 500 in Florida. Earnhardt was traveling approximately 180 mph when he lost control of his vehicle and slammed head-on into the track wall. He died instantly of head trauma, according to ESPN.
The loss of such a beloved figure spurred NASCAR to take immediate action. Within months of Earnhardt's death, NASCAR officials had mandated all drivers wear head-and-neck restraints. Safety reforms continued over the next 10 years with the installation of Steel and Foam Energy Reduction, or SAFER, wall barriers at problematic points in racetracks and the adoption of new, safer car models that better protect drivers in crashes.
The changes have been largely effective, as no NASCAR driver has died on the track since Earnhardt. But in some ways, NASCAR's task is easier than the NFL's efforts to protect its players in a sport that requires participants to launch themselves at each other like projectiles. No NFL player has died as a direct result of an injury sustained on the field of play. But hundreds, if not thousands, have suffered concussions.
"NASCAR's problem is to make sure these guys don't crash and go up into the stands. You can do that. You can't change the inherent nature of football," said Strudler.
There's also the fact that many Americans simply pay more attention to what happens in the NFL compared with other professional sports. NASCAR has a rabid fan base and draws tens of thousands of attendees to its live events, but its television audience is far smaller than that of the NFL. The same is true of the NHL, where games have typically drawn between 750,000 and 1.5 million viewers, according to the Huffington Post. By comparison, more than 200 million viewers watched NFL games last year, with an average of 17.6 million viewers per regular-season game in 2014, according to Zap2It. The NFL has contracts worth billions of dollars with ESPN, CBS, NBC, Fox and DirecTV, as well as a television network of its own.
"If it happens to an NFL player, it just gets so, so, so much more attention than if the 13th-ranked NASCAR driver gets a concussion," said Jack Deschauer, vice president at Levick, a public relations and crisis management firm in Washington, D.C. "NASCAR, within weeks of Dale Earnhardt's death, had mandated all sorts of changes, rules and requirements for what goes on inside that car. In the NFL, this is years, and we're still talking about how to treat concussions."
The NFL is well aware of its public relations dilemma. The league has implemented minor changes in recent years, such as more sophisticated concussion testing, safer equipment and new rules designed to protect defenseless players from injury. The number of reported concussions among NFL players dropped to 111 in 2014, down from 173 in 2012, according to the Associated Press.
"By any measure, football has never been safer and we continue to make progress with rule changes, safer tackling techniques at all levels of football, and better equipment, protocols and medical care for players," Jeff Miller, NFL senior vice president of health and safety policy, said Tuesday in a statement regarding Borland's retirement.
But league officials have so far resisted calls to take measures that would fundamentally change the way football is played. Critics have routinely called for the NFL to abolish the kickoff, during which players from one team sprint nearly the length of the field for a high-speed collision with their opponent, due to the play's propensity for causing significant injury. The NFL competition committee did not discuss a change to the kickoff at its annual meeting this week, according to Pro Football Talk.
It's the sort of bold maneuver that could convince detractors of the NFL's commitment to concussion prevention. But to do so, the league would have to risk alienating a significant portion of its audience – purists who fear pro football will transform from full contact to two-hand touch.
"There's a whole lot of people in that huge audience who love football the way it is and don't really care about the current situation with injuries and brain trauma," said Galen Clavio, assistant professor of sports management at Indiana University. "A lot of those people just look at that as the cost of doing business, both on the league's side and the players' side."
© Copyright IBTimes 2023. All rights reserved.