Why Spirit Is The Worst Airline In America, Or My Terrible, Horrible, No Good, Very Bad Flight
Opinion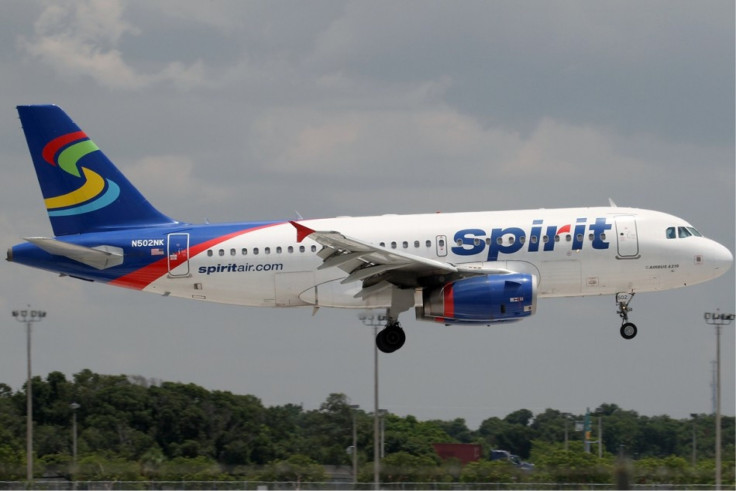 I will never, ever, ever fly on Spirit Airlines (Nasdaq: SAVE) again. It is probably the worst airline in America. In the past 24 hours, I have experienced the worst flying experience of my life. Over the course of almost seven hours of utterly gratuitous delays, I was lied to, witnessed mothers struggling to care for their children and saw elderly passengers lose access to their medication.
I fly an average of six to 10 times a year, and I have never been mistreated by an airline to as great an extent as Spirit has mistreated me over the course of the last day. Moreover, Spirit's mistreatment of its passengers is not just bad for passengers, but probably -- hopefully -- for the company's ultimate profitability as well.
I checked in online for my flight from Chicago O'Hare International Airport to New York LaGuardia shortly before noon on Tuesday. The flight, HK630, was set to depart at 5:40 p.m. and arrive shortly before 9 p.m. Instead, after getting through security around 4 p.m., I waited in the airport for close to seven hours, through repeated delay announcements, before the airline finally canceled the flight slightly before 11 p.m.
The flight was initially delayed until 9:15 p.m. due to weather related issues on the eastern seaboard. Skies were clear in Chicago and New York experienced some spotty rain. A Spirit representative referred to it as a hurricane.
However, the rain cleared and flights began taking off from the northeast going to Chicago around 7:30 p.m. Spirit only has two gates at O'Hare, and flights subsequently wound up leaving late to other destinations like Dallas and Las Vegas because the airline exceeded its gate capacity.
Around 8:30 p.m., there was still no sign of an airplane for the flight to New York, and the airline had put other flights on the gates. I witnessed a flight crew, possibly the one meant for the New York flight, become fed up and left the airport. I overheard one of the flight attendants tell her companions, Let's go -- we don't know anything and we can't answer these people's questions anyway.
These people referred to the approximately 150 people waiting to fly to New York. We did not know what gate the flight would leave from or even if there was a plane. The gates were still full with other flights and there was no space to board a plane at Spirit gates.
Of course, 9:15 p.m. rolled around and there was still no sign of the plane to New York. O'Hare had actually de-listed the flight from the monitors listing arrivals and departures. I asked a flight attendant who was waiting for the flight point-blank whether the airline was lying to its passengers about the existence of the flight to New York, something which she denied.
Around 9:30 p.m., the airline finally announced that the flight would be taking off from a Jet Blue gate nearby. Around 150 waiting passengers moved to the new gate. These passengers included international travelers returning to New York to get on flights abroad on Wednesday, and a mother with a 6-month-old baby. She had been waiting for the flight before I arrived, and I witnessed her use up her supply of baby food while waiting.
A plane finally taxied into the gate around 9:50 p.m., but it did not load. The airline told passengers that the flight crew was carrying out last-minute security checks and that the flight would be in the air soon. However, I only saw two flight crew members enter the plane the entire time.
At last, around 10:30 p.m., the airline finally announced that the flight was canceled, with the explanation that the cancellation was weather related.
When the flight was canceled, the airline said that passengers could get tickets or refunds for a new flight at the ticketing desk at the front of the airport. A literal stampede occurred to get to the ticketing counters, with more than 150 people running pell-mell through the airport, crashing into each other and clawing to get to the front. I was lucky and made it to the ticket counter at the front of the line because I started on the outside of the crush to board the plane, but the woman with the baby, other families with children, and the elderly got stuck far in the back of the ticketing line.
One elderly gentleman had to insert himself at the ticketing counter to insist that the airline get his bags that he had checked because they had vital medication in them, and the mother with the baby looked like she was on the brink of tears. I was lucky because I was traveling alone, am young, and had friends close to the airport who I could stay with for the night. Tension climbed so high that several Chicago police officers arrived to monitor the debacle.
Spirit did not add an extra flight to New York on Wednesday. Instead, it either offered passengers refunds or seats on later flights. No seats were available on the red-eye flight to New York. Even when I reached the counter, I had to speak with a manager before they offered to put me on stand-by. Ultimately I wound up with a ticket for late afternoon on Wednesday, but there were only nine seats available on that flight, and the majority of passengers were told they would have to wait until Thursday or take a refund.
For travelers traveling on a budget, i.e. the majority on a discount airline, those making an international connection, or for people without friends or family near the airport, being told to wait not just another day, but two days, to make a flight is absolutely unacceptable. The airline offered no assistance with food, lodging or transportation for the interim. Obviously, a $130 or lower refund will not buy you a ticket on another airline the day of the flight.
Even though people who buy tickets on Spirit certainly are aware of the airline's stingy baggage policies, the fact that it charges for sodas or snacks, and that it relentlessly flogs its frequent flier credit card while airborne, customers still expect that the airline will get them where they are going. Sure, weather can delay flights. But a two-day delay in anything other than the worst blizzard or hurricane conditions is unacceptable. Deceitfully blaming the weather for an inability to bring passengers to their destination is a cop-out for Spirit and shows just how much CEO Ben Baldanza holds his customers in contempt.
Leanness and efficiency are one thing. Greed is another. And greed is bad for business. The virtually universal consensus among passengers was that they would never fly Spirit Airlines again. That's not how you build a brand. Spirit's owners should question whether failing to deliver passengers to their destinations is really in the best interest of the company.
If you're thinking of a flight on Spirit, consider another airline -- any other airline. While the tickets on Spirit may be cheap, you'll spend your savings on airport food when it turns out there is no flight.
[Ben Reeves, a business reporter for International Business Times, writes here as a guest columnist.]
FOR FREE to continue reading
✔️ Unlock the full content of International Business Times UK for free
offer available for a limited time only
✔️ Easily manage your Newsletters subscriptions and save your favourite articles
✔️ No payment method required
Already have an account? Log in
© Copyright IBTimes 2023. All rights reserved.