Why Is Tunisia An ISIS Target? North African Nation Exports Highest Number Of Islamic State Fighters To Syria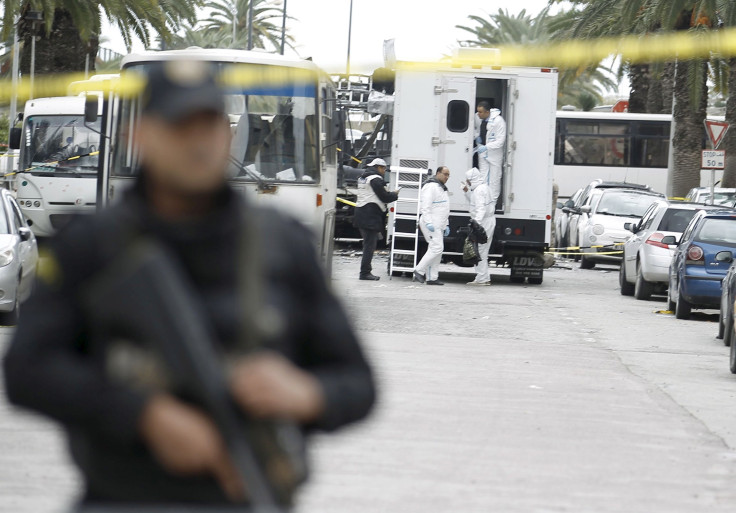 The so-called Islamic State group has claimed responsibility for an attack in Tunisia's capital Tuesday that targeted a bus of presidential guards. The bombing marked the third major terrorist event carried out on Tunisian soil this year. The statement released online by ISIS identified Abu Abdullah al-Tunisi as the individual responsible for carrying out the attack, which left at least 13 people dead, the Associated Press reported.
Tunisia has been hailed by many as the Arab Spring's success story and possibly the only country that managed to set up a stable democracy following the protest movement that swept much of the Arab world in 2010 and 2011. Yet Tunisia remains a target of terrorist attacks, and Tunisians are believed to be flocking to fight in Iraq and Syria in the thousands. At least 3,000 Tunisians are believed to be fighting in Syria's civil war, making it the greatest exporter of foreign fighters to Syria.
Terrorist Attacks and Threats in Tunisia | FindTheData
Two previous major attacks targeted the country's tourism industry. In one of those incidents, a gunman killed 38 tourists at a beach resort in June, and earlier in the year, gunmen targeted tourists at a museum, killing 21 people. ISIS claimed responsibility following both attacks.
The extremism problem was seen to be fueled, at least in part, by a high unemployment rate, particularly among youth, Business Insider reported last year. Unemployment among young graduates is at a "particularly worrisome level" of 34 percent, according to the African Development Bank.
New freedoms brought by the change in governance has allowed extremist rhetoric to flourish in the country, the New York Times reported. Militants are able to preach and recruit more openly than ever, yet at the same time, young Tunisians have said the freedoms and elections have done little to improve their lives. Many ultraconservatives continue to refer to a brutal police force as "the tyrant."
Following attacks over the summer, the government has sought to crack down on "illegal mosques." ISIS recruiters have since turned toward social media.
Officials with Ennahda, the parliamentary Islamist party that won Tunisia's first democratic election, said they overestimated the influence democracy could have on thwarting extremist violence. "Without social development, I don't think the democracy could survive," Said Ferjani, an Ennahda leader, told the Times.
While only a small fraction of Tunisians are believed to support the militant group, which has its bases in Iraq and Syria, the fact that hundreds of Tunisians have returned from these countries has been a source of concern for law enforcement in the country. Many returned after they grew disappointed with the group's actions, especially as ISIS and other militant groups focused their fight on other Sunni Syrian rebel groups.
ISIS released a video earlier this year threatening to ramp up its campaign against Tunisia.
"We are coming to conquer back Tunisia," a masked fighter using the name Abu Yahya al-Tounessi, said in the video, reportedly filmed in neighboring Libya. "I swear you will not be at ease now with the Islamic State a few kilometers from you just across the border."
© Copyright IBTimes 2023. All rights reserved.