Why Was Libyan Plane Hijacked? Malta Negotiates Release Of Hostage Passengers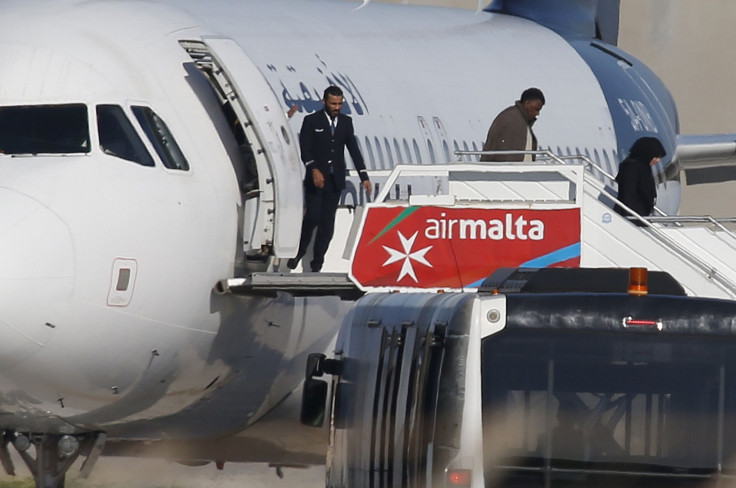 UPDATED: 11:20 a.m. EST - The hijackers of a Libyan flight diverted to Malta surrendered peacefully Friday to Maltese authorities as the crisis came to an end and as information surfaced on the perpetrators' motives.
One hijacker, who identified himself as Mousa Shaha, reportedly told a local Libyan television station that he was a member of Al Fatah Al Jadid, a political party supportive of late Libyan leader Moammar Gadhafi, who was overthrown by Western-backed rebels in 2011, plunging the country into political turmoil. The hijackers insisted they were not affiliated with any terrorist organizations such as Al Qaeda or the Islamic State group, also known as ISIS, but instead took the plane to spread publicity for their newly formed party.
"We took this measure to declare and promote our new party," Shaha told Libya's Channel TV.
Meanwhile, a former aide to Gadhafi's son and former Libyan political figure Saif al-Islam Gadhafi named Mohammed Ismail told the Libyan outlet that Al Fatah Al Jadid's actions did not represent members of the former government.
UPDATED: 10:35 a.m. EST - The hijackers who diverted a Libyan flight to Malta surrendered Friday to local authorities after all passengers and crew members were released.
The suspects, who are believed to be in their 20s and from the Tubu ethnic group, brandished green flags in support of late Libyan leader Moammar Gadhafi who led the country's previous government until being overthrown and killed during a 2011 Western-backed uprising. The hijackers were reportedly members of a pro-Gadhafi Libyan political party called Al Fatah Al Gadid and did not possess actual explosives throughout the incident, despite threatening to blow up the aircraft unless their demands, which remained unclear, were met.
UPDATED: 10:07 a.m. EST - All passengers have been released from the hijacked Libyan flight that was diverted Friday to Malta, as local authorities attempted to free remaining crewmembers held by "pro-Gadhafi" perpetrators.
The hijackers are reportedly members of Al Fatah Al Gadid, a political party loyal to Libya's previous government, which was led by Moammar Gadhafi until his overthrow and death at the hands of Western-backed rebels in 2011. The suspects diverted the internal Libyan flight to Malta International Airport and threatened to blow up the plane if their demands were not met, but promised to release passengers if authorities cooperated. The hijackers' demands were still not clear.
UPDATED 9:15 a.m. EST — Most of the passengers and crew have departed the hijacked Libyan flight that landed Friday in Malta. Local security forces were continue negotiations with the perpetrators, of which there are believed to be two.
Maltese Prime Minister Joseph Muscat, who posted frequent updates on the situation via his Twitter account, said 109 passengers had exited and that crew members too were being released. Social media users also shared local Maltese media footage that appeared to depict one of the "pro-Gadhafi" hijackers waving a flag of the previous Libyan government. The flag was replaced when late Libyan leader Moammar Gadhaffi was overthrown during a 2011 uprising that was supported by Western airstrikes.
Original story:
Passengers were being released from the hijacked Libyan airplane that landed Friday in Malta as local security forces surrounded the aircraft awaiting the perpetrator's demands.
The male hijacker, who has described himself as a supporter of late Libyan leader Moammar Gadhafi, told authorities he was armed with a hand grenade and threatened to blow up the plane if they did not cooperate. The hijacker has said he was willing to release the 111 passengers he was holding hostage if his demands were met, but that the aircraft's seven crewmembers would remain. The man's demands were not immediately clear, authorities reported.
The plane's pilot reported the Afriqiyah Airways flight, which was traveling from the southwestern Libyan city of Sebha to Tripoli, had been hijacked Friday morning, according to Libyan officials. The aircraft was diverted to Malta International Airport, 300 miles north of the Libyan coast. Security forces took positions a few hundred yards away from the plane and began negotiations. Maltese Prime Minster Joseph Muscat said women and children were being evacuated and later that about half of the flight's passengers had exited.
Gadhafi came to power during a 1969 military coup in Libya. He remained in place until he was overthrown and killed during a 2011 uprising supported by Western airstrikes. During his leadership in the 70s and 80s, a spout of hijackings occurred with perpetrators espousing pan-Arab, pro-Palestinian ideology similar to the Libyan leader. The Libyan government has also been directly linked to certain attacks including the 1986 hijacking of Pan Am Flight 73, the 1988 bombing of Pan Am Flight 103 over Lockerbie, Scotland and the 1989 bombing of UTA Flight 772.
Since Gadhafi's fall, Libya has been in a state of turmoil. Various government, tribal and Islamic factions have arisen claiming to be the legitimate authority in the country. The Libyan army cleared out the final stronghold of the Islamic State, also known as ISIS, from the regional capital of Sirte on Dec. 6, however it is believed that the militants still operate within the country.
© Copyright IBTimes 2023. All rights reserved.
FOLLOW MORE IBT NEWS ON THE BELOW CHANNELS