Why Was Minnesota Timberwolves Forward Taj Gibson Arrested In New York?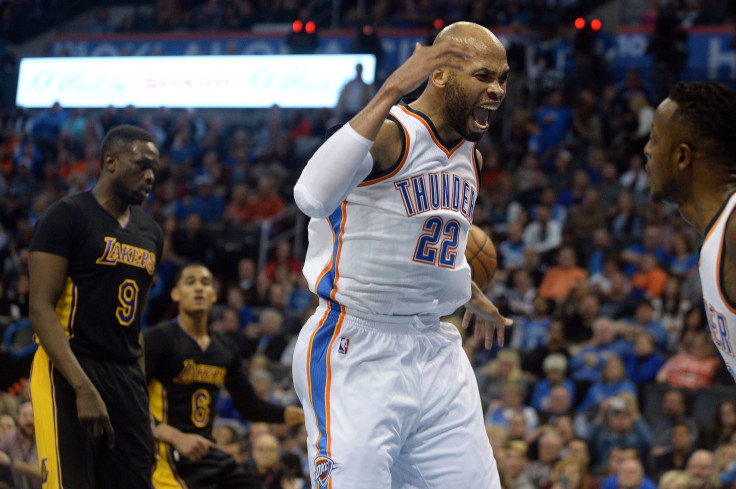 New Minnesota Timberwolves forward Taj Gibson was taken into police custody after he was found driving on a suspended license, TMZ reported Friday. The arrest was made early Thursday, the report added.
Gibson was reportedly arrested during a traffic stop at about 2: 45 a.m. Thursday, after an officer saw the NBA star making an illegal U-turn in front of Long Island City's Aces New York in Queens borough of the New York City. The 32-year-old produced an Illinois license, which was later found to be suspended.
Read: 61-Year-Old Grandfather Has Dreams Of Playing In NBA
"Gibson was arrested in NYC early Thursday morning after cops say the NBA star was driving a Mercedes-Benz with a suspended license," the TMZ reported stated.
The Brooklyn-native was charged with misdemeanor aggravated unlicensed operation of a motor vehicle, New York Police Department told TMZ. According to USA Today, the act carries a punishment of up to 30 days behind the bars and a fine of up to $500. Gibson also received a ticket for the illegal U-turn.
The NBA star was, however, released with a desk appearance ticket, USA Today reported. He is scheduled to appear in the court Sept. 1, New York police spokesperson Christopher Pisano told the newspaper.
Gibson is yet to publicly address the news about his arrest. He did not respond to TMZ for a comment.
Earlier this week, Gibson agreed to a two-year, $28 million deal with the Minnesota Timberwolves. The veteran forward spent his first seven-plus seasons with the Chicago Bulls before being traded to the Oklahoma City Thunder. On July 2, the Associated Press (AP) reported Gibson's move to Minnesota would give coach Tom Thibodeau "another trusted veteran to join Jimmy Butler and the new-look Timberwolves."
Most of Gibson's career was in Chicago and five of its seasons were under Thibodeau. The AP noted that the 69-year-old Timberwolves coach was all praises for Gibson when the Thunder visited Minnesota in April.
"Taj could fit into any team in any role, and that's the thing that you really respect about him," he reportedly said. "He not only embraces the role that you ask him to play, he stars in it."
Read: Where Will NBA's 10 Best Available Players Sign?
The AP had reported at the time that Gibson could come off the bench to give the backups a steady presence.
"You need him to start? He'll start and play great. You ask him to come off the bench, he's got a great motor and can come off the bench," Thibodeau said in April adding, "He's one of those guys where it doesn't take him five minutes to warm up."
© Copyright IBTimes 2023. All rights reserved.