Wild Giant Panda Population On The Rise, Finds New Survey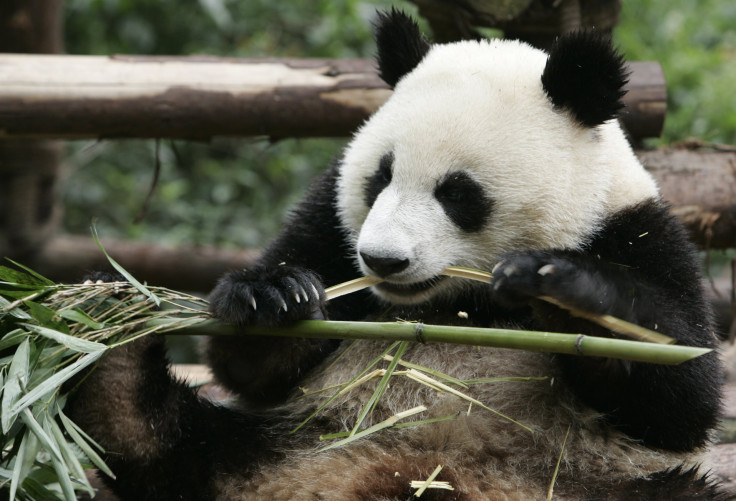 The worldwide population of giant pandas increased by nearly 17 percent since 2003, the latest census by China's State Forestry Administration revealed Saturday. The rarest member of the bear family, these pandas are found only in China's southwestern province of Sichuan and northwestern Shaanxi and Gansu provinces.
Over the last 12 years, the population of this endangered species has grown by 268 to a total of 1,864, according to the latest census. The report also revealed that the geographical spread of pandas in the country had increased by nearly 12 percent since 2003, when the last survey was conducted.
The latest survey found that 1,246 wild giant pandas, or two-thirds of the total population, live within nature reserves. The remaining 618 pandas live outside of these protected areas. Currently, there are 67 panda nature reserves in China, an increase of 27 since 2003.
"The survey result demonstrates the effectiveness of nature reserves in boosting wild giant panda numbers ... these results are a testament to the conservation achievements of the Chinese government," Xiaohai Liu, a senior official with the World Wide Fund for Nature (WWF) in China, said, in a statement. "A lot of good work is being done around wild giant panda conservation, and the government has done well to integrate these efforts and partner with conservation organizations including WWF."
Officials credited conservation policies implemented by the Chinese government, including the Natural Forest Protection Project, for the success of the increase in the numbers of giant pandas.
"The rise in the population of wild giant pandas is a victory for conservation and definitely one to celebrate," Ginette Hemley, senior vice president of WWF, said, according to The Associated Press.
The report also revealed that traditional threats to the species, such as poaching, are on the decline. However, it also raised concerns over large-scale infrastructure projects such as mining, hydro-power and railroads affecting the pandas' habitats.
© Copyright IBTimes 2023. All rights reserved.