Will Benjamin Netanyahu Go to Jail? Israeli Prime Minister Faces Corruption Charges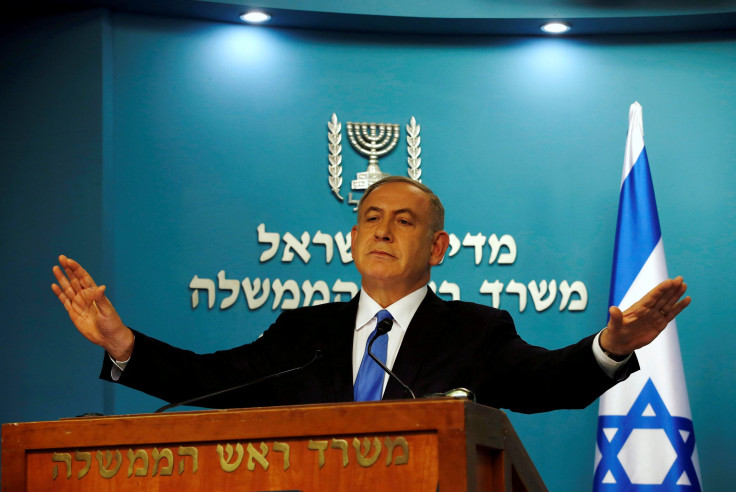 Israeli Prime Minister Benjamin Netanyahu was questioned Monday at his residence by Israeli authorities, who hinted that the leader was suspected of corruption.
Netanyahu has routinely denied charges, which he blamed on his opposition for stirring rumors he accepted illegal favors and gifts from business figures. In a televised speech to his conservative Likud party in the Israeli parliament, he criticized his opponents and told lawmakers that efforts to bring a case against him were fruitless.
"We hear the celebratory spirit and winds blowing through the television studios and in the corridors of the opposition. Hold off the celebrations; don't rush," he said, according to the New York Times. "I've told you before and will tell you again — this will come to nothing, because there is nothing."
Lahav 433, an anti-corruption and fraud unit known as the "Israeli FBI," said they investigated Netanyahu "under caution on the suspicions of receiving benefits." Shortly after, the defense ministry released a statement revealing that Attorney General Avichai Mandelblit began probing Netanyahu in June, the same month Netanyahu admitted to receiving money from French tycoon Arnaud Mimran who was imprisoned for a $315 million carbon emission tax scam.
Mandelblit decided to expand the case into a criminal investigation after top lawmakers and police investigators concluded there was sufficient evidence that "the prime minister had carried out apparent crimes breaching ethical norms."
Authorities declined to elaborate on the specific charges that Netanyahu faces, but local Israeli media reported that at least 50 individuals had been probed in regards to Netanyahu's investigation, including World Jewish Congress President Ron Lauder, who was questioned in September by police. The spending habits of Netanyahu and his family were previously criticized in May and the prime minister was investigated for fraud and breach of trust in the late 1990s.
Netanyahu's predecessor Ehud Olmert was found guilty last year of accepting bribes and began serving his 19-month sentence for corruption in February.
© Copyright IBTimes 2023. All rights reserved.
FOLLOW MORE IBT NEWS ON THE BELOW CHANNELS