Will Ex-Illinois Governor Rod Blagojevich Face 10 or 300 Years in Prison?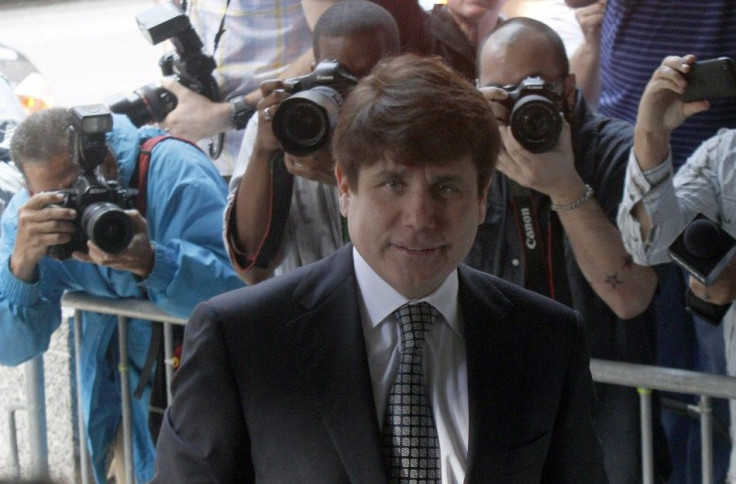 Former Illinois Governor Rod Blagojevich is expected to face minimum 10 years in prison after being convicted of fraud, attempted extortion and bribery.
A jury convicted Blagojevich, a two-term Democrat thrown out of office in 2009, on 17 of 20 charges, including the one for trying to trade or sell the U.S. senate seat that was vacated by President Barack Obama.
Several of the convictions call for prison terms of up to 20 years, though he is likely to receive a lesser penalty, according to a Reuters report.
He was convicted on 17 of the 20 corruption counts against him, the most serious of which carries a sentence of 10 years. Altogether, he faces up to 350 years in jail, although he'll probably be sentenced to much fewer years, according to the Baltimore Sun.
According to the Associated Press, the convictions carry a combined maximum prison sentence of around 300 years, but legal experts say a federal judge is likely to send him away for around a decade, give or take a few years.
But Blagojevich, when sentenced later this year, could be awarded 10 to 15 years in jail, according to other legal experts.
As the verdicts were read aloud in court, one guilty following another, Blagojevich, who has always proclaimed his innocence, looked grimly at his wife, Patti, in the front row. By then, she was already slumped back in the arms of a relative, eyes closed, wiping away tears, according to the New York Times.
The verdict appeared to be the end Blagojevich's political career, which began its spiraling descent shortly after Obama was elected president in November 2008.
I frankly am stunned. There's not more to say other than we want to get home to our little girls and talk to them and explain things to them and try to sort things out, Blagojevich told to Reuters after the verdict.
Blagojevich's case was one of the most sensational and notorious political corruption cases in modern U.S. history. In 2008, the former governor was caught on tape making blatantly corrupt suggestions of how he can milk his power to appoint someone for Barack Obama's Senate seat, which Obama vacated when he was elected President of the United States.
The conviction of the flamboyant Blagojevich contrasted with the inconclusive end to the former governor's first trial in August 2010 when jurors deadlocked on 23 of 24 counts against him. He was convicted of lying to investigators, and prosecutors opted to retry him.
In seven days on the witness stand, Blagojevich insisted he was merely engaged in political gamesmanship but did not intend to sell the Senate seat or anything else. Instead, he was attempting to gain leverage to advance his policy agenda and admitted a tendency to talk too much, Blagojevich told Reuters.
One of the jurors told Reuters reporters after the verdict that she found Blagojevich's testimony manipulative and that it was very clear he was making a trade for the senate seat.
Prosecutors argued he was clearly seeking to extort campaign contributions and other benefits in exchange for official acts, even if there was no evidence he received any.
The judge of Northern District Court of Illinois, James Block Zagel ordered Blagojevich to remain in the Chicago area until he is sentenced. Former federal prosecutor Jeff Cramer told Reuters that he expected Zagel to sentence Blagojevich to between 7 and 10 years in prison.
This was Blagojevich's second trial for such charges. The first one, which took place a year ago, ended in deadlock. Before that, he was impeached from his Governor seat by the Illinois legislature for his corruption.
Blagojevich's predecessor for the Illinois Governor seat, George Ryan, is currently in prison on corruption charges regarding government contracts, underscoring the relative prevalence of corruption in Illinois politics.
© Copyright IBTimes 2023. All rights reserved.