Will Floyd Mayweather vs. Conor McGregor Actually Happen? De La Hoya, Hopkins Aren't Convinced
A date for Floyd Mayweather vs. Conor McGregor was finally announced on June 14, confirming that the two athletes will indeed fight in 2017. The venue, weight limit and even the size of the boxing gloves have been determined for what will be a historic pay-per-view.
Still, not everyone in the boxing world is convinced that Mayweather vs. McGregor will actually happen. Among the skeptics are Oscar De La Hoya and Bernard Hopkins, who are promoting what was previously expected to be the best-selling fight of the year.
READ: How Much Money Will Mayweather, McGregor Make For Super-Fight?
"Until I see both guys in the ring, I don't believe it," Hopkins told International Business Times.
Gennady Golovkin will defend his middleweight titles against Canelo Alvarez on Sept. 16 at T-Mobile Arena in Las Vegas. Three weeks earlier, Mayweather and McGregor are supposed to fight in the same building.
Hopkins, De La Hoya, Golovkin and Alvarez were in New York City Tuesday to promote the upcoming fight. While Mayweather has spoken about his super-fight, no such press tour has been conducted for the Aug. 26 bout. That leads Hopkins to believe that the fight won't actually take place.
"Maybe the press conference will be a week before the fight. Maybe it's gonna be reported this week. You haven't heard nothing about it, the next press conference," Hopkins said. "If they're fighting in August and we're in June, then what's the secret?
"Canelo and GGG are fighting in September. We're in June talking about something that's gonna happen in mid-September. That's July, August, September. Mayweather and McGregor, we're not overplaying their promotion. They're just not doing anything. Maybe they're waiting for us to get done, I don't know."
Mayweather hasn't fought since he defeated Andre Berto on Sept. 12, 2015, improving his career record to 49-0. Hopkins indicated that Mayweather is simply seeking attention, having missed the spotlight during his retirement.
Both sides involved in the Mayweather-McGregor fight held a conference call the day the bout was announced, though no press conference has been scheduled. When Mayweather and Pacquiao fought in 2015, they held a joint press conference 52 days before the fight that went on to sell a record 4.6 million PPV buys.
"That's exactly what I feel," De La Hoya told IBT when asked about Hopkins' skepticism, adding that he's "not really convinced" the fight will take place.
"I cannot fathom the idea that the best commission in the world, the Nevada State Athletic Commission, I just do not fathom the idea of how they allowed a fighter who has zero fights to go up against one of the best fighters arguably of our generation in Mayweather, who's 49-0. So that's the biggest indication that makes me think that this fight still will not happen."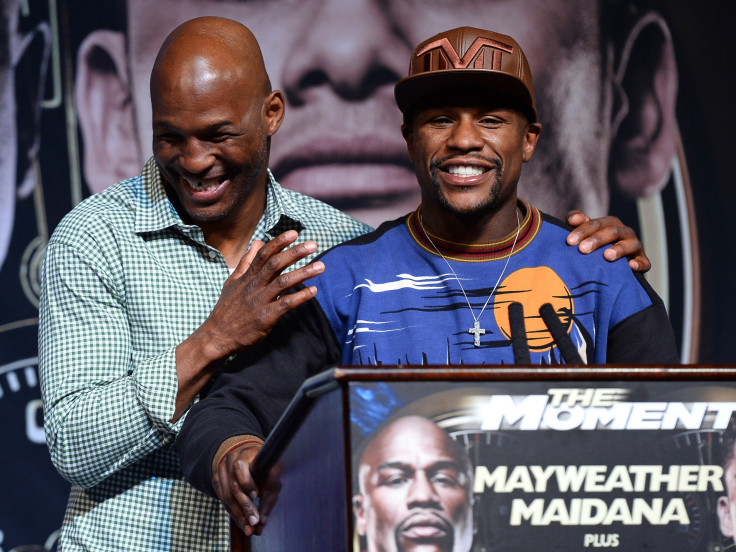 It's hard to blame De La Hoya for thinking the NSAC wouldn't allow the fight. The commission has prevented MMA fighters from taking on boxers in the past. Just look at the proposed 2006 fight between Butterbean and Mark Hunt. Butterbean is best-known for being a boxer, but he did have nine professional MMA fights under his belt before the NSAC ruled that he wouldn't be allowed to face Hunt in the cage because the future UFC fighter would have too much of an advantage.
UFC president Dana White, who helped make Mayweather vs. McGregor possible, even said in December that he couldn't imagine any commission would allow the bout to happen.
"The commission who says they care about us and care about fighters is gonna sanction a fight among the most recognizable athlete in boxing that's undefeated and can hurt you? Am I missing something?" a bewildered Hopkins asked.
"How can you sanction a fight with a guy that never fought? He fought MMA. We understand that we don't kick in boxing. We don't elbow. We don't have cage matches."
Whether De La Hoya, Hopkins or even Butterbean believes it, the NSAC has indicated that Mayweather vs. McGregor is a go, even though the UFC lightweight champion has no professional boxing matches on his resume.
"There's a litany of reasons why it's approvable: their physical characteristics. Conor's the taller guy, has a longer reach, is a southpaw, clearly the younger fighter at 29 to Floyd at 40," NSAC executive director Bob Bennett said, via The Los Angeles Times. "Conor's MMA record is 21-3, with 17 of those wins coming by TKO or KO. He's clearly a striker, which is indicative of boxing skills."
A large portion of the public believes McGregor can actually defeat Mayweather. He's a smaller betting underdog than Berto was two years ago, and most of the wagers at Las Vegas sportsbooks have been on the UFC star.
Most people in the boxing world, however, don't give McGregor any sort of chance to beat the best boxer of the last two decades. Hopkins called the fight a "freak show," and Golovkin doesn't consider it to be a real fight.
"It's a big difference between McGregor and Floyd and my fight with Canelo," Golovkin told IBT. "Do you want to watch a true boxing fight? Watch on Sept. 16."
Assuming Mayweather-McGregor does happen in August, and all indications are that it will, the fight could set several records. Some believe it will sell close to five million PPVs, possibly generating more than $600 million when accounting for all revenue streams.
READ: Why Conor McGregor vs. Floyd Mayweather Is Happening This Summer
De La Hoya, however, is not threatened by the fact that Mayweather is scheduled to fight less than a month before Golovkin and Alvarez will meet in the ring. The middleweight title fight has been close to two years in the making, and the winner could arguably have a claim as the world's best pound-for-pound boxer.
"Who knows? If it does (happen), so be it. I wish it's a great fight," De La Hoya said. "I obviously don't think it's gonna be a great fight because Mayweather's gonna blow him away because he's a boxer obviously. We're gonna focus on our fight. We're gonna focus on what we have to do. We have a great marketing strategy. Most importantly, we just have a great real fight on our hands."
© Copyright IBTimes 2023. All rights reserved.