Will Hurricane 'Frankenstorm' Sandy Be The Next Irene?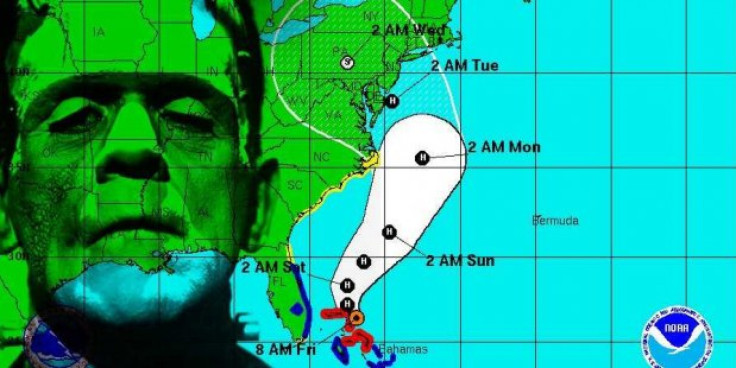 Hurricane Sandy, also known as the Frankenstorm, is supposed to hit tonight, but some are skeptical she will turn out to be another Tropical Storm Irene.
Flashlights, batteries, candles, water, canned goods and hopefully a generator: All the essentials one needs to successfully make it through a hurricane on the East Coast.
Dire weather predictions have sent people rushing to the grocery stores and scrumming through their homes to make sure that they're prepared.
"When Sandy hits, we'll be ready," many people have taken to social media to proclaim.
But what happens if the weatherman is wrong? There's something about severe storms that people love, and when we're told to stock up on goods and prepare for a storm and it doesn't happen, we're let down.
Hurricanes remind us of Mother Nature's power, but when a touted "perfect storm" flops people are almost disappointed.
"You can never trust the weatherman," some say. "I knew it wasn't going to be a real hurricane," others will scoff.
Similar precautions were taken with Tropical Storm Irene, but she turned out to be all rain and no bite, at least in coastal areas.
But Hurricane Sandy is feared enough to have Gov. Andrew Cuomo shut down the New York City's transit service.
Buses will be suspended starting at 9 p.m. and subway and commuter rail service will be halted at 7 p.m. amidst the massive storm that is expected to hit the East Coast of the United States.
"The transportation system is the lifeblood of the New York City region, and suspending all service is not a step I take lightly," MSNBC quoted Cuomo. "But keeping New Yorkers safe is the first priority, and the best way to do that is to make sure they are out of harm's way before gale-force winds can start wreaking havoc on trains and buses."
"The MTA (Metropolitan Transit Authority) proved it can suspend service in an orderly manner when it did so last year for Tropical Storm Irene, and we have refined our Hurricane Plan since then to help us prepare for Hurricane Sandy," MSNBC quoted MTA Chairman and CEO Joseph J. Lhota. "This storm will batter the MTA, but the precautions we take now will allow us to recover much more quickly."
"The New York City subway system will begin to curtail service after 7 p.m., and the New York City bus system within the following two hours," the MTA said in a statement. "Metro-North Railroad and the Long Island Rail Road will start their final trains by 7 p.m. Subway and railway stations will be closed after the last trains.
"Customers who need to travel today should do so as soon as possible and not wait until the last train or bus is departing. Anyone who does not leave for their destination before 7 p.m. runs the risk of being stranded when service is suspended. New York City Transit, Metro-North and the LIRR will cross-honor each other's passes today to speed the process of returning customers to their homes."
Will Hurricane "Frankenstorm" Sandy live up to her hype?
© Copyright IBTimes 2023. All rights reserved.
FOLLOW MORE IBT NEWS ON THE BELOW CHANNELS