Will Israeli Reform Threaten Its International Status?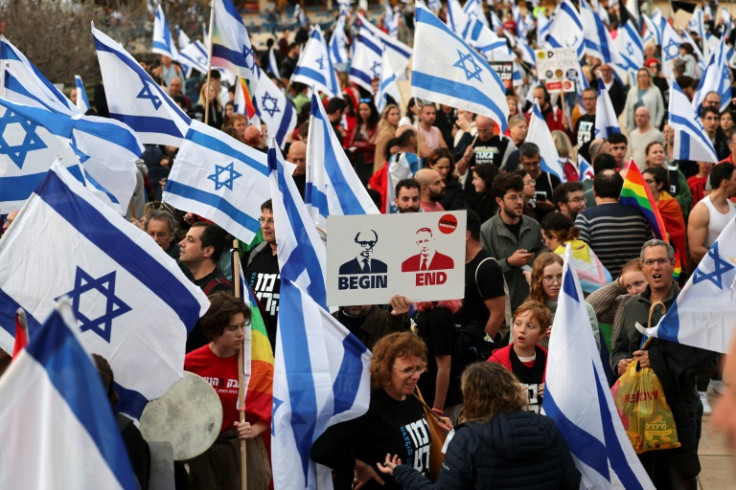 Recent political actions are likely to impact Israel's economy and international reputation as a hub for start-up companies.
Thousands of Israeli protesters descended on the streets of Jerusalem for a third consecutive day on Monday as the country braced for a crucial vote on legislation that would significantly weaken the authority of its Supreme Court.
Although many factions in the Israeli parliament tried to prevent it from happening via last-minute negotiations with the governing right-wing Likud party, the vote passed 64-0 after the opposition lawmakers left the 120-members Knesset in protest. This crucial vote marks the country's current government's first major victory in its seven-month lifetime and now might bring the Jewish state to what critics claim is the brink of autocracy.
Hundreds of thousands of demonstrators converged on Jerusalem and Tel Aviv over the past 29 consecutive weeks of mass protest to try to convince Israeli Prime Minister Benjamin Netanyahu to stop his efforts to curb the power of the judiciary—and, in turn, remove the sole administrative check and balances on his government's power.
Even prior to the deciding vote in the Israeli Parliament, two-thirds of the country's start-up companies said they have taken such steps as withdrawing cash reserves, moving headquarters location outside Israel, relocating employees, and conducting layoffs, according to an Israeli industry survey conducted by Start-Up Nation Central, published Sunday.
Already around 68% of Israeli startups are taking legal and financial steps in response to the judicial overhaul, according to the Start-Up Nation Central survey. The Israeli industry organization represents 521 companies in the sector. This could be a huge blow to the Israeli economy.
Specifically, 22% of companies said they diversified cash reserves outside Israel. 37% of investors say companies in their portfolios have withdrawn some of their cash reserves and moved them abroad.
Moreover, 8% of companies report that they have already begun the process of changing headquarters locations, and 29% reported their intention to do so soon. Among investors, 20% said companies in their portfolios have begun changing their headquarters location and 69% said companies in their portfolios intend to do this in the future.
Investments outside Israel are growing as a component of Israeli venture capital investment strategy. According to the survey, 67% of investors are investing or are considering investing in foreign companies.
"As an organization with a mission to strengthen the technology industry in Israel, it is our duty to share this data with decision makers in Israel and provide an up-to-date picture of the situation as it unfolds," Start-Up Nation Central CEO Avi Hasson said in a release
Israel's world-famous tech sector is one of the country's major growth drivers.
"Companies and investors are taking active steps to move activity away from Israel and this behavior," Hasson said in a release. "Concerning trends like registering a company abroad or launching new start-ups outside Israel will be hard to reverse."
In a Monday interview with Israeli business magazine Globes, Yonatan Katz, chief economist for Israeli firm Leader Capital Markets, said he predicts the political situation will affect the rating companies' forecasts on Israel's credit level and may even result in damage to Israel's rating outlook.
In the final 90 minutes of trading, after the Knesset passed the reasonableness standards law on Monday, the Tel Aviv 35 Index fell sharply, losing 2.21% on the day. In inter-bank trading, after the Knesset passed the 'reasonableness' law, the shekel weakened sharply, too.
The shekel took a dive again the morning after, with the rate against the U.S. dollar up 2.49% in comparison with Monday's representative rate, reaching NIS 3.71 per $1. Similarly, the shekel-euro rate rose by 2.13% to NIS 4.1041 per €1.
Katz said he believes that the political uncertainty in Israel is the element driving the strong volatility in Israel's stock and foreign exchange markets as it will also affect the rating companies' forecasts on Israel's credit level and may even result in damage to Israel's rating outlook.
Foreign banks and investment companies are finding it difficult to read the situation in Israel.
In a recent update on the judicial reform, published by Citigroup Inc. (NYSE: C), Michael Wiesen, a vice president and fixed income trader at Citigroup wrote now that the "government has empowered itself to ignore Supreme Court decisions on its actions, it gets much trickier and more dangerous."
On Tuesday, Morgan Stanley downgraded Israel's sovereign credit to a "dislike stance," according to reports from Haaretz and Reuters. The Morgan Stanley research note comes as Moody's, one of the "Big Three" credit rating agencies, is due to issue a special report on Israel later on Tuesday. Earlier this year, that agency downgraded Israel's credit outlook to "stable," citing concern about the legislation's impact on the independence of the judiciary.
On Tuesday, Israeli Attorney General Gali Baharav-Miara sided against the government in response to a high court petition against a law passed by the coalition in March that banned the court from ordering a prime minister to recuse himself from office, requesting the legislation be struck down.
Baharav-Miara argued in a filing to Israel's High Court of Justice that the Knesset misused its authority to improve Netanyahu's legal position while he is on trial for graft charges and sought "allow him to operate in contravention of court rulings," according to a Tuesday report from The Times of Israel.
On Monday, White House spokesperson Karin Jean-Pierre released a statement criticizing the passage of a judicial reform law.
"It doesn't make sense for Israeli leaders to rush this – the focus should be on pulling people together and finding consensus," Biden said in a statement provided to Axios on Sunday.
"From the perspective of Israel's friends in the United States, it looks like the current judicial reform proposal is becoming more divisive, not less."
© Copyright IBTimes 2023. All rights reserved.