Will Johnny Manziel Play On Saturday? 'Johnny Football' Meets With NCAA Officials, Slated To Start Against Rice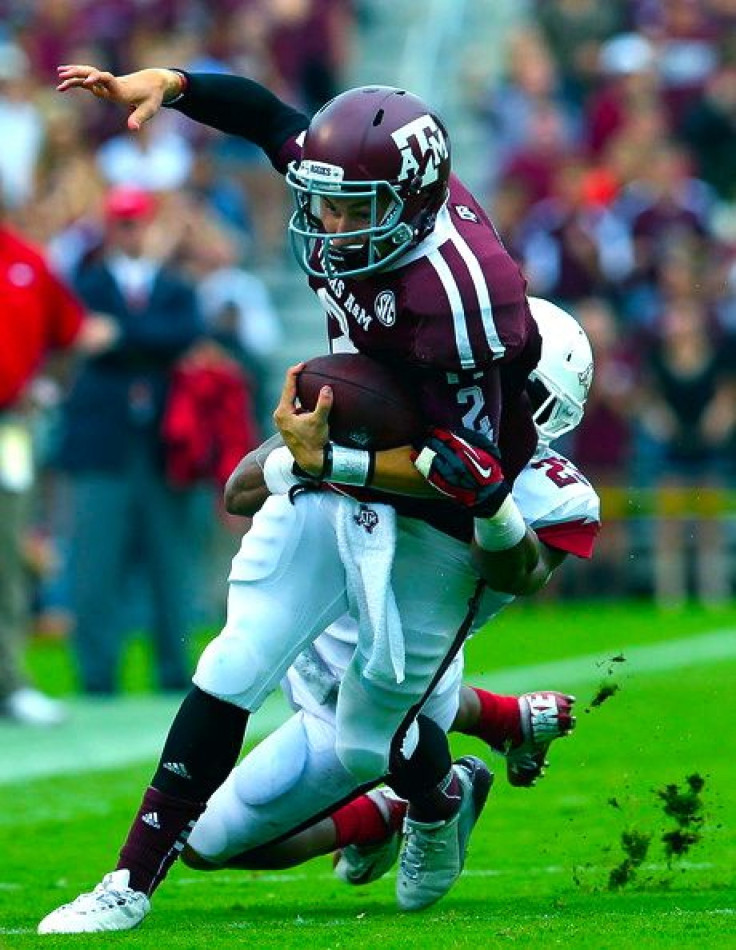 Embattled Texas A&M quarterback Johnny Manziel reportedly met with NCAA officials for six hours on Sunday, raising questions about whether the reigning Heisman Trophy winner would be able to play in his school's season opener.
NCAA investigators reportedly spent several hours meeting with Manziel regarding allegations that he accepted money to sign autographs, ESPN reports. The extended interaction led to speculation that the NCAA was close to making a decision as to whether Manziel would be allowed to play in Saturday's game.
Despite the length of the meeting between Manziel and NCAA officials, ESPN college football analyst Brett McMurphy suggests that the meeting does not necessarily indicate that a decision regarding Johnny Football's eligibility is looming. "It means we're a little bit closer, but it does not guarantee that the NCAA will have this resolved before Saturday's opener against Rice."
Manziel's eligibility has been in question since early August, when ESPN reported that the redshirt sophomore was being investigated over claims that he had been paid to sign autographs on several occasions. A memorabilia dealer reportedly told ESPN that Manziel accepted money to sign more than 4,000 autographs last January.
Texas A&M officials are currently operating under the assumption that Manziel will play in Saturday's season-opening matchup against Rice. A source at the school told ESPN that Manziel's playing status "seemed to be okay," and that the team's preparations for the game were "business as usual, or as close as possible" heading into the first game of the 2013 NCAA football season.
Texas A&M's game notes confirmed that Manziel is currently expected to start at quarterback on Saturday. However, school athletic director Eric Hyman said in a statement that he has advised players and coaches to avoid commenting on Johnny Football's playing status.
"The focus of our coaches and student-athletes is solely on preparing for Rice this Saturday, and in the best interests of Texas A&M and the 100-plus student-athletes on the team, I have instructed Coach Sumlin, his staff and our student-athletes to refrain from commenting on or answering questions regarding the status of our starting quarterback, Johnny Manziel."
© Copyright IBTimes 2023. All rights reserved.