Will The London 2012 Olympics Save The UK Economy?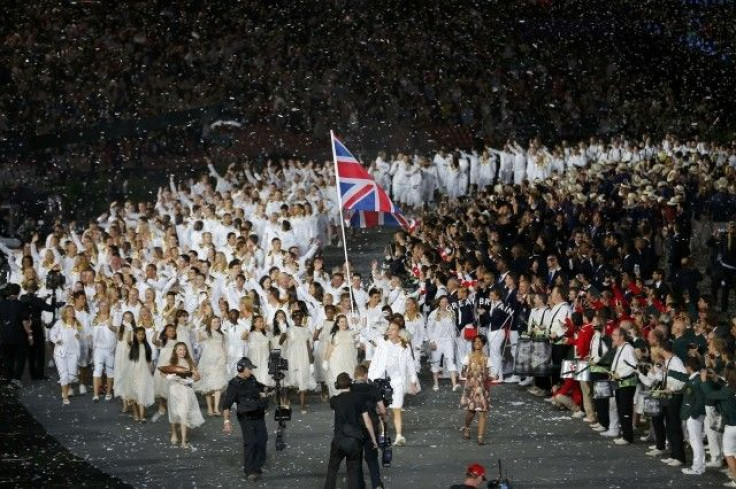 Millions around the world are planting their avid gaze on London as the flurry of the 2012 Olympic Games reaches a fever pitch.
At a time when the UK is officially in its deepest recession in over half a century, what will the Olympics mean for the country's sagging economy? Will the event worsen the ongoing recession or help initiate economic recovery?
The government has declared the games as a crown jewel for the country's economic growth prospects.
While perspectives on the Olympics' economic impact vary, the British public is reshaping its outlook. Many say that the benefits of the Games could far outweigh the seemingly exorbitant investment costs since 2006, when efforts to prepare for the Olympics began with a search for an ingenious contractor to build a swanky new Olympic stadium.
Macroeconomic impact
The UK's national debt is currently $1.04 trillion, or 66 percent of total G.D.P. The estimated cost of hosting the Olympics is $9.3 billion -- an amount that is barely 1 percent of net government debt. The macroeconomic effects of this expenditure are fairly trivial, John Hawksworth, a public policy specialist and a chief UK economist for PricewaterhouseCoopers in London, said.
Sixty-five percent of public finances have come from the central government, with 25 percent of costs covered by lottery money and 10 percent borne by funds from local authorities. Policy-makers are worried about the burden the central government is shouldering with regard to Olympic expenditures.
Hawksworth dismisses these funding distribution concerns as a non-issue from a macroeconomic perspective. He foresees modest temporary growth effects, including modest boosts in spending this quarter. "I don't think it will be a key factor for economic recovery," he said. But the games will provide "some long-term benefits in terms of transport, infrastructure and housing, especially in east London. These might not show up in national figures, but it will be beneficial at a local level."
The government keeps a tight rein on the budget and remains steadfast about its fiscal consolidation agenda across the country -- an effort economists say is necessary to reduce national debt. Her Majesty's Treasury slashed its budget for London this year by 3.7 percent to £3.16 billion from £3.28 billion last year. Moody's Analytics forecasts a further reduction of 1.6 percent to £3.11 billion by 2014.
Fiscal policies of this sort will not only strengthen long-term fiscal sustainability through positive growth effects but also improve consumer demand and encourage further investment by raising the collateral value of loan assets, the European Central Bank stated in a report on fiscal consolidation in 2010.
Upgrades in infrastructure
Building the Olympic stadium reportedly involved a cost of $468 million -- a mere 5 percent of total expenditures on the games. Nestled in a corner of Stratford, a sleepy east London district, the grand arena is driving extra investments in transport and housing across London's East End, which has traditionally been notorious for its run-down boulevards and squalid living conditions. The push for sophisticated infrastructure will have a positive long-term impact on local communities even if they might not be noticeable in the country's outlays and expenditures.
The Olympics extravaganza has created 100,000 jobs this year. These jobs are by no means permanent. However, the construction industry has received a much-needed boost in terms of a rise in both output and employment. A report from Euromonitor International, released earlier this year, states that such a trend is a boon for a housing market that is floundering in the throes of the global slowdown.
Uptick in Retail Spending
Some economists also say that the work opportunities that the event has given thousands of people are likely to generate an upbeat consumer sentiment, increase spending in the third quarter and give workers skills that might help them land better and more permanent jobs in the longer term.
"The best hope for the UK is to increase spending in the third quarter," said Samuel Tombs, a UK economist at Capital Economics. "We are expecting a small increase in spending in the third quarter and consumer confidence may pick up a bit."
Though fears of overcrowding and stampeding are keeping Londoners away from certain parts of the city, London's bustling shopping and entertainment district in the West End is faring well.
Meanwhile, retail businesses in the East End have been complaining about a drop in revenues and customer footfall levels as people feel less inclined to shop in the area. Another problem is the damage that smaller businesses are facing at the hands of big retailers thanks to shop opening laws introduced by Chancellor of the Exchequer George Osborne, who confirmed earlier this year that he would allow shops larger than 3,000 square feet to operate for longer hours on Sundays over the next seven weeks.
Even as smaller shops fear the extended trading hours on Sundays, analysts say that shopping levels will quickly rebound once the games are over. Overall, British retailers are vying for a $220 million uptake in shopping because of the relaxed Sunday trading laws.
"Continued heavy discounting by retailers during the month should ensure overall sales growth remains positive," said Melanie Bowler, an economist at Moody's Analytics in London.
Ticket Sales and GDP Growth
As Olympic ticket sales rise, revenues from advertisers are also likely to shoot up -- and stay that way for the next few years.
Olympic ticket sales are currently $300 million -- a negligible 0.1 percent of GDP. Moody's Analytics remains cautious about what that means for economic growth. These moneys, which the Office for National Statistics factored into national accounting data in line with international conventions, have led to an accounting shift that enhanced third-quarter growth numbers, Bowler pointed out.
A similar approach to ticket sales at the Sydney Olympics in 2000 lifted Australian household spending in the third quarter of that year by 1.4 percent, from the previous quarter. However, the country's GDP remained flat that quarter. Gains from increased export sales were offset by declining investments.
Greece also reported a dip in investments when it hosted the Athens Olympics in 2004. "We think that the impact of the Olympics on UK third-quarter GDP will be muted, largely because of weaker investment and reduced production as employees take time off," Bowler said.
Amit Kalyanaraman, head of product risk management at Barclays Bank in London, pointed out that the games would expand foreign investments in the capital and put in place structural, long-term benefits that would cover up for the short-term costs. The Olympics will do wonders for London's reputation, he said.
But he remains skeptical of how the Olympics will pan out or boost GDP. "It could lead to a triple-dip recession," he added. "Depending on how it plays out, it could mean more bad news before the year ends."
© Copyright IBTimes 2023. All rights reserved.