Will Russia Return Crimea To Ukraine? Black Sea Peninsula Is Russian Territory, Moscow Says In Response To White House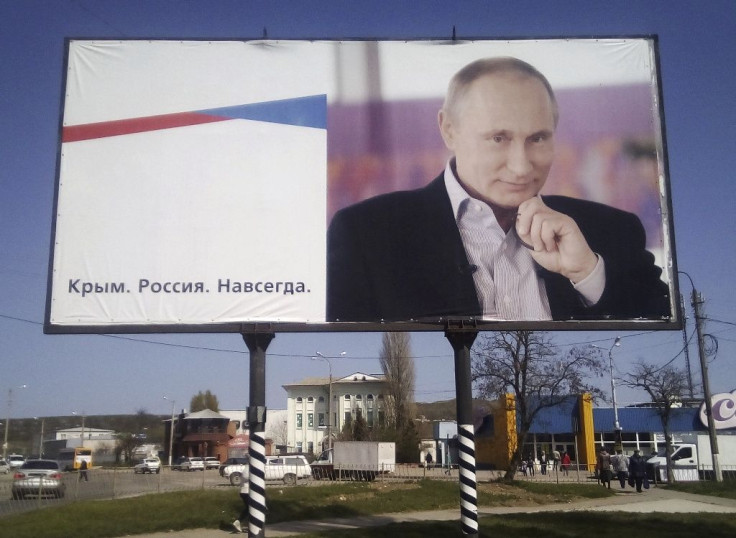 Crimea is a Russian territory and Moscow does not intend to return it to Ukraine, Russian Foreign Ministry said Wednesday. The comments came in response to a White House statement Tuesday that said President Donald Trump "expects" Russia to return to Ukraine the Black Sea peninsula Russia annexed in March 2014.
"We do not return our territories. Crimea is Russian territory," Russian Foreign Ministry spokeswoman Maria Zakharova reportedly said.
During Tuesday's press briefing, White House Press Secretary Sean Spicer said Trump expects Russian President Vladimir Putin to address violence in Ukraine.
"President Trump has made it very clear that he expects the Russian government to deescalate violence in the Ukraine and return Crimea. At the same time, he fully expects to and wants to be able to get along with Russia, unlike previous administrations, so that we can solve many problems together facing the world, such as the threat of ISIS and terrorism," Spicer said.
In February 2014, Russian forces entered the Ukrainian Black Sea peninsula of Crimea and the following month, Moscow held a referendum in the territory, in which 96.77 percent voters supported Crimea's integration with the Russian Federation.
However, the referendum's results were met with sharp criticism internationally. The United Kingdom, for instance, called it "farcical" and "illegitimate."
Following the annexation, EU, the United Nations, and countries including the U.S., Canada and Australia imposed sanctions on Russia. The Crimean annexation also aggravated tensions between Moscow and NATO, who is seeking to build up its military presence in the Baltics to counter growing Russian assertion in the region.
Last July, Trump said in an interview with ABC News that under his administration, the U.S. would recognize Russian control of Crimea.
"I'm gonna take a look at it," Trump told ABC News at the time. "But you know, the people of Crimea, from what I've heard, would rather be with Russia than where they were. And you have to look at that, also."
At the time, Trump also said Putin will not invade Ukraine.
"He's [Putin] not going into Ukraine, OK, just so you understand. He's not going to go into Ukraine, all right? You can mark it down," Trump said during the interview.
However, when the interviewer pointed out that Russia already had military presence in Crimea, technically a part of Ukraine, Trump replied: "OK — well, he's there in a certain way. But I'm not there. You have [Barack] Obama there."
Following the interview, Trump sought to explain his stance on Crimea in a series of tweets.
© Copyright IBTimes 2022. All rights reserved.
FOLLOW MORE IBT NEWS ON THE BELOW CHANNELS