Will Trump Start A War? German Foreign Minister Frank-Walter Steinmeier Says 'Turbulent Times' Ahead Following Trump Inauguration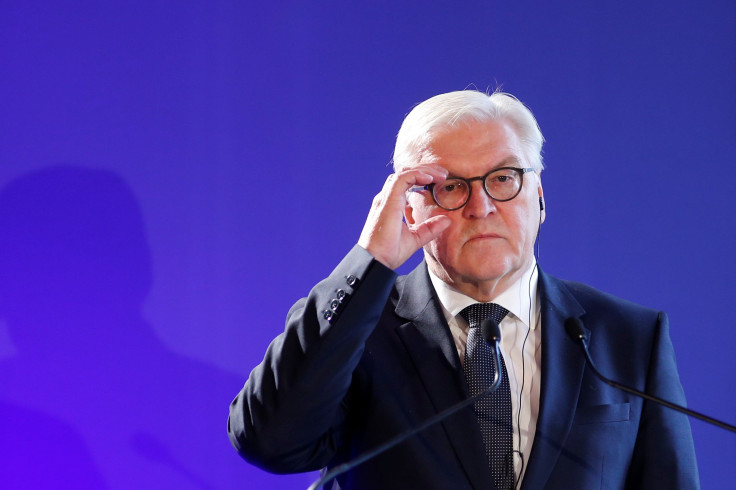 A senior German government official predicted the world was heading toward "turbulent times" following the inauguration of President Donald Trump. German Foreign Minister Frank-Walter Steinmeier, a staunch opponent of the real estate mogul, has criticized the Trump in the past as well.
In a commentary published Sunday in the Bild am Sonntag newspaper, Steinmeier reportedly wrote: "As always when power changes hands, there are uncertainties, doubts and questions about the course the new leadership will take. But in these times of a new global disorder it is about more, and there is a lot at stake today — with the election of Donald Trump the old world of the 20th century is over for good."
However, Germany's top diplomat, who was nominated by the Chancellor Angela Merkel-led ruling coalition for presidency this year, reportedly wrote Berlin would open dialogues with the Trump administration to discuss "our position, our values and our interests."
Steinmeier added he was "certain to find interlocutors in Washington who know that big countries also need partners."
The 60-year-old Social Democrat commented after Trump's November victory that ties between Berlin and Washington, Germany's biggest trading partner, would become "more difficult."
Steinmeier isn't the only German official concerned about the Trump presidency. Trump's inaugural address had a "highly nationalistic tone" which was similar to "the political rhetoric of the conservatives and reactionaries of the 1920s," local media quoted Vice Chancellor Sigmar Gabriel as saying.
"We must take the man seriously, and I think... we must be neither submissive nor afraid," he reportedly said.
Merkel, however, reportedly gave a more guarded response to Trump's speech, saying the real estate mogul "made his convictions clear in his inauguration speech."
She added that Germany's ties with the U.S. would be based "on rules, common values and joint action in the international economic system, in the international trade system, and... our contributions to the military alliances," Spiegel reported.
© Copyright IBTimes 2023. All rights reserved.