Wisconsin Recall Elections: Republicans Prevail, Hold Onto Senate Majority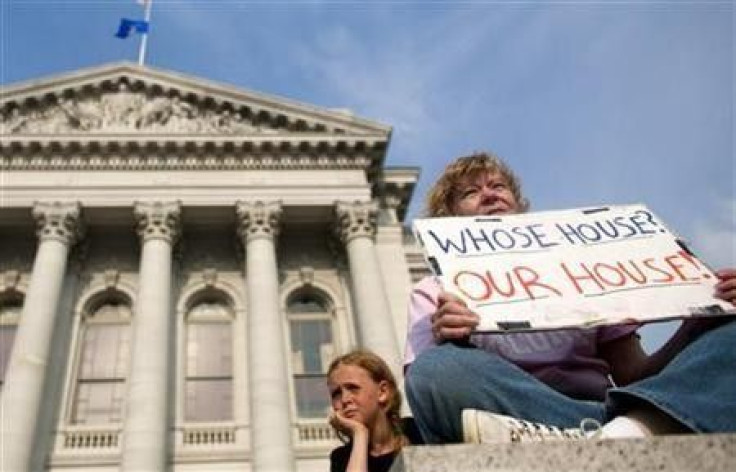 Republicans in Wisconsin's Senate emerged from Tuesday's special recall elections with their majority intact, repulsing four out of six Democratic challengers who sought to ride a wave of voter anger at a controversial law weakening most public unions.
The collective bargaining law, pushed by 2010-installed Governor Scott Walker and approved by Republican senators invigorated by a majority in both houses of the state legislature, sharply curtailed collective bargaining rights for most public employees. It prompted ferocious protests that rippled from the state capitol to cities across the country and led a group of Democratic senators to flee the state in an effort to preclude a vote.
One of those Democrats, Dave Hansen, easily defeated a challenger in a July recall election. Jim Holpering and Robert Wirch, both Democratic senators, face recall elections on Aug. 16. But with Tuesday's results, Republicans will retain the majority even if both Holpering and Wirch prevail.
The recall elections were seen as a referendum not only on the law, but also on the Tea Party-infused wave of Republican lawmakers that swept into state and national offices in 2010. At a time when government spending and deficit reduction continue to consume Washington, the Wisconsin recall elections were closely watched as a gauge of public sentiment.
"The eyes of the nation are on Wisconsin right now," U.S. Rep. Tammy Baldin (D-Wis.) said during a Monday conference call with liberal volunteers from across the country. "I don't think anyone will be surprised to hear that what is happening in Wisconsin is happening elsewhere too."
Wisconsin is also one of a handful of states that could prove to be pivotal in the 2012 presidential race. Although Wisconsin hasn't fallen into the Republican column since 1984, Al Gore in 2000 and John Kerry in 2004 carried the state by razor-thin margins. The Republican National Committee has identified Wisconsin as one of 13 "battleground" states. Nate Silver identified all six seats in Tuesday's recall election as "swing districts" that supported President Barack Obama in 2008 and Walker in 2010.
As a result, the elections were some of the most contentious in memory. An Associated Press analysis found that the six Republican incumbents and their Democratic challengers had combined to raise $4.2 million, with outside groups adding an estimated $26 million. That represents a staggering sum of money for elections to a state legislature.
"We've never seen anything like this before. Records are going to fall," said Mike McCabe, executive director of the government watchdog group Wisconsin Democracy Campaign. "It's all the more astonishing when it's happening in such a compressed time frame."
State Republicans also came under fire for encouraging decoy candidates to run in the Democratic primary, helping to buy Republican incumbents more time to build their campaigns.
"We need to make sure Democrat challengers face primaries to allow our Republicans time to mount a campaign," Dan Feyen, chairman of the 6th Congressional District Republican Party, wrote in a letter outlining the plan.
To put the elections in historical perspective, The Associated Press reported that there had been just 20 prior attempts nationally to recall lawmakers from office since 1913, and only 13 were successful.
© Copyright IBTimes 2023. All rights reserved.