Wisconsin Vs. Kentucky Basketball: Start Time, Updated Betting Odds, Key Players For 2014 Final Four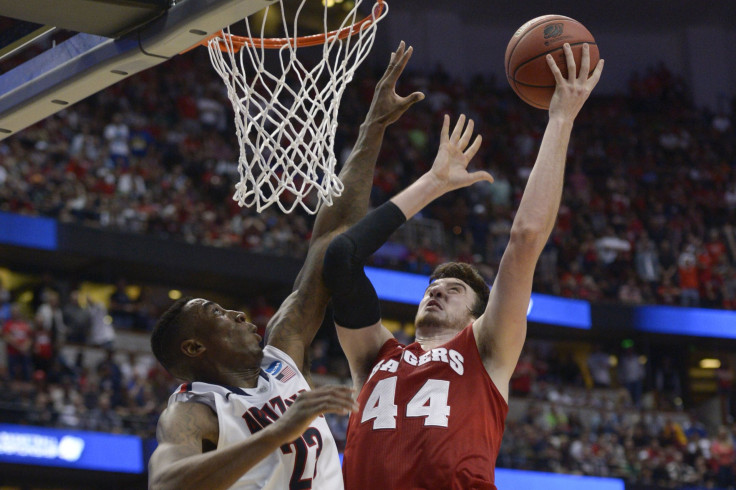 Meeting for only the second time in NCAA Tournament history, the No. 2 Wisconsin Badgers face the late blooming No. 8 Kentucky Wildcats in Saturday's Final Four matchup at AT&T Stadium in Arlington, Texas.
The two schools last met in the 2003 regional semi-final with the Wildcats coming out on top, 63-57, in Wisconsin head coach Bo Ryan's first trip to the Sweet 16.
Now Ryan is far more seasoned after making his first Final Four in 12 years at the helm in Madison. He's molded the Badgers into a solid defensive squad that relies on rebounding and interior scoring from forward Frank Kaminsky.
Kentucky and head coach John Calipari have largely relied on freshman forward Julius Randle to hold down the frontcourt, with the Harrison Twins, Andrew and Aaron, and James Young manning the perimeter.
Here are several players to watch as the game unfolds.
Players To Watch
Wisconsin
Frank Kaminsky, F
No big man has dominated the paint quite like the Badgers junior. Averaging 18.5 points and six rebounds, Kaminsky poses a huge matchup problem for Kentucky with seven-footer Willie Cauley-Stein likely out for the rest of the tournament with an ankle injury.
Kaminsky put together his best game of the tournament in the West Region final win over No. 1 Arizona, notching 28 points and 11 rebounds.
Ben Brust, G
The senior had a rough shooting night against Arizona, going 2-for-7 for five points, but in the three previous rounds he scored 17, 12 and 14 points. He's also committed just three turnovers in the entire tournament. He's been the Badgers second scoring option all season, but if Kaminsky starts slow he could be the go-to guy.
Brust has been especially lethal from deep, shooting 60 percent for the tournament.
Traevon Jackson, G
Jackson also struggled in the Elite Eight, going 4-for-14 from the field, but he makes up for his shooting woes in other ways. The junior recorded five assists in three straight tournament games, and his eight rebounds against Oregon and seven more against Baylor are an excellent sign Jackson can generate second-chance points for the Badgers.
Nigel Hayes, F; Bronson Koenig, G
The two freshman are Ryan's most important bench players. Hayes scored 10 points and pulled down six rebounds in the Baylor victory, and has the size to guard Randle or Young.
Koenig hasn't been asked to score, but should Brust or Jackson get in foul trouble, he'll be called on to defend the Harrisons.
Kentucky
Julius Randle, F
The best NBA prospect in another stellar Kentucky freshman class, Randle's recorded four straight double-doubles averaging 15.8 points and 12 rebounds. Counting the tournament run Randle has 13 double-doubles in the last 15 games. He's also shooting 77 percent from the free throw line.
Dakari Johnson, C
Very talented but also very raw, Johnson has only scored in double-digits three times this season including his huge 15 points and six rebounds in the upset over rival Louisville in the Sweet 16. He might not be asked to score much against Kaminsky, but if Johnson can pressure him into taking bad shots it could be huge for the Wildcats.
Aaron Harrison, G
Maybe he's not the better of the twins, but Aaron has been the most consistent long-range shooter of the two. For the tournament, he's shooting 54 percent from beyond the arc. Assuming he gets hot, Aaron can stretch the Badgers defense and allow his brother Andrew to penetrate and dish.
Alex Poythress, F
Now a sophomore, Poythress was the Wildcats second-leading scoring last season but had to a backseat this season with the new class. He hasn't played more than 18 minutes in a game during the tournament, but if Randle gets in trouble Poythress will likely be tapped.
Start Time: Saturday, 8:45 p.m. EST
Betting Odds: The line opened at Kentucky -2.5 and has shifted to -1.5 Wildcats.
Over/Under: The point total remains at 139.5.
© Copyright IBTimes 2023. All rights reserved.