Wizards Escape With Road Win Versus Heat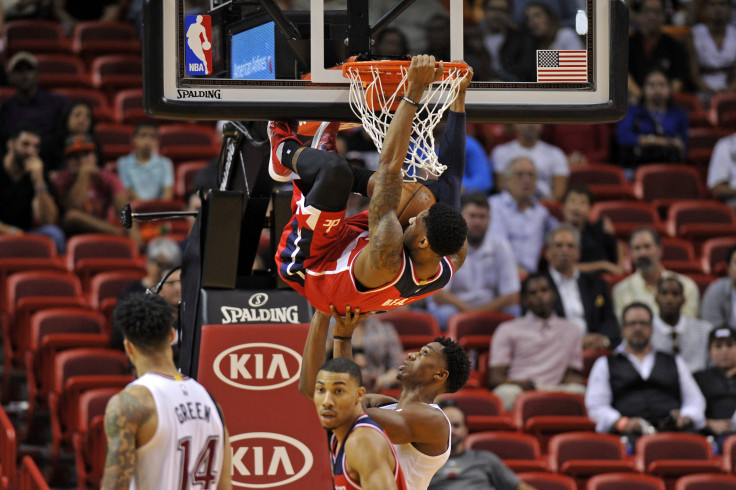 The Washington Wizards beat the Miami Heat, 114-103, Monday night but not without a controversial non-travelling call in the final moments of the game. John Wall led the way for the Wizards with 26 points, a day after it was reported that he was suffering from a knee injury.
The Wizards franchise player shot an efficient 9-of-13 field goals and also added 7 assists. With the Wizards leading 105-103 with 1:07 left in the game, back-up guard Gary Neal hit a three-pointer off a pass from Bradley Beal, who drove to the basket but landed with the ball back in his hands.
No traveling violation was called and Beal found Neal for the corner three that gave the Wizards the five-point advantage. The Heat never recovered from that play and suffered third loss in the last six games.
The Wizards improved to 5-4 on the road, where they actually have a better record as they are just 4-6 at home this season. The Wizards will host the Houston Rockets Wednesday in their next game.
Beal and Neal added 21 points apiece while three other Wizards finished in double-figure scoring. Washington also shot 50 percent from behind the arc making 9-of-18 three pointers negating what was a very good shooting night from the Heat, who shot 59.5 percent from the field (41-of-69 FGs) as a team.
Washington led 29-19 after the end of the opening quarter but the Heat came back in the middle quarters and grabbed the 78-71 lead with 4:33 to go in the third quarter. The Wizards ended the quarter on 16-6 run however and they regained the advantage, 87-84 entering the fourth.
The Wizards started to pull away midway into the final quarter with a 99-91 lead with 4:39 to go in the game. The Heat responded with a 10-2 run in the next two minutes and tied the game at 101-all.
Dwyane Wade (26 points), Goran Dragic (20 points) and Chris Bosh (18 points) led the Heat, who will travel in their next two games to take on the Charlotte Hornets and Indiana Pacers.
© Copyright IBTimes 2023. All rights reserved.