Women In US Military: Combat Jobs To Be Open To Female Soldiers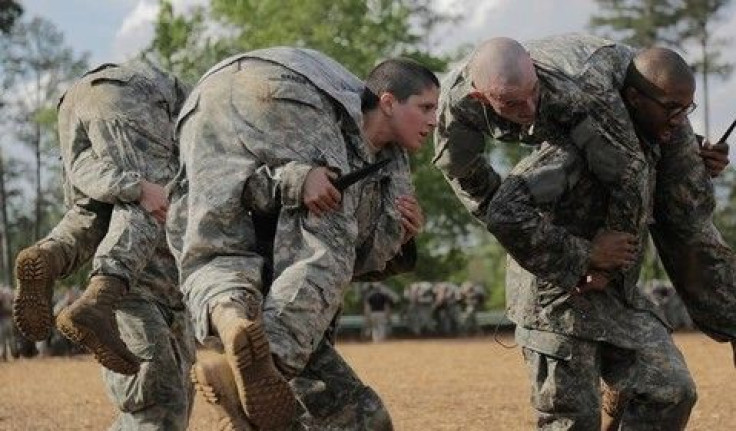 UPDATE: 1:15 p.m. EST -- Defense Secretary Ash Carter confirmed Thursday his intent to open all combat positions to qualified women without exceptions in 30 days. He said the decision affects about 220,000 jobs and lets women "drive tanks, fire mortars, and lead infantry soldiers into combat."
"We cannot afford to cut ourselves off from half the country's talents and skills," Carter said, later clarifying that he rejected the Marine Corps' objections because he wanted to see a joint military approach to the issue. "As long as they qualify and meet the standards, women will now be able to contribute to our mission in ways they could not before."
He also proposed guidelines for implementing the shift, including that it must be pursued with the clear objective of improved effectiveness, leaders must assign tasks based on ability, and there will be no quotas.
#SecDef Carter: "women will now be able to contribute to our mission in ways they could not before."
https://t.co/dkk6DcV7Q7

— CSPAN (@cspan) December 3, 2015
Secretary of the Navy Ray Mabus posted a statement on Facebook shortly after Carter's announcement. "Gender does not define the service of a United States Sailor or Marine -- instead, it is their character, selflessness, and abilities," he wrote.
Original story:
U.S. Secretary of Defense Ash Carter was expected Thursday to announce a military policy shift that would allow women to serve in all combat positions within the armed forces, the Associated Press reported exclusively. According to an anonymous senior defense official, it could happen soon as Carter reportedly will ask the branches to turn in plans for implementation by Jan. 1, with implementation slated by April 1.
For years, women were restricted from serving on the front lines under the Combat Exclusion Policy. It was lifted in 2013, though the various branches were allowed the last two years to study the implications and request exceptions, the Hill reported. Reactions varied: The Army recommended allowing women to serve in all combat jobs, but the Marine Corps disagreed, citing analysis that showed all-male units performed better, the Military Times reported.
There are more than 201,000 active-duty women in the armed forces, according to the Department of Defense website.
Data curated by InsideGov.
© Copyright IBTimes 2023. All rights reserved.