World Cup Protests: At Least 5 Injured As São Paulo Police Use Tear Gas, Reports Say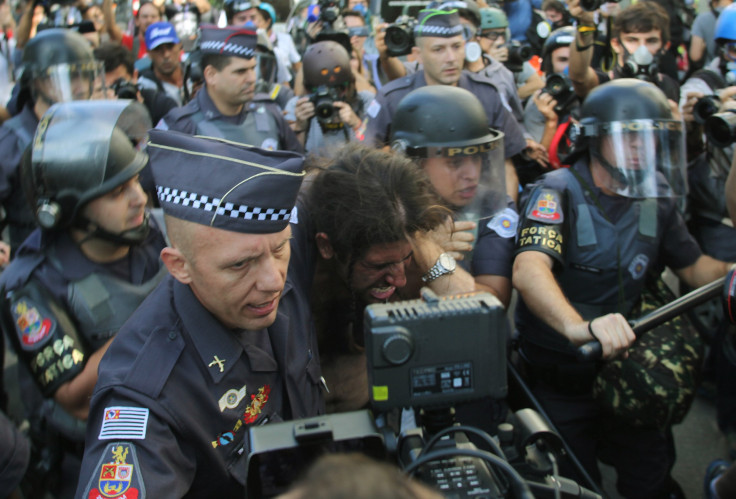 Update (1:45 p.m. ET): A group of more than 300 protesters marched toward Corinthians Arena in São Paulo, Reuters reports. Many attempted to block traffic on a highway leading to the stadium, but they were blocked by police clad in riot gear. Stun grenades and canisters of tear gas were used against protestors.
Several bystanders suffered bloody noses or wounds from rubber bullets, while others were seen choking on tear gar. An Associated Press photographer suffered a leg injury when a stun grenade exploded in his vicinity. A pair of CNN journalists were also injured, AP reports.
Update (1:30 p.m. ET): The following video shows footage of anti-World Cup demonstraters clashing with police in São Paulo. Protestors launch bottles and other projectiles at riot police, who respond with tear gas, flash grenades, rubber bullets and pepper spray.
-
A crackdown by Brazilian police on anti-World Cup street protests resulted in injuries to several people in São Paulo on Thursday.
São Paulo police revealed that at least five people were injured in clashes between protesters and authorities, Reuters reports. The extent of their injuries is not yet known.
Officers have used tear gas, rubber bullets and stun grenades to disperse crowds that gathered to protest the Brazilian government's decision to host the World Cup, which begins on Thursday with a match between Brazil and Croatia, AFP reports. Protesters gathered outside a São Paulo subway station, chanting, "If we have no rights, there won't be a Cup."
However, police broke up the protest before it could advance to its intended target, Corinthians Arena, one of Brazil's newly built soccer stadiums.
This is a breaking story and will be updated as more information becomes available.
© Copyright IBTimes 2023. All rights reserved.