World Series 2018 Betting Odds: Who's Favored To Win MLB's Championship?
It's been 18 years since there was a repeat MLB champion, though it wouldn't be much of a surprise to see that streak end this year. The Houston Astros enter Opening Day as the 2018 World Series favorites, ranking ahead of contenders like the New York Yankees, Los Angeles Dodgers and Chicago Cubs.
The defending champions might have a better team than when they defeated the Dodgers in Game 7 of last year's Fall Classic. Houston has added Gerrit Cole to the rotation after making a trade with the Pittsburgh Pirates, and they'll now have Justin Verlander for the entire regular season. Jose Altuve won the American League MVP award as the best hitter in baseball's best lineup.
A World Series rematch between Houston and Los Angeles could very well be in the cards. L.A. is coming off a 104-win season in which they came one victory shy of winning their first title since 1988. The Dodgers are always in contention, having won the NL West with more than 90 wins for five straight years.
There was a point during spring training when the Yankees had the best World Series odds. They made the biggest splash of the offseason by acquiring Giancarlo Stanton from the Miami Marlins. It didn't take much for New York to land the National League MVP, and he joins a lineup that includes AL MVP runner-up Aaron Judge.
An argument can be made that the Cubs are the best bet to win the World Series. The Cubs are just two years removed from winning the title, and they are the only team that's reached the NLCS or the ALCS in three straight years. Chicago lost Jake Arrieta in free agency and replaced him with Yu Darvish.
The Washington Nationals and Cleveland Indians are the two other teams with better than 10/1 World Series odds. Both teams won their respective divisions in 2017 and lost the division series in five games.
The Miami Marlins, Kansas City Royals and Detroit Tigers are the biggest World Series long shots.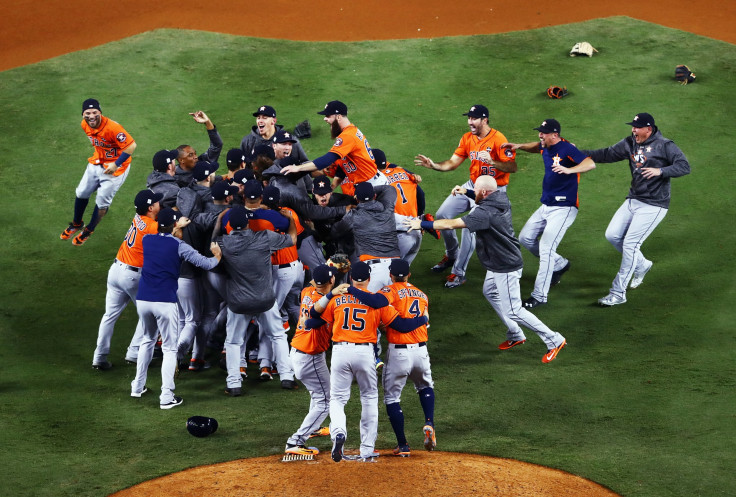 © Copyright IBTimes 2023. All rights reserved.