WWE Draft 2016 Results: Raw, SmackDown Rosters; Where Did John Cena, Brock Lesnar, Seth Rollins Get Picked?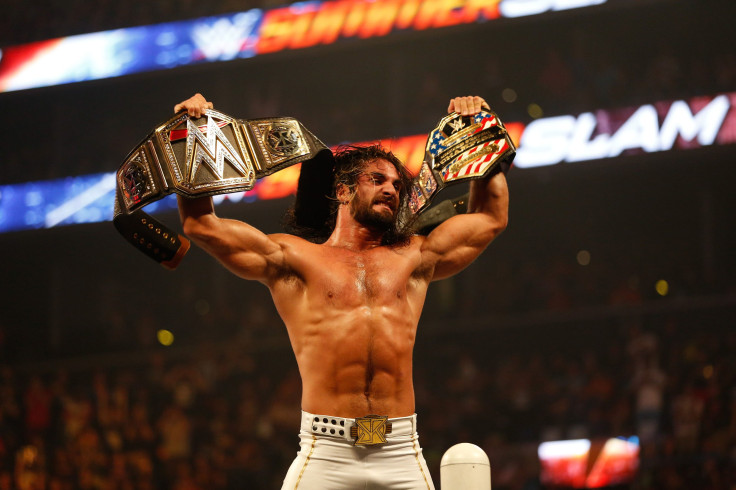 WWE shook up its roster with its first draft in five years on Tuesday night as "SmackDown" went live, giving the company five hours of live programming each week. Fifty-nine wrestlers were assigned to either "Monday Night Raw" or "SmackDown," and they will appear exclusively on the shows to which they were selected.
The first six rounds were broadcast live on TV with five selections in each round. The commissioners and general managers of "Raw" (Stephanie McMahon/Mick Foley) and "SmackDown" (Shane McMahon/Daniel Bryan) alternated picks, though "Raw" got an extra selection in each round because the show is an hour longer. Rounds seven through 11 moved to WWE Network, and both shows got three picks each in the final four rounds.
Dean Ambrose ended Tuesday's show by defeating Seth Rollins to retain the WWE Championship, but Rollins went first overall to "Raw." Ambrose was next off the board to "SmackDown," where the company's top title will reside for now.
Ambrose, Rollins and Roman Reigns (No.6 pick) will compete in a triple threat match for the title at WWE Battleground. There's speculation that the result might produce two world championships, one for each show.
Charlotte was the third overall pick, bringing the Women's Championship to "Raw." WWE's flagship program drafted the Tag Team Champions (The New Day) and the United States Champion (Rusev). "SmackDown" gets the Intercontinental Title with The Miz.
The biggest names in the company were split up. John Cena went to "SmackDown" seventh overall, and Brock Lesnar was taken by McMahon and Foley with the very next pick.
The draft will bring a few new additions to WWE TV. WWE will introduce a cruiserweight division to "Raw," and six NXT superstars were drafted to the main roster, starting with Finn Balor at No.5 overall.
Neither The Undertaker nor Triple H was eligible for the draft. Injured superstars like Luke Harper, Tyson Kidd and Nikki Bella went undrafted, as did Heath Slater.
Below is a look at the complete 2016 WWE Draft results. An asterisk denotes an NXT superstar that was drafted.
First Round
1) Seth Rollins (Raw)
2) Dean Ambrose (SmackDown)
3) Charlotte (Raw)
4) AJ Styles (SmackDown)
5) Finn Bálor (Raw)*
Second Round
6) Roman Reigns (Raw)
7) John Cena (SmackDown)
8) Brock Lesnar (Raw)
9) Randy Orton (SmackDown)
10) The New Day (Raw)
Third Round
11) Sami Zayn (Raw)
12) Bray Wyatt (SmackDown)
13) Sasha Banks (Raw)
14) Becky Lynch (SmackDown)
15) Chris Jericho (Raw)
Fourth Round
16) Rusev/Lana (Raw)
17) The Miz/Maryse (SmackDown)
18) Kevin Owens (Raw)
19) Baron Corbin (SmackDown)
20) Enzo Amore & Big Cass (Raw)
Fifth Round
21) Luke Gallows and Karl Anderson (Raw)
22) American Alpha (SmackDown)*
23) Big Show (Raw)
24) Dolph Ziggler (SmackDown)
25) Nia Jax (Raw)*
Sixth Round
26) Neville (Raw)
27) Natalya (SmackDown)
28) Cesaro (Raw)
29) Alberto Del Rio (SmackDown)
30) Sheamus (Raw)
Seventh Round
31) Golden Truth (Raw)
32) The Usos (SmackDown)
33) Titus O'Neil (Raw)
34) Demon Kane (SmackDown)
35) Paige (Raw)
Eighth Round
36) Darren Young (Raw)
37) Kalisto (SmackDown)
38) Sin Cara (Raw)
39) Naomi (SmackDown)
40) Jack Swagger (Raw)
41) The Ascension (SmackDown)
Ninth Round
42) The Dudley Boyz (Raw)
43) Zack Ryder (SmackDown)
44) Summer Rae (Raw)
45) Apollo Crews (SmackDown)
46) Mark Henry (Raw)
47) Alexa Bliss (SmackDown)*
10th Round
48) Braun Strowman (Raw)
49) Breezango (SmackDown)
50) Bo Dallas (Raw)
51) Eva Marie (SmackDown)*
52) Shining Stars (Raw)
53) The Vaudevillains (SmackDown)
11th Round
54) Alicia Fox (Raw)
55) Erick Rowan (SmackDown)
56)Dana Brooke (Raw)
57) Mojo Rawley (SmackDown)*
58) Curtis Axel (Raw)
59) Carmella (SmackDown)*
© Copyright IBTimes 2023. All rights reserved.