WWE Returns: Sting, Dudley Boyz Appear On 'Monday Night Raw' After SummerSlam 2015 [VIDEO]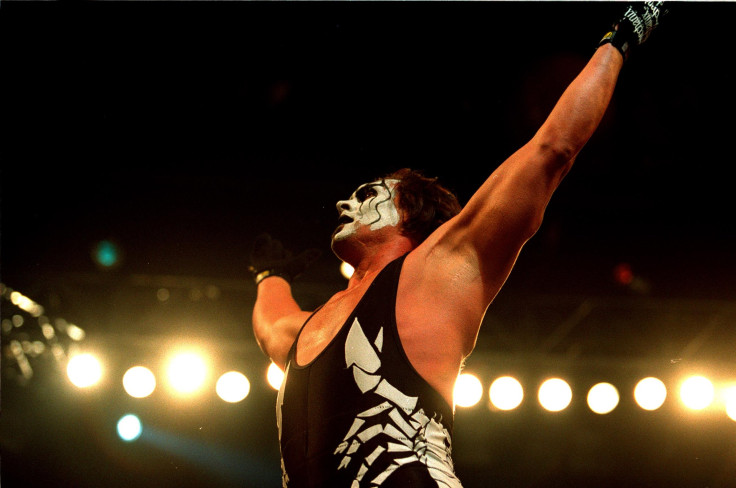 A few big names returned to WWE on "Monday Night Raw" just 24 hours after SummerSlam 2015. Both Sting and The Dudley Boyz showed up at Barclays Center in Brooklyn, setting the stage for championship matches at the next pay-per-view.
Sting closed out the show, interrupting The Authority's celebration of Seth Rollins for beating John Cena on Sunday night. The victory, aided by Jon Stewart, helped Rollins retain the WWE World Heavyweight Championship and win the United States Championship. During the first hour of "Raw," Bubba Ray Dudley and D-Von Dudley confronted The New Day after the champs had a match with The Lucha Dragons.
It had been nearly five months since Sting last appeared in WWE. He appeared on the WWE Network one night after losing to Triple H at WrestleMania 31, where Sting had his first and only WWE match. Now, Sting is set to have a second match with the company, and this time WWE's top title will be on the line.
After attacking Rollins and knocking him out of the ring, Sting grabbed hold of the WWE World Heavyweight Championship belt. Minutes later on the WWE Network, Triple H announced that Sting would face Rollins for the title at Night of Champions on Sept. 20.
The Dudley Boyz's return was a much longer time coming. While Bubba was a part of the Royal Rumble in January, The Dudley Boyz hadn't been on WWE TV as a team in 10 years. No match has been announced, but it seems clear that they will soon be challenging The New Day for the tag team championships.
In the weeks leading up to SummerSlam, there were rumors that Sting might be a part of the PPV. Even after it became clear that he wouldn't be on the card, there was still speculation that Sting might interfere in the match between The Undertaker and Brock Lesnar, possibly setting up a match for WrestleMania 32.
Ric Flair also showed up on "Raw" to confront Stewart about helping Rollins win. The former "Daily Show" host said he didn't want Cena to tie Flair's record of 16 world title reigns.
© Copyright IBTimes 2023. All rights reserved.