VIDEO: Jon Stewart Helps Seth Rollins Beat John Cena At WWE SummerSlam 2015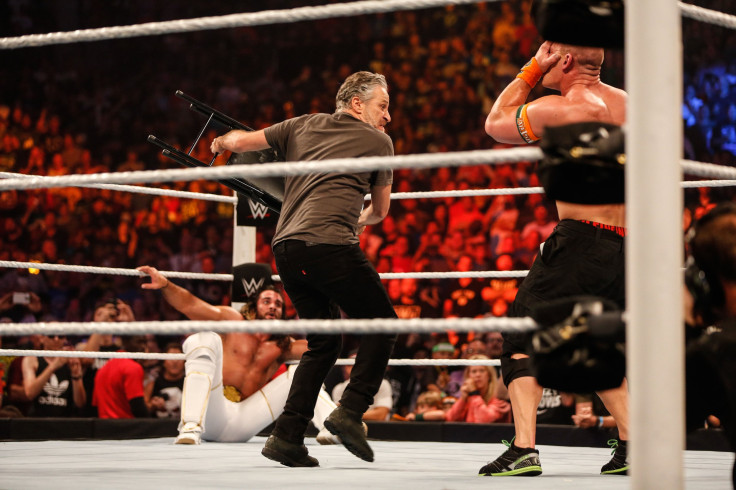 Not only was Jon Stewart the host of WWE SummerSlam 2015 Sunday night in Brooklyn, New York, but the former "Daily Show" host also helped decide the winner of one of the biggest matches on the card. Stewart interfered in the title match between John Cena and Seth Rollins, helping Rollins clinch the victory.
Rollins' WWE World Heavyweight Championship and Cena's United States Championship were both on the line in their match at Barclays Center. After the two wrestlers had gone back and forth for over 15 minutes, the referee was temporarily knocked out because of a collision with Cena. Stewart made his way to the ring with a chair, hitting Cena in the stomach. That allowed Rollins to hit Cena with his finishing move and pin the U.S. champ.
When Stewart made his way to the ring, it was unclear whether he would help Rollins or Cena. Stewart and Rollins had a feud that dated back to March 2, when Stewart appeared on "Monday Night Raw" and delivered a low blow to Rollins. Rollins made multiple appearances on "The Daily Show" afterwards.
Stewart's interference helped Rollins become the first man in WWE history to hold the WWE World Heavyweight Championship and the United States Championship at the same time. Stewart is expected to appear on "Raw" to explain his actions.
© Copyright IBTimes 2023. All rights reserved.