WWE Rumors: Champion Leaving 'Smackdown Live' After WrestleMania Win, Finn Balor Leaves 'Raw'
It sounds like a WWE title-holder will be switching brands, despite not appearing on television during this week's Superstar Shake-up. United States Champion Samoa Joe is reportedly headed to "Monday Night Raw."
Joe retained his U.S. Title at WrestleMania 35 in a match against Rey Mysterio as a member of the blue brand. He wasn't on TV Monday or Tuesday's edition of "SmackDown Live," but according to The Wrestling Observer's Dave Meltzer, Joe will start wrestling on WWE's flagship show.
The move makes plenty of sense now that Intercontinental Champion Finn Balor has left "Monday Night Raw" for "Smackdown Live." Since the brand split was initiated in the summer of 2016, the IC Title and U.S. Title have been kept on separate brands.
Balor defeated Bobby Lashley at WrestleMania 35 to win the Intercontinental Championship as part of the red brand. He was on Monday's show but officially moved to "SmackDown Live" Tuesday with a match against Ali.
Joe had the most dominant performance at WrestleMania 35, beating Mysterio in a minute.
Jinder Mahal joined "Monday Night Raw" along with the United States Championship, which he had won at WrestleMania 34, during last year's Superstar Shake-up. Jeff Hardy took the title from Mahal on his first day on the roster, and Hardy showed up the next night with the U.S. Championship as a new member of the "Smackdown Live" roster.
Roman Reigns was the biggest addition to "SmackDown Live" Tuesday. He joined the likes of Elias, Bayley and Ember Moon, who also left "Monday Night Raw."
AJ Styles was the biggest addition to the "Monday Night Raw" roster.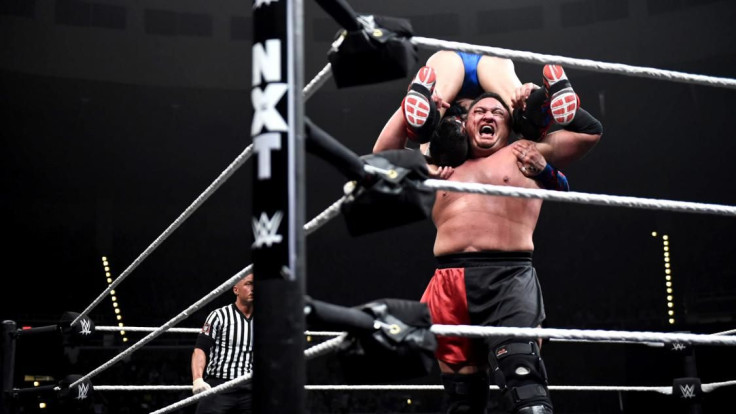 © Copyright IBTimes 2023. All rights reserved.