WWE SummerSlam 2015 Predictions: Seth Rollins Will Keep The WWE World Heavyweight Championship At The PPV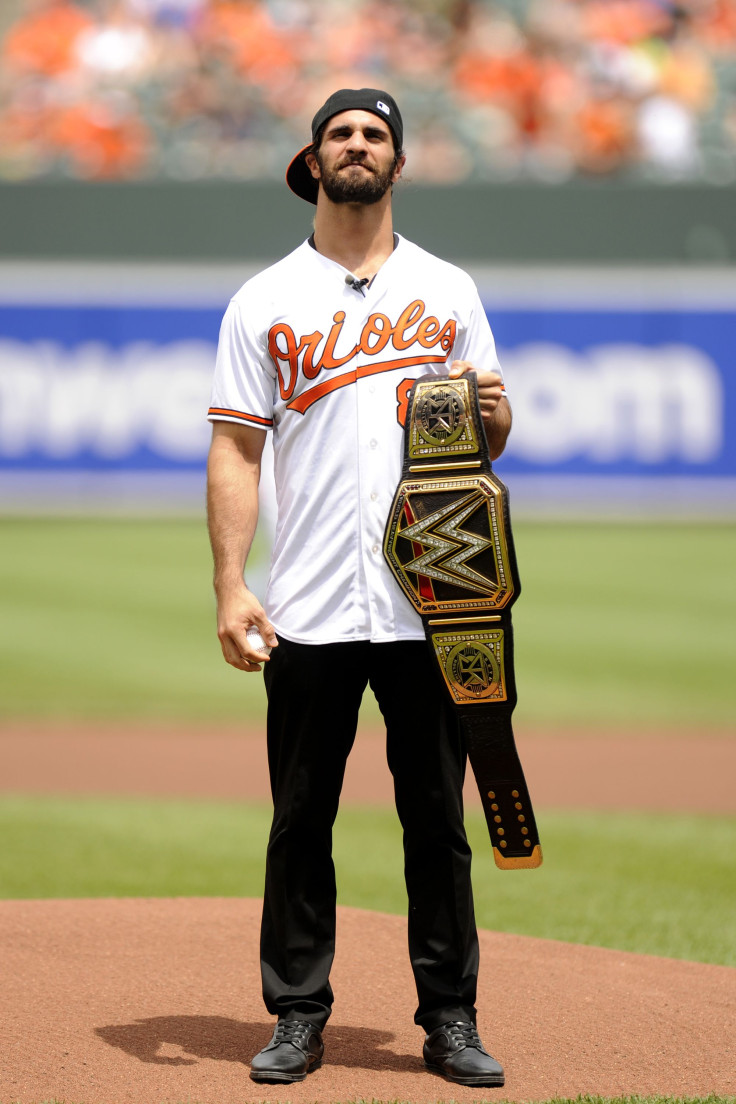 Seth Rollins has held the WWE World Heavyweight Championship since he cashed in his Money in the Bank Briefcase at WrestleMania 31. Though his opponent for SummerSlam 2015 hasn't officially been named, Rollins has a good chance to leave the pay-per-view with the title.
John Cena appears to be the most likely WWE superstar to have a match with Rollins at SummerSlam. The current champ has proposed that Cena put his United States Championship on the line against Rollins' WWE World Heavyweight Championship. Cena has been absent from "Monday Night Raw" in recent weeks after breaking his nose, but it's hard to believe that the injury will keep him off the card of the year's No.2 PPV.
Cena is a 15-time world champion and he's been the company's top star for a decade, but it hasn't appeared like WWE plans to give him the WWE World Heavyweight Championship. He's held the U.S. Title since he defeated Rusev at WrestleMania 31, and his championship matches have been some of the best in WWE over the last few months.
If somehow it's not Cena that fights for WWE's No.1 championship, then Rollns' chances of retaining the belt at SummerSlam will increase even more. Randy Orton, Kevin Owens and Cesaro all fought in a No.1 contender match for the WWE World Heavyweight Championship on Monday, but it's highly unlikely that any of them will win the title at SummerSlam. Sheamus could cash in his Money in the Bank briefcase, though there have only been two cash-in attempts ever at SummerSlam, and he might not be over enough for WWE to give him the belt.
A lot can happen between SummerSlam and WrestleMania 32, but Rollins might hold onto the title to set up a match at the biggest PPV of 2016. A triple threat WWE World Heavyweight Championship match among the three members of The Shield seems to be the most likely scenario in Dallas, and keeping the belt on Rollins for the next eight months could help make that happen. The rumored match is considered to have such a good chance of happening that it's already possible to bet on the outcome of Rollins vs. Dean Ambrose vs. Roman Reigns at WrestleMania 32.
The recent booking of Rollins also indicates that he'll retain the belt. He's looked very weak in his matches since WWE Battleground, and it could be setting up a win for him at SummerSlam.
Rollins only escaped defeat against Brock Lesnar because The Undertaker interfered, and he lost to Cena clean in a U.S. Title match. Rollins barely beat Neville last week, and Orton looked ready to defeat him on Monday before Sheamus interfered.
Rollins has been WWE's best heel since last year, constantly cheating to win and appearing very beatable. But when it comes time to defend his title, he manages to pull out the victory, almost always in an underhanded fashion, earning him even more heat.
It's been nearly half a year since Rollins won the WWE World Heavyweight Championship, and it could be even longer before he loses it.
© Copyright IBTimes 2023. All rights reserved.