From Yale To Jail: Stewart Rhodes, Oath Keepers 'General'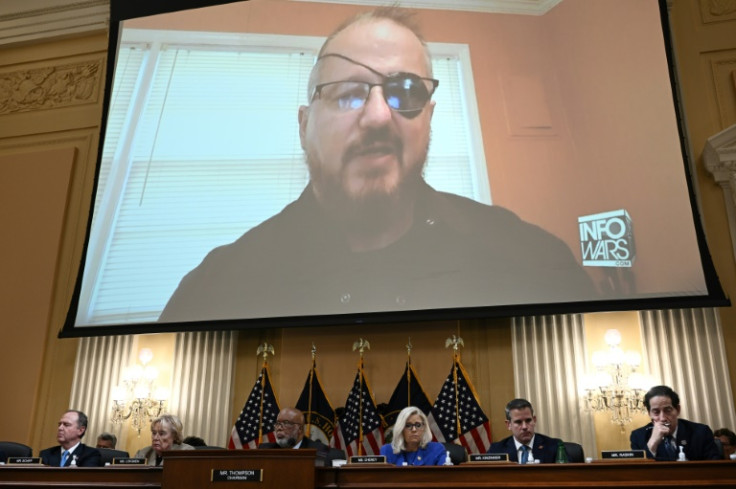 To Stewart Rhodes, his conviction for leading the far-right Oath Keepers militia in the January 6, 2021 assault on the US Capitol made him America's premier political prisoner -- the equivalent of Russian dissident Aleksandr Solzhenitsyn.
But for Judge Amit Mehta, who sentenced the Yale Law graduate to 18 years in prison Thursday, Rhodes is a self-obsessed criminal who took up arms against the US government in a brazen conspiracy of sedition, threatening terror on the US Congress.
Rhodes, 57, was defiant to the end of his trial, refusing any fault or error in the Oath Keepers campaign to keep Donald Trump in the White House and prevent Joe Biden from becoming president -- by violent means if necessary.
"I'm a political prisoner," he told the court.
"My only crime is opposing those destroying our country," he said.
The sentencing appeared to be the final blow to Rhodes, who created the Oath Keepers in 2009 after years of preparing to do battle with a government he views as increasingly repressive.
With a pirate-like black patch over his left eye and a Yale law school graduate's ability to impress followers with a mastery of constitutional law, Rhodes constructed a band of like-minded supporters largely from the ex-military and ex-police community around the country.
Rhodes grew up in the southwestern United States and joined the army after finishing high school.
But he was discharged early due to an injury in a parachuting exercise.
His former wife Tasha Adams Rhodes, with whom he had six children, said they met as he was working as a parking valet, and she was teaching dance in Las Vegas.
Rhodes also worked as a firearms instructor -- and lost one eye when he dropped a gun and it fired, hitting him.
In 1998 he graduated from a local university and was accepted at Yale Law, one of the country's most elite institutions.
After Yale he set up a law practice in Montana, a breeding ground for militia and activists suspicious of any authority and enamored by guns and military gear.
It was there Rhodes developed the idea for the Oath Keepers, on the premise that the federal government was increasingly encroaching on citizens' rights, including restricting gun ownership.
Followers must be willing to fight the government, he would say, tapping into the rise of social media to gather supporters from around the United States.
Rhodes struck a nerve among many white men with military and police backgrounds.
As the group grew, Rhodes farmed out armed, combat-suited Oath Keepers for security at Republican rallies and during social disturbances, like the unrest in Ferguson, Missouri in 2014 after police shot a Black man.
He claimed they were basically a "peacekeeping force."
As Trump gained political influence, Oath Keepers volunteered as security at events held by his supporters.
Rhodes told the court they were protecting Trump supporters from attacks by extreme leftists known as Antifa.
But increasingly the group appeared as a somewhat disciplined armed force and he became their "general," as prosecutors labeled him.
His ex-wife called him a narcissistic "sociopath" who mythologizes his own future as "the next George Washington."
All that came together in the January 6 uprising, when Rhodes brought several dozen members of his group to Washington with a cache of weapons, determined to block Congress's official certification of Biden as the winner over Trump in the November 2020 presidential election.
Prosecutors showed text messages and recorded conversations that depicted Rhodes building up steam for possible violent insurrection.
"The patriots are taking matters into their own hands," he wrote other Oath Keepers.
In Thursday's sentencing, Mehta said Rhodes knew exactly what he was doing, preparing his followers with weaponry for an all-out confrontation.
"What was the motive? You didn't like the new guy," said Mehta, referring to Biden's victory.
"What we absolutely cannot have is a group of citizens (who), because they did not like the outcome of an election... are then prepared to take up arms to foment a revolution," he said.
"You are a lawyer. You know what that means," he said.
But Rhodes called himself a political prisoner.
As he faced years in prison, "My goal will be to be an American Solzhenitsyn," he said.
FOR FREE to continue reading
✔️ Unlock the full content of International Business Times UK for free
offer available for a limited time only
✔️ Easily manage your Newsletters subscriptions and save your favourite articles
✔️ No payment method required
Already have an account? Log in
© Copyright AFP 2023. All rights reserved.