Yankees Blitz Tigers 10-1 to Force Decider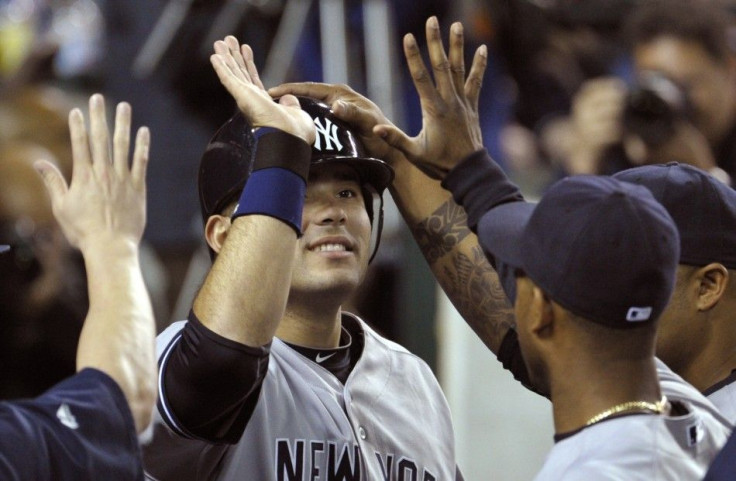 The New York Yankees escaped elimination from the American League division series on Tuesday by thumping the Tigers 10-1 in Detroit to force a deciding Game Five.
The Yankees tied the series at 2-2 with the rout and the two teams will now meet in the deciding game in New York on Thursday. The winner will advance to the AL Championship Series against Texas, who completed a 3-1 series win over Tampa Bay.
New York starter A.J. Burnett, who has been maddeningly inconsistent this season, had an impressive game against Detroit though he had some help.
On the defensive side, former Tiger Curtis Granderson produced two sensational catches in center field while on offense New York's batters delivered 13 hits, with Derek Jeter driving a two-run double to provide an early lead.
New York scored six runs in the eighth inning, helped by a bases-loaded balk and bases-loaded wild pitch, to put the game out of reach as the Tigers unraveled at the end.
Burnett went 5 2/3 innings, giving up four hits and one run to register the win. Rafael Soriano, Phil Hughes and Boone Logan finished up to complete the four-hitter.
Jeter, who had been held hitless with runners in scoring position during the series, came through in the third inning with a booming double over the center-fielder's head to drive in Jorge Posada and Russell Martin for a 2-0 lead.
After Victor Martinez's solo home run for Detroit in the fourth, New York added two more runs in the fifth inning on a run-scoring double by Granderson and a sacrifice fly from Alex Rodriguez before the eighth-inning outburst settled it.
Scheduled to pitch for the Yankees in the series finale is rookie Ivan Nova (16-4), with Doug Fister (11-13) expected to start for Detroit. The pair dueled in Saturday's completion of the rain-suspended opener, won 9-3 by New York.
© Copyright Thomson Reuters 2023. All rights reserved.