Yankees Rumors: Jacoby Ellsbury, Clint Frazier, Chance Adams Among Trade Possibilities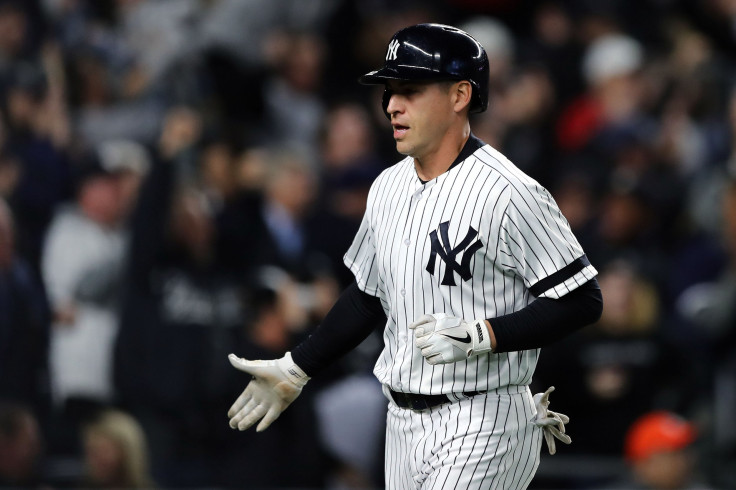 The New York Yankees made the biggest move of the 2017 MLB offseason when they acquired Giancarlo Stanton from the Miami Marlins, but they don't seem to be done shaking up their roster. The Bronx Bombers continue to be at the center of various trade rumors as they look to upgrade their starting rotation.
A few of the same names keep coming up when looking at what players the Yankees might trade. Opposing teams are reportedly interested in minor-league pitcher Chance Adams and outfielder Clint Frazier, who split time between the minors and the majors last season. New York would jump at the chance to unload Jacoby Ellsbury and his contract, though doing so comes with a set of challenges.
Let's first take a look at Ellsbury, who will be difficult to move because of the money that he's owed over the next three years. The 34-year-old will earn an annual salary of $21.142 million in 2018, 2019 and 2020, along with a $21 million club option in 2021 that almost certainly won't be picked up.
Ellsbury wouldn't fetch anywhere near that kind of money on the open market. His best totals over the last three seasons include nine home runs, 56 RBI, a .264 batting average and a .750 OPS. The outfielder missed 50 games in 2017 for the second time in three years.
The Yankees are reportedly willing to pay a large portion of Ellsbury's contract to any team that might acquire him. The left-hander only got nine postseason at-bats in 12 playoff games this past season. New York's outfield was full with Aaron Judge, Aaron Hicks and Brett Gardner, and there's even less room for Ellsbury now with Stanton in the fold.
According to Jon Heyman of FanRag Sports, Ellsbury might be willing to waive his no-trade clause for certain teams, which didn't appear to be the case earlier this offseason. Heyman suggests that list could include the San Francisco Giants, who aren't too far from Ellsbury's home in the Phoenix area.
Getting teams to actually bite on a trade for Ellsbury would be a chore for Yankees' general manager Brian Cashman. That's not the case when it comes to Frazier or Adams. Adams is listed as the team's No.4 prospect, according to Baseball America. Frazier isn't on the list because he had 134 MLB at-bats in 2017, but he was named the Yankees' No.2 prospect a year ago.
Frazier showed signs of being a future slugger in the big leagues, posting a .448 slugging percentage as a 22-year-old. Adams is nearly major-league ready, going 11-5 with a 2.89 ERA in 115.1 innings at Triple-A in 2017.
If there's no room in the outfield for Ellsbury, the same goes for Frazier. That's why he's been mentioned as part of potential trade packages for Pittsburgh's Gerrit Cole or Arizona's Patrick Corbin. The Pirates are reportedly interested in Adams, and both prospects would likely have to be included in a deal for Detroit's Michael Fulmer, whom the Yankees have explored acquiring.
The Yankees might have MLB's deadliest lineup. Stanton and Judge ranked second and third in at-bats per home run last year. Gary Sanchez came in 11th.
New York's focus is landing a reliable starting pitcher. Hoping to avoid paying big money to free agents like Yu Darvish and Jake Arrieta, a trade might be the team's best option.
Only time will tell if the Yankees are prepared to part with potential future stars in order to make a run at the 2018 World Series.
Luis Severino, Masahiro Tanaka, Sonny Gray and C.C. Sabathia are New York's top four starters. Jordan Montgomery would likely be the No.5 starter if the Yankees don't make a move.
© Copyright IBTimes 2023. All rights reserved.