Yankees Trade Rumors: J.A. Happ Could Go To New York Soon, Cubs, Brewers Still In Mix For Pitcher
The starting pitcher that's been linked to the New York Yankees for weeks could finally end up in the Bronx. The Toronto Blue Jays are looking to trade J.A. Happ soon, according to multiple reports, and the Yankees are considered the favorites to land him.
New York's rotation is clearly the weakness of the team, and general manager Brian Cashman has been working tirelessly to make an upgrade. The Chicago Cubs and Milwaukee Brewers have also engaged with Toronto in trade discussions regarding Happ, who is probably the best starter that's available.
A deal might get done this week because the Blue Jays have lowered their asking price. New York has a bevy of highly touted prospects, but they've been unwilling to unload any of them for a rental that might only be their No.4 starter. A deal for a No.1 or No.2 starter is looking unlikely with the 2018 MLB trade deadline fast approaching.
New York has reportedly shown interest in Chris Archer, but the price would be high and it's unclear if the Tampa Bay Rays want to move their No.2 starter. The Yankees have been linked to Jacob deGrom, whom the New York Mets almost certainly won't trade to their cross-town rivals. There's been speculation that Carlos Martinez could become available, though the starter is on the disabled list and the St. Louis Cardinals have yet to give up their playoff hopes.
The Yankees wouldn't give up their top two prospects for Manny Machado, but they reportedly offered their No.3 or No.4 prospect for the shortstop. New York traded three minor-leaguers, including their No.9 ranked prospect, for a rental in reliever Zach Britton.
Happ, 35 and a free-agent-to-be, is 10-6 with a 4.18 ERA and a 1.18 WHIP. He's had a terrible July with a 7.41 ERA and three losses, though there is reason to believe he could be of significant help to the Yankees.
The veteran posted a more than respectable 3.43 ERA from 2015-2017. Happ went 20-4 in 2016 and had a 2.70 ERA in two playoff starts, and the Yankees might be much more comfortable handing him the ball over Sonny Gray in a postseason game. He made this year's American League All-Star team by going 10-3 with a 3.62 ERA and 106 strikeouts in his first 97 innings.
In 19 career games, Happ is 7-4 against the Boston Red Sox with a 2.98 ERA. The Yankees trail the Red Sox by 5.5 games in the AL East, and they have a four-game lead for the first AL Wild-Card berth.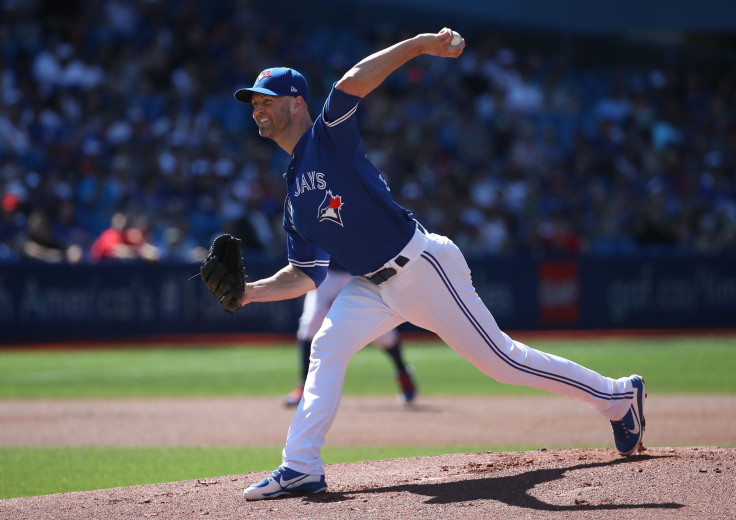 © Copyright IBTimes 2023. All rights reserved.