Yelp Extortion Rampant, Say Small-Business Owners As Class-Action Lawsuit Against Review 'Bully' Appealed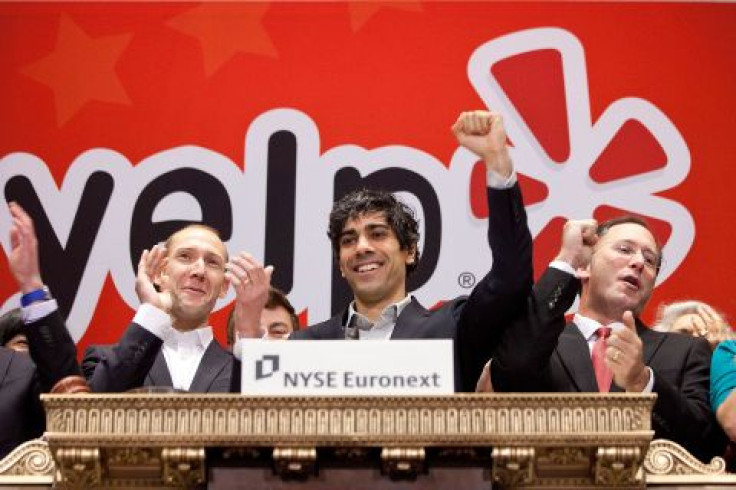 A group of business owners suing Yelp Inc. (NYSE:YELP) for extortion filed an appeal in San Francisco's 9th Circuit Court of Appeals on Thursday, hoping to reverse a judge's earlier decision that the crowd-sourced review giant is not liable for user reviews that negatively impact businesses.
In 2011, U.S. District Judge Edward Chen ruled that, under the Communications Decency Act of 1996, the much-maligned company is not responsible for content written by its users. It's a position backed by free-speech advocates such as the Electronic Frontier Foundation (EFF), which has come out in support of Yelp in the case. Specifically, EFF says the website -- and other user-generated sites like it -- is protected under section 230 of the act, which states the following:
"No provider or user of an interactive computer service shall be treated as the publisher or speaker of any information provided by another information content provider."
According to EFF, the clause is a vital tool in maintaining freedom of expression on the Internet. "In other words, online intermediaries that host or republish speech are protected against a range of laws that might otherwise be used to hold them legally responsible for what others say and do," the group said on its website.
Critics both in and out of the courtroom continue to go to great lengths to characterize Yelp as an unscrupulous bully, bent on wielding its influence to extort advertising revenue from small businesses on the receiving end of the countless negative rants by Yelp users. In their lawsuit, the merchants claim that Yelp offers to hide negative reviews and highlight positive ones in exchange for advertising purchases. Some merchants have also accused Yelp of zapping positive reviews as retribution for businesses that don't advertise.
Yelp has long denied such claims and said in a blog post in May that "conspiracies" about its operations have been debunked by independent studies. The website also stands by its automated review filter, which it says weeds out trolls and fake reviews to create an unbiased picture of user consensus toward any particular business.
"It's an algorithm," Vince Sollito, Yelp's vice president of corporate communications, told NBC Connecticut last year. "It's automatic and it takes into account all of the patterns of data and signals we know about reviewers to help us to determine which content is the most helpful and what we can show."
Nevertheless, anti-Yelp sentiment is rampant on the Internet and social media. Sites like YelpFiction.com, Yelp-Sucks.com and YelpLawsuit.com offer Yelp critics both legal advice and a place to vent their frustrations. The "Tell Your Story" page on Yelp-Sucks.com features hundreds of comments from entrepreneurs who say Yelp has negatively affected their businesses. On Facebook, pages like Yelp Extortion and others feature similar stories. Last year, a Freedom of Information Act request filed with the FTC revealed nearly 700 complaints against Yelp over the last four years, with some business owners comparing the website to the Mafia.
According to Entrepreneur magazine, which reported on Thursday's appeal, the case against Yelp is expected to be decided next week. Got a news tip? Send me an email. Follow me on Twitter: @christopherzara
© Copyright IBTimes 2023. All rights reserved.