Yelp To Show Gains For Women, Hispanics And African-Americans In 2015 Diversity Report, Unlike Facebook, Google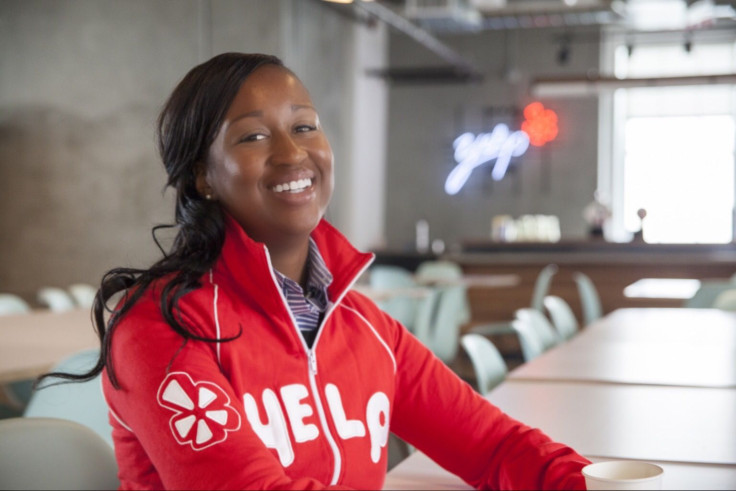 SAN FRANCISCO -- Talk to recruiters in Silicon Valley and you'll hear that the tech industry's diversity problem has to do with a lack of women and minorities in the talent pool. And while that's partly true, one tech company in the Bay Area is proving it needn't take years to move the needle on diversity. That company is Yelp.
The local-discovery app is set to release its latest workforce diversity report later this month, and it will show improvement in its representation of women, African-Americans and Latinos, the company told International Business Times. That's a feat no other tech company that has already released its 2015 diversity numbers has been able to accomplish.
Yelp was already one of Silicon Valley's more diverse companies in 2014, when it released its first diversity report, showing 47 percent female, 7 percent Hispanic and 4 percent African-American representation. By comparison, Google is 30 percent women, 3 percent Hispanic and 2 percent black and saw no gains for any of these groups since 2014; Yahoo is 37 percent women, 4 percent Hispanic and 2 percent black and also saw no gains for these groups; and Facebook is 32 percent women, 4 percent Hispanic and 2 percent black and only saw a one percent gain for women over the past year.
Yelp has a few things working in its favor: At 3,000 employees, it is much smaller than Facebook (10,000) or Apple (98,000), making it easier to achieve percentage gains. Half of Yelp's workforce is on its sales team, which makes it easier for the company to hire women and minorities for non-tech roles. But Yelp has also implemented a strategy that appears to be working and that others in Silicon Valley could imitate. It involves aggressive recruiting at universities with large minority populations and partnering with organizations that can connect minority engineers with opportunities at Yelp.
But most important, Yelp has committed itself to specific goals for its diversity efforts, giving its recruiters and company leaders firm objectives they can work toward, and they are now making those goals public, something Intel and Pinterest have also done.
For its engineering team, Yelp's goal is to employ a percentage of female engineers that is equal to the amount of women who receive computer science degrees in college, which is 18.2 percent, according to the National Girls Collaborative Project. Meanwhile, for its sale team, Yelp is working toward having each of its local offices match the demographics of the cities in which they're based.
"We haven't set a specific time frame yet, but like all of the companies, we are working toward 2020 as a next major benchmark," said Rachel Williams, Yelp's head of diversity and inclusion.
Setting Firm Goals
Yelp is already pretty evenly split when it comes to gender, but not when it comes to tech roles, where it has just 10 percent female representation. That's why Yelp is making a concerted effort to hire more women for its open engineering positions. "For us, we're doing really well with gender equality here, but when you're looking at gender when it comes to our engineering team, we definitely have a lot of growth to do," Williams said. "That's the focus for the engineering team -- getting more women in and retaining those women."
To tackle that task, Yelp has partnerships with organizations like Women Who Code and, more recently, Hackbright Academy, a coding school for women. Yelp employees regularly visit Hackbright Academy to mentor students, and at the end of each of Hackbright Academy's cycles, the company sends representatives to shortlist impressive candidates. Currently, Yelp has an internship offer for a student from the most recent cycle.
"We tried it for the first time as an experiment for us to understand how we could work with Hackbright, and now we feel comfortable to take that experience and transform it into a process that we can repeat with subsequent batches," said Anusha Rajan, a software engineer at Yelp who has mentored at Hackbright Academy over the past few years.
On the sales side, which employs the bulk of Yelp's employees, the company is focusing on bringing in more individuals from underrepresented groups since that is where the company is lacking most. Yelp has given its sales offices the realistic goal of matching the demographics of the cities they're based in, which are San Francisco, New York, Chicago and Scottsdale, Arizona.
"It's a great start to think about matching the pool of available talent and using that as the baseline against which you measure your goals," said Joelle Emerson, founder and CEO of Paradigm, a strategy firm that helps tech companies become more diverse. "Figuring out where you are, figuring out where you want to be and then coming up with the strategies to get there -- it sounds so simple, but it's incredible how few companies are doing that."
Yelp is working on this goal by broadening the scope of colleges it recruits from. The company is now looking at schools like City University of New York, the University of Central Florida and the University of Texas, all of which have more diverse populations than the schools that predominantly feed into Silicon Valley, such as Stanford and Ivy League schools. Yelp has also placed student ambassadors who are tasked with promoting the company as a place to work after graduation at schools like Howard University, Arizona State University and several other diverse schools.
"We've seen the composition of our classes change and evolve a little bit," said Paul Reich, Yelp's office lead in New York City and the head of East Coast sales. "Now it feels different, richer and more diverse than ever. It's still early days, though. We're nowhere near where we want to be."
Additionally, Yelp has teamed up with organizations that help train young adults from underrepresented groups to find candidates and interns for its sales teams. This includes Year Up, an organization that gives youth from underserved, low-income communities who have high school or GED diplomas training for in-demand positions. Every year, Yelp gives internships to eight to 10 Year Up students, preparing them for full-time jobs either at Yelp or somewhere else where they can succeed.
"We have an opportunity to address the skills gap and diversity challenge in an immediate way, a short-term way if we engage talented young people with very specific skills to tackle jobs for which a four-year degree might not be necessary," said Jay Banfield, Year Up's San Francisco Bay Area executive director.
More Work Left To Do
Besides instituting new recruiting efforts, Yelp has also taken on several initiatives to make its company culture more welcoming and empowering for women and minorities. Williams, for example, has helped Yelp employees build out and organize numerous employee resource groups, such as Awesome Women in Engineering and the multicultural group DiverseBurst, that do things like bring in industry role models to speak. The purpose of these groups is to empower and train members to rise within the company and take on leadership roles as well as help Yelp become more welcoming by providing business insights as they relate to each group's members.
"With everything we're doing … women engineers working at Yelp feel a little more empowered compared to last year to make a difference," said Tasneem Minadakis, a Yelp engineering manager and member of the Awesome Women in Engineering group. "We hope to continue the same, and we hope to reach that 18 percent number soon."
Yelp is nowhere near reaching the diversity goals it has set for itself, but altogether these strategies have helped the company make significant progress in employing women, African-Americans and Hispanics over the past year. Yelp's tactics aren't the only methods for accomplishing more inclusive hiring, but they are certainly examples that others in the tech industry can emulate.
"We still have a long way to go. We've set some goals and we're not there yet, but things are trending in a positive direction," Williams said.
© Copyright IBTimes 2022. All rights reserved.
FOLLOW MORE IBT NEWS ON THE BELOW CHANNELS